The backbone of the Kings' 4-1 win over the St. Louis Blues at Scottrade Center on Thursday night was formed during an excellent opening period that stands among the best starts of the season for a team that had entered the night outscoring opponents 38-23 in the first period and outshooting them 501-398. Jake Muzzin scored early on a wristshot from inside the left point that appeared to be a stoppable shot, but credit Jaroslav Halak for stopping Muzzin's power play pass/wristshot that was redirected in the middle of the slot by Jeff Carter. Justin Williams also hit the underside of the convergence of the goalpost and the crossbar while on the power play as part of an effort that saw the Kings establish their game and their forecheck well early. Though no goals were scored on the power play, there was quality puck movement that led to scoring chances, while the penalty kill hardly allowed a sniff against the league's top-ranked man advantage. The 1-0 difference after one could have been twice as wide.
I've often heard Darryl Sutter say that the goal for fourth line players is to outplay the other team's fourth line, and on Thursday night the Clifford-Fraser-Nolan line did just that in a game in which both team's energy players had a significant impact. Kyle Clifford produced one of his best efforts of the year; he was physical – in other news, water is wet – and drove to the net well, both with and without the puck. Colin Fraser won four-of-five faceoffs to improve his season faceoff percentage to 54% and also assisted on Muzzin's goal by calming the puck down after pulling it away from several Blues immediately after Jordan Nolan won a puck battle along the boards to earn a secondary assist. Nolan also threw a large hit at the end of the second period that led to a scrum in which Ryan Reaves was dinged for an important two minute minor penalty that was killed off four seconds before Trevor Lewis scored his first of two goals. Though Reaves had several large hits and contributed to the rivalry's familiar physicality – as he often does – his retaliation penalty was costly for a Blues team that opened the third period on its heels and allowed three goals over the final 20 minutes.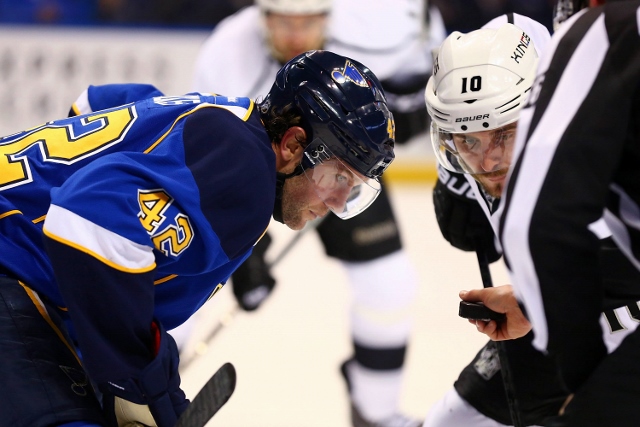 Trevor Lewis scored two goals, logged a plus-two rating, took five shots, made three hits, blocked three shots, and was not credited with a giveaway. That's a fine performance, and you could tell how happy Darryl Sutter and his teammates were for him after he finally broke through in the goal column.
It would be an understatement to say that Jake Muzzin was noticeable. He scored an early goal and nearly assisted on Carter's deft redirect, as noted above. He hauled down T.J. Oshie on a breakaway, which led to a penalty shot and St. Louis' only goal. He used his skate to block a third period shot that appeared to be goal-bound. He used his forearm to hit Vladimir Sobotka up high late in the game, adding to the hostilities between the teams. For better or worse (mostly better), Jake Muzzin did many, many things in last night's game.
Including playoffs, Los Angeles has now won 16 of the last 20 meetings against St. Louis, and there are Blues fans that still have night terrors over what Jonathan Quick has done to their team in the playoffs. In his only regular season performance against St. Louis, he didn't exactly assuage any of those fans' concerns. As for the players, is Quick in their heads? Could his very presence in net sap the mental capital that the Blues have built up with their third consecutive outstanding regular season? If these teams were to meet in the playoffs yet again, yeah, I'd think that a few thoughts from St. Louis' end might be paid towards a goaltender that has been the most impactful player on the ice in the development of this rivalry.