After jumping ahead an hour and touching down in Southeastern Michigan at a quarter past one last night, the the team buses pulled into our downtown Detroit hotel at two in the morning after deliberately navigating Interstate 94 during a light snowstorm. After unseasonably warm temperatures early in the season – balmy and stormy in St. Paul to start the season, and warm enough in New York that dining outside in a sweater was a comfortable option – the last several extended trips have been quite cold, which comes as no surprise. It's January. Most of the country is very cold in January.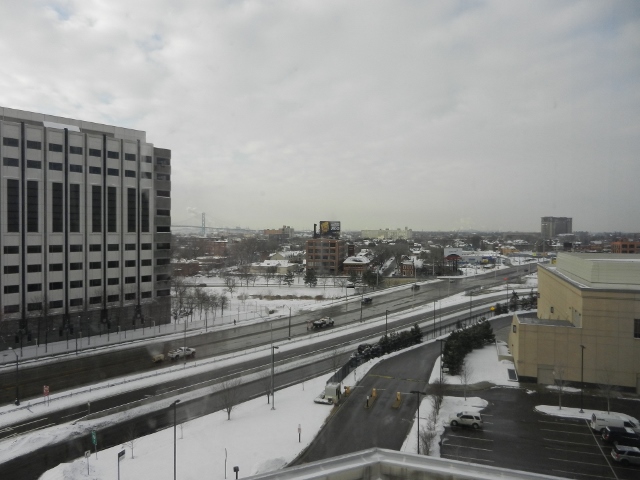 In the distance of the above photo is the Ambassador Bridge, which is the more arterial route of the two gateways between Wayne County and Ontario. Along with the Detroit-Windsor Tunnel, the bridge is one of two border crossings in which travelers head south to enter Canada.
I've read comments on this blog and on Twitter, and I get the sense that many Kings fans haven't warmed up to the city of Detroit.
I'm well aware of the challenges Detroit faces. I'm also aware of Steven Soderbergh's 1998 adaptation of Elmore Leonard's book Out of Sight, in which George Clooney and Jennifer Lopez rendezvous at a bar atop the Renaissance Center, high above the flickering lights of the Motor City and protected from falling crystals of snow. This is a beautiful scene:
The Kings will practice at 2:00 p.m. local time at Joe Louis Arena. Waking up with the Kings will be posted within the next 90 minutes or so, followed by several practice reports. As today is the 20th anniversary of the Northridge Earthquake, I'll also share some recollections by former Kings and those affiliated with the team. Lots more to come…