It was a given that there would be "emotion" in the latter Kings-Canucks game that bookended the team's five-game homestand, given the Official Canucks View that Dustin Brown's contact with Roberto Luongo in the first game was intentional and the well-established rivalry between the teams. What transpired was certainly "emotion," with 109 penalty minutes issued – 50 of which came in the form of 10-minute misconducts – and a dangerous neutral zone slew-foot by Dale Weise that went unpenalized (and will not draw supplemental discipline) amidst a litany of transgressions committed by many familiar actors between a pair of teams that generally provide good theater but combined to muck up the ice for the first half of last night's 1-0 Kings win in which both sides claimed victory. "I think it's something that we can rally around and maybe get going here," Dustin Brown said. "We had squat for points, but I think we crossed a couple of bridges in what needs to be done," John Tortorella said.
The Canucks entered last night's game with the league's top penalty kill and had allowed only three goals in the previous 18 games, but there's no penalty kill in the league so clearly above the others as to completely snuff out 14:50 of power play time, which included 47 seconds of a five-on-three. I wasn't keeping any type of official scoring chance count, but during the opening 10 minute power play exhibition, the Kings were outchanced and surrendered the higher grade opportunities, including a pair of contested shorthanded rushes that culminated in quality looks by Ryan Kesler and Mike Santorelli.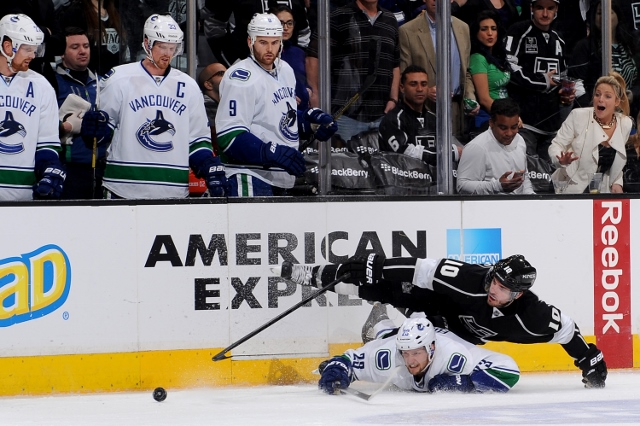 In the need to spur the offense, there had been much talk over the homestand of "bearing down" and generating shots through to the goalie. Though the Kings did eventually generate some quality Grade-A chances, there were missed opportunities that did not represent "bearing down." Jeff Carter, who was Los Angeles' most dangerous forward, was denied by Eddie Lack on a backhand after finding a seam during one of the many early power plays. He also missed the net with a chance to add an insurance goal in the third period, as did Anze Kopitar, who shot wide of Lack's glove while alone in the slot on a sterling opportunity. Slava Voynov, on a three-on-one late in the game, attempted some sort of spin-pass that was intercepted. Even the game's lone goal came on a broken 3-on-1 that Dustin Brown – who was excellent in the third period – backhanded past a vulnerable Lack after excellent backchecking from Mike Santorelli disrupted an Anze Kopitar deke-and-backhand opportunity.
Tanner Pearson was sparingly used but did account for 3:06 of power play time and contributed his best minutes during the third period power play that came as a result of Dale Weise's goaltender interference penalty.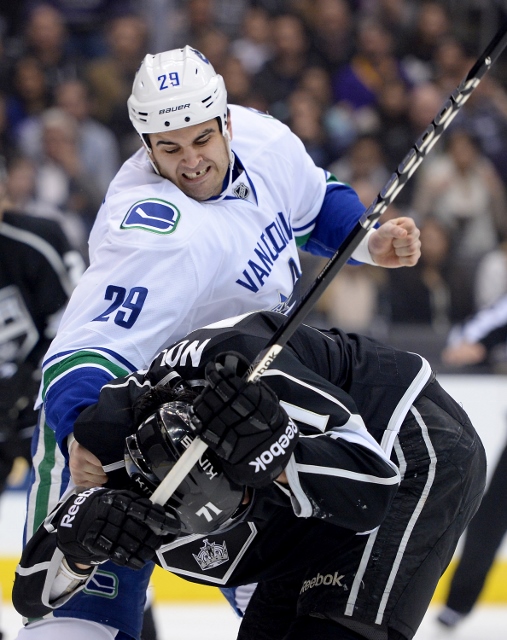 Is a 3-1-1 homestand satisfactory? That's a .700 points percentage, which is exactly the team's point percentage rate at home this season. So, yeah, probably. As has been Sutter's mantra – and quote number 30 on the top 30 Darryl Sutter quotes of 2013 – "It's not always whether you win or lose. It's whether you're winning or losing." For four of the five games on the homestand, the Kings were playing "winning" hockey – they were drastically outshooting, outchancing and outplaying their opponents. That fifth game was last night's game. Though Vancouver didn't necessarily generate a bevy of offensive chances, they did outplay a Kings team that will need a more complete performance during Thursday's road trip opener at St. Louis, a game that could potentially see the return of Blues sniper and two-way forward Alex Steen.