The NHL released a picturesque rendering of Dodger Stadium for the upcoming Stadium Series game depicting a beach volleyball court in left field, a portable stage to house the musical acts in right field and an inline rink stretching across home plate from on-deck circle to on-deck circle, all underneath the placid backdrop of an illuminated orange sky and the rolling foothills of Elysian Park.
These installments will certainly set the Los Angeles Stadium Series event apart from other outdoor hockey games, though it's the condition of the ice and the integrity of the playing surface that will take precedence over all the trimmings and accessories.
"This is an NHL game. Two points on the table," said Dan Craig, the NHL's Senior Director of Facilities Operations. Colloquially known as the league's "ice guru," Craig referenced "perfection" when asked if there was anything surrounding this particular event that keeps him up at night.
"Especially with clubs like this, these guys are going to be battling for first overall. It's not that they're fighting for a playoff spot, they're going to be in the playoffs. They're going to be one and two. They don't want to lose these two points and I don't want in any way of our conditions dictate how they're going to play the game."
When the Los Angeles Kings faced the New York Rangers during an outdoor game in the Caesar's Palace parking lot in 1991, it was a September preseason game. Reflective tarps were not used. A black tarp, as Luc Robitaille recalls, covered the playing surface and caused some of the ice to melt before adjustments were made and the surface froze once again.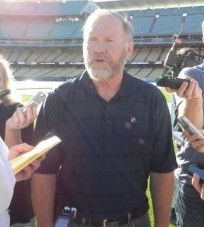 "For us in those days, we used to play because of Wayne. That's what people forget, we used to do a tour," Robitaille said. "We played at the baseball stadium in St. Petersburg, in Tampa. We played in Miami, we played in Houston, Dallas, we played in Phoenix and all those arenas never had ice. So we were used to bad ice. By the time we got to Vegas we were like 'This is great! 'It's the same as everywhere else we go.'"
Of course, many of those neutral site games were exhibitions.
"I can play an exhibition here tomorrow. I can put water down and away we go. I'll put a cone out and we'll skate around it," Craig said. "But this is an NHL game. I do not want one player worrying about where his skate is going and how the puck is moving – not one thing. That is my crew's goal. We are perfectionists."
The Las Vegas event 22 and a half years ago is drawing recognition in advance of the first warm-weather league-organized outdoor game that looms 11 days in the future.
After the ice truck hauling the rink's refrigeration equipment pulled into Dodger Stadium at 2:00 p.m. on Monday, Craig outlined in easy-to-digest terms the process that will allow Southern California to lay claim to an outdoor game of its own.
"We have a staging – a stage deck. Then we have reinforcement plywood on top of the stage deck. Then we put our ice pans – is what we call them – and they are 30 feet long and 30 inches wide and the refrigerant goes through those panels. It's aluminum, which is the best heat transfer material that we have on the planet. Refrigeration 101 – we remove heat. Can you tell me how warm it is today? So we have to remove all the BTUs. That's why you work at night, so you have the least amount of heat and that way your truck will work most efficient. So what we do is, we get all our pieces together and then we will pressure test everything and make sure all our connections are good and fill the system up. Then we will let it run for a day to make sure all the air is out of the system and it's efficient as it can be. So you don't overrun the truck in any way, we have a spray-bar that's eight feet wide and that's all it is – a spray boom – and we will walk miles and miles and miles. Just keep on going. The one crew the other day, when we were in Michigan, clocked themselves and they were 10.3 miles in one shift. That's all that they're doing, is just walking and it'll freeze as fast as it falls and you just keep on walking and that's how you build it. We're building to one inch of ice. Then we're going to paint it white, then we're going to put another quarter-inch on top of it. Then we're going to put down our logos and our ice markings, and then put another half-inch on top of it and we're ready to go."
Though they haven't been used yet in the setup of any outdoor NHL games, reflective tarps will reflect the sun away from the playing surface once the ice is laid.
"If you wanted to go sunbathing, you could do that," Craig said.