Los Angeles Kings (27-14-5) vs. Vancouver Canucks (24-13-9)
Monday, January 13, 2014, 7:30 p.m. PT
Staples Center, Los Angeles, CA
Referees: #10 Paul Devorski, #38 Francois St. Laurent
Linesmen: #90 Andy McElman, #95 Jonny Murray
FOX Sports West, KEIB 1150 AM
Los Angeles Projected Starting Goaltender – Jonathan Quick
2013-14 Season: 20 GP (20 GS) / 12-6-1 record / 2.22 GAA / .909 Sv% / 1 SHO
Career vs Vancouver: 19 (19) / 8-10-1/ 1.93 / .927 / 0
Last Game vs Vancouver: 1/4/14 / 60 MP / 27-28 shots / 3-1 W
2013-14, Home: 14 (14) / 9-4-1 / 2.19 / .905 / 1
Vancouer Projected Starting Goaltender – Eddie Lack
2013-14 Season: 17 GP (13 GS) / 8-3-3 record / 2.19 GAA / .923 Sv% / 2 SHO
Career vs Los Angeles: 1 (0) / 14-10-5 / 2.13 / .929 / 0
Last Game vs Los Angeles: 11/9/13 / 28 MP / 13-14 shots / 1-5 L
2013-14, Away: 11 (8) / 5-2-1 / 2.17 / .922 / 1
2013-14 Los Angeles Leaders
Total Points: Anze Kopitar (13-24=37)
Goals: Justin Jeff Carter (16-12=28)
Assists: Anze Kopitar (13-24=37), Mike Richards (6-24=30)
Plus/Minus: Anze Kopitar (+22; 13-24=37)
Penalty Minutes: Kyle Clifford (58; 3-2=5)
Time On Ice: Drew Doughty (25:41; 7-17=24)
2013-14 Vancouver Canucks
Total Points: Henrik Sedin (9-31=40)
Goals: Ryan Kesler (17-12=29)
Assists: Henrik Sedin (9-31=40)
Plus/Minus: Dan Hamhuis (+10; 4-0=14), Mike Santorelli (+10; 10-18=28)
Penalty Minutes: Tom Sestito (103: 4-1=5)
Time On Ice: Dan Hamhuis (24:23; 4-0=14)
Rankings and Statistics
Goals/Game: LAK – 22 / 2.46; VAN – 15 / 2.63
Goals Against/Game: LAK – 1 / 2.02; VAN – 6 / 2.35
Power Play: LAK – 24 / 15.3%; VAN – 23 / 15.5%
Penalty Kill: LAK – 8 / 84.4%; VAN – 1 / 89.1%
Shots/Game: LAK – 7 / 31.8; VAN – 9 / 31.4
Shots Against/Game: LAK – 3 / 27.1; VAN – 10 / 29.1
Faceoffs: LAK – 2 / 53.3%; VAN – t-13 / 51.2%
Save Percentage: LAK – 2 / .925; VAN – t-6 / .919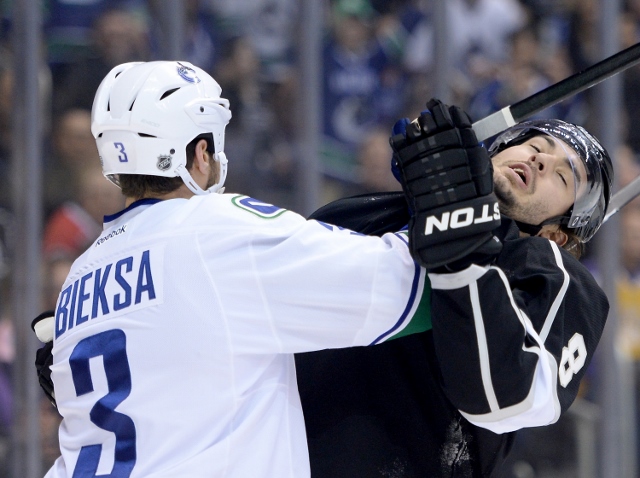 Los Angeles Projected Lines
Dwight King – Anze Kopitar – Jeff Carter
Dustin Brown – Jarret Stoll – Justin Williams
Matt Frattin – Mike Richards – Tyler Toffoli
Kyle Clifford – Colin Fraser – Jordan Nolan
Willie Mitchell – Drew Doughty
Robyn Regehr – Slava Voynov
Alec Martinez – Matt Greene
Jonathan Quick
Ben Scrivens
Level of confidence in projected lines: C. It's difficult to determine scratches as players virtually left the ice together, leaving Ben Scrivens to face shots from Bill Ranford following the morning skate. The team went through initial line rushes with the above alignments, so there are your projections. Matt Frattin, not Tanner Pearson, took the initial rush with Mike Richards and Tyler Toffoli. I believe Jordan Nolan also took the initial rush with Kyle Clifford and Colin Fraser, though I was paying closer attention to the defensive pairs when that line first cycled through. Of course, there is a good chance that Tanner Pearson could play with Richards and Toffoli, and a good chance that Trevor Lewis could play with Kyle Clifford and Colin Fraser after the trio provided a good amount of energy in the loss to Detroit on Saturday. Alec Martinez and Matt Greene saw the majority of the repetitions, with Jake Muzzin cycling through as well. Muzzin leaving the lineup is a better bet than Frattin or Nolan leaving the lineup.
Notes and milestones: With a 3-0-0 record against Vancouver this season, Los Angeles has improved to 99-96-35 all-time in the team's series. The Kings are 61-38-18 all-time at home against the Canucks. The last time Los Angeles beat Vancouver three times in a season was 2007-08 (3-0-1). … The Kings do not have 100 wins against any NHL franchises. After Vancouver, L.A. has 86 all-time wins against Atlanta/Calgary and 83 wins against Minnesota/Dallas. … Los Angeles is 9-3-1 against the Pacific Division. … The Kings are 13-4-3 in their last 20 home games and 20-5-3 when scoring first. … In their last four games (2-1-1), the Kings have out-shot their opponents 169-93, for an average of 42-23. … The Kings have outscored their opponents 38-23 in first periods this season. … Since scoring in Los Angeles' 3-2 overtime win at Vancouver on November 25, Mike Richards has gone 21 consecutive games without scoring a goal. He has two points (0-2=2) over the last 14 games. … Tyler Toffoli has been held without a point for 10 consecutive games. … Jeff Carter has 16 points (9-7=16) in the last 15 games and 28 shots in the last four games. … Jarret Stoll has won 53-of-75 faceoffs (70.7%) over his last four games. … Mike Richards (2-2=4), Tyler Toffoli (2-2=4) and Dwight King (0-4=4) lead all skaters in points in the season series. … The Kings are 0-for-9 on the power play against Vancouver this season. … The Kings rank 27th in the league in shooting percentage at 7.7%. With the league mean at 9.0%, the Kings would have 19 additional goals if they shot the league average. … Los Angeles' penalty kill has killed off 12 consecutive power plays, facing a total of 19 shots over that 23:49 span. The last player to notch a power play goal against the Kings was Ryan Kesler, who opened the scoring in the previous Los Angeles-Vancouver head to head match-up. … Darryl Sutter took over as Los Angeles' coach on December 20, 2011. With the firing of Claude Noel in Winnipeg, there now have been 15 coaching changes in the NHL since Sutter was hired.
Vancouver Projected Lines
Daniel Sedin – Henrik Sedin – Zac Dalpe
Chris Higgins – Ryan Kesler – Zack Kassian
Tom Sestito – Mike Santorelli – Jannik Hansen
Darren Archibald – Brad Richardson – Dale Weise
Chris Tanev – Dan Hamhuis
Alex Edler – Jason Garrison
Kevin Bieksa – Yannick Weber
Eddie Lack
Joacim Eriksson
Notes and milestones: Lines via Dimitri Filipovic of Canucks Army. … Andrew Alberts (upper-body), Roberto Luongo (ankle), Ryan Stanton (ankle), Alexandre Burrows (jaw) and Jordan Schroeder (ankle) are not expected to play. … Alex Edler is expected to return to the lineup after missing the last 16 games with a knee injury. … The Canucks have killed off all nine Kings power plays this seasons. The league's top penalty killers, Vancouver has allowed only three power play goals against in their last 18 games. … Throughout the series' history, the Kings and Canucks have fought a total of 207 times, which is 33 more fights than Los Angeles has had against any other team. There have been three fights in three games between these teams this season. … Daniel Sedin (304-493=797) is three points from registering his 800th NHL point. … Brad Richardson has two shorthanded goals. … These teams will not meet again until they finish the season series on Saturday, April 5 at Rogers Arena. It will be the Kings' 79th game of the season.