After once again dominating the run of play and outchancing their opponents disproportionately, the Los Angeles Kings were unable to build on a 1-0 first period lead and ultimately lost a tense 3-1 game to the Detroit Red Wings by allowing a pair of even strength goals over the game's final 10 minutes. In comparison to the Minnesota game, where Los Angeles' possession numbers were also off-the-charts, last night the Kings generated a greater collection of A-type chances and a higher quality net-front presence. Similar to the Minnesota game – and the recent games against Dallas and St. Louis – the Kings couldn't take advantage of an opponent that limped into arena with major pieces missing from its core due to injury. The Red Wings have one of the oldest cores in the National Hockey League, and with players such as Pavel Datsyuk, Daniel Alfredsson and Johan Franzen out due to injury, the game hinged on performances by emerging players such as 23-year-old Tomas Tatar, who scored the game winner, 22-year-old Riley Sheahan, who scored his first career goal and was dangerous and useful throughout his 13-plus minutes, and 24-year-old Luke Glendening, who made the key hit on Jake Muzzin to force a turnover and assist on a valuable insurance goal.
There's no real right or wrong way to look at Mike Richards' performance. The positives? With eight shots on goal last night – the most he has recorded in a regular season game since March, 2008 – he was the purposeful catalyst of the Kings' offensive attack and appeared as heavily involved in creating opportunities as any L.A. forward. Last night was among his best performances of the season. The negatives? He hasn't scored since his game-tying goal late in the eventual overtime win at Vancouver three days before Thanksgiving, which makes adjectives such as "purposeful" and "involved" ring a bit hollow and representative the club's scoring woes. If the Kings continue to receive performances such as the one he produced on Saturday night, the goals and points will come.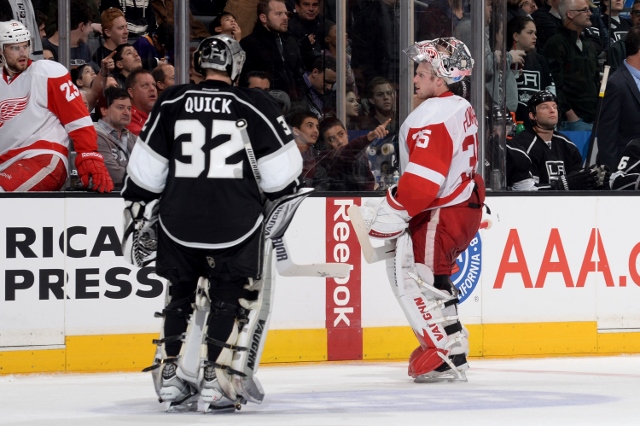 Vancouver visits once again on Monday. Is there such thing as a "pivotal game" with more than 35 games remaining on the schedule? The Kings are 2-1-1 on a five-game home stand with their toes leaning over the precipice of a stretch of eight games away from STAPLES Center. Their only "home" game? The Stadium Series game at Dodger Stadium, where they'll face the NHL-leading Anaheim Ducks. They'll travel to St. Louis, Detroit, Boston, Anaheim, San Jose and Phoenix – and let's not forget a road game against a surging Columbus team that has won seven of 10 and has been a quality second half team over the last two seasons – before their next STAPLES Center game on January 30 against the East-leading Pittsburgh Penguins. Anything other than two points against the rival Canucks will represent a disappointing stretch that offered the club the opportunity to bank points in advance of its most challenging stretch of the season.