Los Angeles Kings (27-13-5) vs. Detroit Red Wings (19-15-10)
Saturday, January 11, 2014, 7:30 p.m. PT
STAPLES Center, Los Angeles, CA
Referees: #15 Jean Hebert, #34 Brad Meier
Linesmen: #55 Shane Heyer, #89 Steve Miller
FOX Sports West, KEIB 1150 AM
Los Angeles Projected Starting Goaltender – Jonathan Quick
2013-14 Season: 19 GP (19 GS) / 12-5-1 record / 2.18 GAA / .910 Sv% / 1 SHO
Career vs Detroit: 17 (17) / 6-11-0 / 3.15 / .900 / 1
Last Game vs Detroit: 4/24/13 / 59 MP / 33-36 / 3-1 L
2013-14, Home: 13 (13) / 9-3-1 / 2.13 / .907 / 1
Detroit Projected Starting Goaltender – Jimmy Howard
2013-14 Season: 25 GP (25 GS) / 7-10-8 record / 2.74 GAA / .909 Sv% / 2 SHO
Career vs Los Angeles: 13 (13) / 7-6-0 / 2.56 / .919 / 0
Last Game vs Los Angeles: 4/24/13 / 60 MP / 23-24 / 3-1 W
2013-14, Away: 11 (11) / 5-5-1 / 2.80 / .911 / 1
2013-14 Los Angeles Leaders
Total Points: Anze Kopitar (13-23=36)
Goals: Jeff Carter (16-12=28)
Assists: Anze Kopitar (13-23=36), Mike Richards (6-23=29)
Plus/Minus: Anze Kopitar (+22; 13-23=36)
Penalty Minutes: Kyle Clifford (56; 3-2=5)
Time On Ice: Drew Doughty (25:39; 6-17=23)
2013-14 Detroit Red Wings Leaders
Total Points: Henrik Zetterberg (14-22=36)
Goals: Pavel Datsyuk (15-17=32)*
Assists: Nicklas Kronwall (4-24=28)
Plus/Minus: Henrik Zetterberg (+14; 14-22=36)
Penalty Minutes: Kyle Quincey (58; 2-6=8)
Time On Ice: Nicklas Kronwall (24:02; 4-24=28)
*among active players, Henrik Zetterberg leads the team with 14 goals.
Rankings and Statistics
Goals/Game: LAK – t-21 / 2.49; DET – t-17 / 2.59
Goals Against/Game: LAK – 1 / 2.00; DET – 16 / 2.68
Power Play: LAK – 24 / 15.0%; DET – 17 / 17.7%
Penalty Kill: LAK – 9 / 84.0%; DET – 6 / 85.0%
Shots/Game: LAK – 8 / 31.5; DET – 15 / 30.0
Shots Against/Game: LAK – 3 / 27.1; DET – 10 / 28.9
Faceoffs: LAK – 2 / 53.4%; DET – 15 / 50.8%
Save Percentage: LAK – 1 / .926; DET – 22 / .907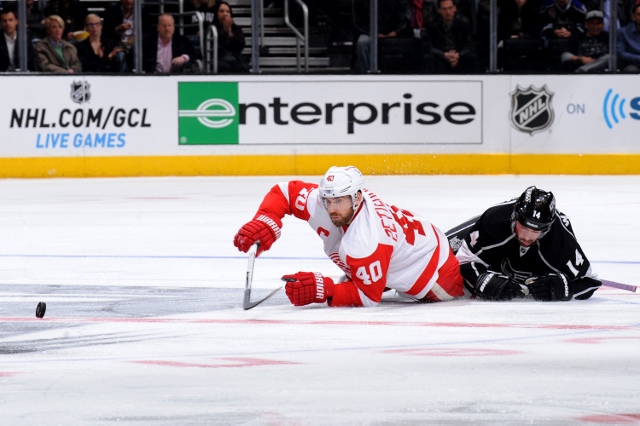 Los Angeles Projected Lines
Dwight King – Anze Kopitar – Jeff Carter
Dustin Brown – Jarret Stoll – Justin Williams
Matt Frattin – Mike Richards – Tyler Toffoli
Kyle Clifford – Colin Fraser – Trevor Lewis
Jake Muzzin – Drew Doughty
Willie Mitchell – Slava Voynov
Robyn Regehr – Alec Martinez
Jonathan Quick
Ben Scrivens
Level of confidence in projected lines: A-. Matt Greene, Tanner Pearson and Jordan Nolan remained on for extra work with Ben Scrivens following the morning skate, though Darryl Sutter said that the Kings would "have an extra guy in warm-up," hence the minus next to the "A" rating.
Notes and milestones: The Kings are 81-78-31 all-time against the Red Wings, which includes a home record of 47-33-15. The teams will conclude their season series one week from tonight at Joe Louis Arena. … The Kings are 5-1-1 against the Metropolitan Division and 13-2-2 against the Eastern Conference. Since losing 5-1 at Tampa Bay on October 15, Los Angeles has recorded points in 12 straight games against Eastern Conference opponents, going 10-0-2. … The Kings are 13-3-3 in their last 19 home games. … The Kings are 20-4-3 when scoring first, 18-2-0 when scoring three-plus goals, and 24-2-5 when allowing two or fewer goals. … The Kings have recorded 124 shots over the last three games. … Since recording an assist 42 seconds into Los Angeles' 7-4 win over Phoenix on October 24, Dustin Brown has gone 73:20 without recording a point on the power play. … Since coming off injured reserve, Jonathan Quick is 2-0-1 with a 1.30 goals-against average and .940 save percentage. … Since scoring in Los Angeles' 3-2 overtime win at Vancouver on November 25, Mike Richards has gone 20 consecutive games without scoring a goal. His assist on Alec Martinez's goal was his second point (0-2=2) over the last 13 games. … Tyler Toffoli has been held without a point for nine consecutive games. … Jeff Carter has 16 points (9-7=16) in the last 14 games. Tonight he will play in his 600th career game and 100th game with the Kings. He has 23 shots in his last three games. Carter has nine points (3-6=9) in nine career games against Detroit. … Jarret Stoll has won 40-of-55 faceoffs (72.7%) over his last three games. … Alec Martinez has gone 15 consecutive games without being a minus player.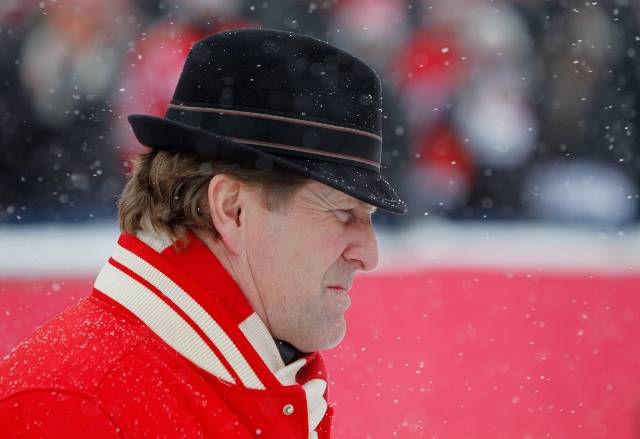 Detroit Projected Lines
Henrik Zetterberg – Gustav Nyquist – Daniel Alfredsson
Justin Abdelkader – Riley Sheahan – Todd Bertuzzi
Drew Miller – Joakim Andersson – Tomas Tatar
Patrick Eaves – Luke Glendening – Daniel Cleary
Brendan Smith – Niklas Kronwall
Kyle Quincey – Danny DeKeyser
Jakub Kindl – Brian Lashoff
Jimmy Howard
Petr Mrazek
Notes and milestones: Lines via NHL.com's Curtis Zupke. … Pavel Datsyuk (lower-body), Jonas Gustavsson (groin), Darren Helm (groin), Jonathan Ericsson (ribs), Stephen Weiss (hernia) and Johan Franzen (head) are injured. The Red Wings have lost 173 man-games to injury. … The Red Wings are 6-3-0 when Pavel Datsyuk does not play. … Detroit is tied with St. Louis and Chicago with an NHL-best 10 Olympians. They are: Daniel Alfredsson (Sweden), Pavel Datsyuk (Russia), Jonathan Ericsson (Sweden), Johan Franzen (Sweden), Jonas Gustavsson (Sweden), Jimmy Howard (United States), Tomas Jurco (Slovakia), Niklas Kronwall (Sweden), Tomas Tatar (Slovakia), Henrik Zetterberg (Sweden). Head coach Mike Babcock will coach Canada. … Detroit is 6-7-3 against the Western Conference and 4-4-1 against the Pacific Division. … Since the start of the 1997-98 season, the Red Wings have won more regular season games (727) and playoff games (113) than any other NHL team. … The Red Wings last missed the playoffs in 1989-90. … The Red Wings are the third highest scoring team on the road, averaging 3.14 goals per game, trailing only Chicago (3.55) and St Louis. (3.15). … Detroit is 3-10 in games that extend past 60 minutes, going 2-3 in overtime and 1-7 in shootouts. … Daniel Alfredsson is one of five 40-year-olds in the league (Teemy Selanne, Jaromir Jagr, Ray Whitney, Martin Brodeur). … The Red Wings' top five point producers are all over the age of 32. … The Red Wings are 0-for-12 on the power play over the last three games. … Detroit's seven fighting majors are tied for the second lowest total in the NHL. … Kyle Quincey recorded 38 points (4-34=38) in 72 games with Los Angeles in 2008-09. … Henrik Zetterberg has 33 points (16-17=33) in 36 career games against Los Angeles.