Los Angeles Kings (26-13-5) vs. Boston Bruins (28-13-2)
Thursday, January 9, 2014, 7:30 p.m. PT
STAPLES Center, Los Angeles, CA
Referees: #34 Brad Meier, #16 Brian Pochmara
Linesmen: #86 Brad Lazarowich, #89 Steve Miller
FOX Sports West, KEIB 1150 AM
Kings Weekly to follow tonight's game
Los Angeles Projected Starting Goaltender – Jonathan Quick
2013-14 Season: 18 GP (18 GS) / 11-5-1 record / 2.19 GAA / .910 Sv% / 1 SHO
Career vs Boston: 7 (7) / 5-2-0 / 2.19 / .922 / 1
Last Game vs Boston: 3/24/12 / 59 MP / 22-25 / 4-2 L
2013-14, Home: 12 (12) / 8-3-1 / 2.14 / .907 / 1
Boston Projected Starting Goaltender – Tuukka Rask
2013-14 Season: 34 GP (34 GS) / 21-10-2 record / 2.34 GAA / .914 Sv% / 4 SHO
Career vs Los Angeles: 1 (1) / 1-0-0 / 0.00 / 1.000 / 1
Last Game vs Los Angeles: 12/13/11 / 60 MP / 41-41 / 3-0 W
2013-14, Away: 14 (14) / 7-6-0 / 2.70 / .908 / 1
2013-14 Los Angeles Leaders
Total Points: Anze Kopitar (13-22=35)
Goals: Jeff Carter (15-12=27)
Assists: Anze Kopitar (13-22=35), Mike Richards (6-22=28)
Plus/Minus: Anze Kopitar (+22; 13-22=35)
Penalty Minutes: Kyle Clifford (51; 3-2=5)
Time On Ice: Drew Doughty (25:38; 6-17=23)
2013-14 Boston Bruins Leaders
Total Points: David Krejci (9-27=36)
Goals: Reilly Smith (15-17=32)
Assists: David Krejci (9-27=36)
Plus/Minus: Jarome Iginla (+18; 13-16=29)
Penalty Minutes: Adam McQuaid (56; 1-4=5)
Time On Ice: Zdeno Chara (24:57; 9-9=18)
Rankings and Statistics
Goals/Game: LAK – 22 / 2.46; BOS – t-7 / 2.91
Goals Against/Game: LAK – 1 / 2.00; BOS – 2 / 2.14
Power Play: LAK – 24 / 15.0%; BOS – t-7 / 20.7%
Penalty Kill: LAK – 9 / 83.7%; BOS – 10 / 83.4%
Shots/Game: LAK – 9 / 31.4; BOS – 11 / 30.7
Shots Against/Game: LAK – t-3 / 27.2; BOS – t-11 / 29.1
Faceoffs: LAK – 2 / 53.4%; BOS – t-3 / 52.9%
Save Percentage: LAK – t-1 / .927; BOS – t-1 / .927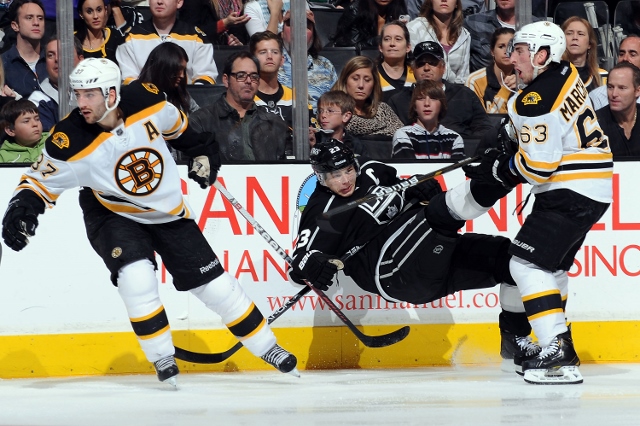 Los Angeles Projected Lines
Dwight King – Anze Kopitar – Jeff Carter
Dustin Brown – Jarret Stoll – Justin Williams
Matt Frattin – Mike Richards – Tyler Toffoli
Kyle Clifford – Colin Fraser – Trevor Lewis
Jake Muzzin – Drew Doughty
Willie Mitchell – Slava Voynov
Robyn Regehr – Alec Martinez
Jonathan Quick
Ben Scrivens
Level of confidence in projected lines: A. Matt Greene, Tanner Pearson and Jordan Nolan remains on the ice after the morning skate for extra work, so they're tonight's likely scratches.
Notes and milestones: Los Angeles is 38-79-14 all-time against Boston, which includes a home record of 23-34-8. The Kings are 5-2-0 in the team's last seven meetings, dating back to March 19, 2009. The Bruins won both meetings in the 2011-12 season and have not visited STAPLES Center since March 24, 2012. The teams will close out the season series with a 3:00 p.m. local start on Monday, January 20 at TD Garden. … The Kings are 12-3-3 in their last 17 home games. … The Kings are 7-1-1 against the Atlantic Division and 12-2-2 against the Eastern Conference. … No Kings player outside of the team's top six forwards has scored since Alec Martinez and Tyler Toffoli scored second period goals in a 4-1 win over San Jose on December 19. Following those goals, the last 14 goals scored by the Kings have come from Carter, King, Carter, Williams, Williams, Stoll (who was playing as a top-six forward in the home loss to Dallas), Kopitar, Carter, Carter, Kopitar, Brown, Carter, Carter and Stoll (who was playing as a top-six forward in the home shootout loss to Minnesota). … Since recording an assist 42 seconds into Los Angeles' 7-4 win over Phoenix on October 24, Dustin Brown has gone 68:21 without recording a point on the power play. … Jeff Carter has 15 points (8-7=15) in the last 13 games. … The Kings have recorded 89 shots over the last two games. … Justin Williams is scheduled to play in his 800th NHL game tonight. The last time the Bruins visited STAPLES Center, Williams played in his 700th NHL game. Among current Kings, only Robyn Regehr (988 games played) has appeared in at least 800 games. … Los Angeles has allowed a league-low 53 five-on-five goals; Boston ranks second with 62 five-on-five goals allowed.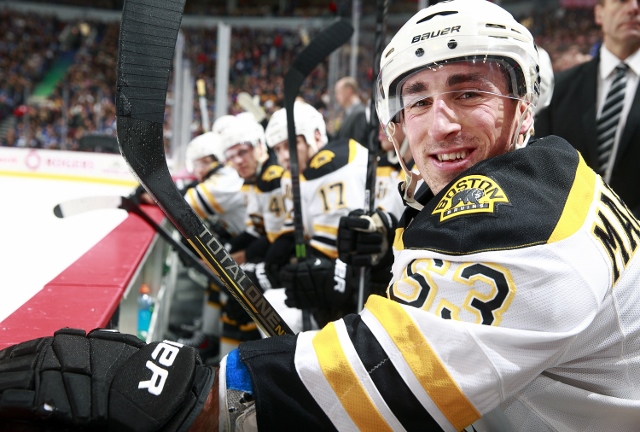 Boston Projected Lineup
Milan Lucic – David Krejci – Jarome Iginla
Brad Marchand – Patrice Bergeron – Reilly Smith
Carl Soderberg – Ryan Spooner – Matt Fraser
Justin Florek – Gregory Campbell – Daniel Paille
Zdeno Chara – Dougie Hamilton
Matt Bartkowski –Johnny Boychuk
Torey Krug – Adam McQuaid
Tuukka Rask
Chad Johnson
Notes and milestones: Injured Bruins include Jordan Caron (back), Loui Eriksson (concussion), Chris Kelly (fractured fibula) and Dennis Seidenberg (torn ACL/MCL). Caron and Eriksson skated at STAPLES Center this morning. … Five Bruins will appear in the 2014 Olympics – Patrice Bergeron (Canada), Zdeno Chara (Slovakia), Loui Eriksson (Sweden), Devid Krejci (Czech Republic) and Tuukka Rask (Finland). … Though Boston ranks seventh in the NHL with 2.91 goals per game, the team's leading scorer, David Krejci, is tied for 31st in the league with 36 points. … The Bruins have received a league-low 116 power plays. … Boston's penalty kill has allowed seven goals against in the last 15 opportunities. … Patrice Bergeron ranks second in the NHL with a 61.7% faceoff success rate. On the road, he leads the NHL with a 60.7% rate. … Tuukka Rask has allowed five goals in two of his last three starts. In his first 31 games, Rask allowed five goals only once. … Jarome Iginla has 60 points (29-31=60) in 62 career games against Los Angeles. His 543 career goals place him only one goal behind Maurice Richard for 28th place on the all-time list. Iginla won the Rocket Richard trophy with 52 goals in 2001-02 and shared the trophy with Rick Nash and Ilya Kovalchuk by scoring 41 goals in 2003-04. … Torrey Krug's 10 goals and 23 points lead all rookie defensemen. … Milan Lucic has scored only one power play goals since the beginning of the 2012-13 season. … The Bruins haven't shut out the Kings in Los Angeles since Jan. 3, 1976, when Dave Reece beat them 3-0 for the second and last shutout of his 14-game NHL career.