Santa Clarita native and former L.A. Junior King Kevan Miller has returned to Southern California for the first time in his professional career. The 26-year-old former Vermont Catamount was recalled by the Boston Bruins for the third time this year on December 30 and has two points, including one goal, in 11 games.
"It was a pretty quick play. It was bang-bang," he said of the game-winning goal he scored on Toronto's Jonathan Bernier with a wrist shot from the point on December 18. "Carl [Soderberg] won the faceoff there and won it back to me. I just put it on net and it was fortunate enough to go in. It was pretty special."
On Wednesday, Miller led Boston's practice stretch at the Toyota Sports Center, a former home rink of his.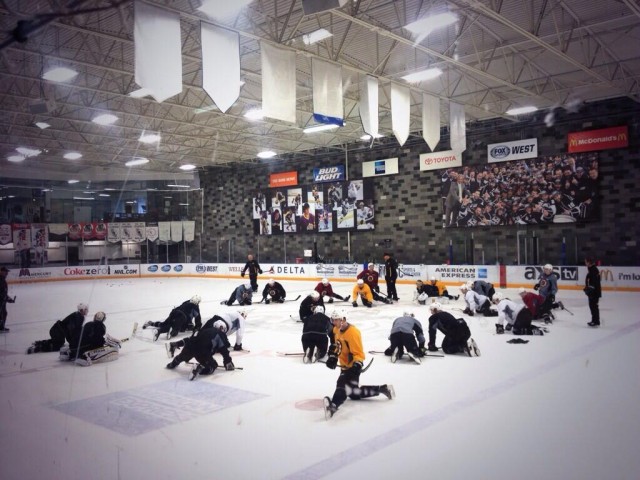 -courtesy @NHLBruins
It is unclear whether Miller will play tonight. After earning 10:19 of ice time in a 5-2 loss at Anaheim two days ago, he was among a small handful of skaters getting work in on the STAPLES Center ice this morning and was joined by Shawn Thornton (suspended), Loui Eriksson (injured) and Jordan Caron (day-to-day). In his 11 games, Miller has averaged 17 minutes of ice time.
A captain at Vermont, Miller was an alternate captain with the Providence Bruins earlier this season and has recorded 45 points (7-38=45) and 217 penalty minutes in 154 career AHL games.
The former West Valley Wolf, Ventura Mariner and Junior King spoke about his hockey upbringing around Southern California with LA Kings Insider's James Nicholson at STAPLES Center earlier today.
On being back in Southern California:
It's obviously different during the season. When I was in Providence I don't really travel out west or get to go home much, but it's nice to get back and see some family.
On being a Junior King:
I spent a year there. Obviously in and out of…El Segundo, so it's obviously a bit of a homecoming.
On some of his former Junior Kings teammates:
There's a guy I grew up with or grew up playing against, Kyle MacKinnon, and I'm sure you've probably heard of him. He plays with St. John's in Winnipeg's organization. When I was down in Anaheim I got to see his folks again and they sent me a text. And obviously, there's a lot of guys coming out of California, which is cool.
On growing up in Santa Clarita:
I went to Canyon [High] for two years, freshman and sophomore year and ended up going back east for prep school to finish up high school. I have some pretty fond memories in this area, at least in Valencia and Saugus and all around there. So I still actually head home there for summers. I stay there, so it's pretty special to be back home. [Reporter: Have you spent a lot of time around the rink in Santa Clarita?] I actually do. It's a good rink and good ice and I do a lot of skating there in the summertime just to work on my little stuff, so it's good.
On joining a team with a heavy veteran leadership:
There's tons of it. Obviously there's Zdeno and Bergy and Krejc. Then you look at other guys like Iginla and there's a number of guys on this team that are veteran leaders and could be captains on other teams. So it's pretty special to kind of come in and be around these guys and kind of learn from them and kind of feel my way out.