-The Los Angeles Kings, flush with a parade of B-type chances en route to another 40-shot performance, forechecked effectively, won the lion's share of battles, limited opportunities defensively and dominated the time of possession – all in a 2-1 shootout loss that denied the team an opportunity to make up ground in the standings on a night San Jose lost in regulation and Vancouver lost in a shootout. A disconcerting trend is beginning to creep into the team's winter scoring malaise in which injury-wracked squads missing key players have been let off the hook. The Kings averaged two goals per game in a pair of losses to an exciting though defensively inconsistent Dallas Stars team that was without Stephane Robidas, Trevor Daley and Sergei Gonchar. The St. Louis Blues were without David Backes, Alex Steen and Jordan Leopold when they beat the Kings 5-0 in a game that did not feature a discrepancy of play anywhere near as wide as the score would indicate. The Vancouver Canucks more or less rotated four defensemen in a game the Kings were shut out of for 40 minutes before scoring three times in the third period, and on Tuesday, a depleted Minnesota Wild team was without the services of Zach Parise, Mikko Koivu, Jared Spurgeon, Josh Harding and a slightly dinged up Nicklas Backstrom in shootout win described by Nino Niederreiter as "greasy."
-Raise your hand if you didn't think that the Minnesota Wild, faced with injury troubles and looking to eke out an important two points on the road, would lean on a conservative, systematic trapping defensive and hope to push the game into overtime or a shootout. Anybody?
-Even if Nicklas Backstrom and Josh Harding split Minnesota's duties in net, it's a bit misleading to think of Darcy Kuemper as a third-stringer. Los Angeles' Martin Jones and Anaheim's Frederik Andersen have illustrated the importance of having well-groomed goalies to step in and provide key minutes when first or second-string netminders are on injury reserve. The 6-foot-5 Kuemper, a divisional rival of Martin Jones in the Western Hockey League, is a former CHL Goaltender of the year who was putting up AHL numbers somewhat similar to Jones' before he was recalled on an emergency basis on January 2 and placed in the crease on Tuesday night. I don't follow the narrative that the "Kings struggle against depth goalies" as much as I follow the narrative that "there are a lot of really good goalies in professional hockey."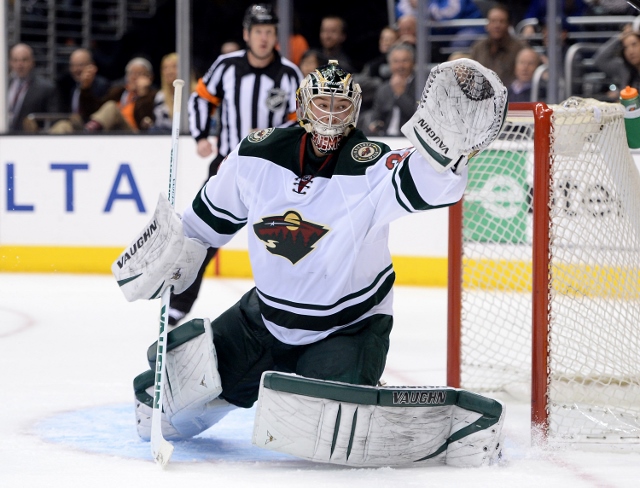 -The Kings' shooting percentage has hit a rough patch again. With six goals on 170 shots on goal (3.53%) over the last five games, the team's overall rate has dropped to 7.81%, the 27th-highest shooting percentage in the league. The team's shooting percentage has been volatile this season; after the team's 5-2 win at Ottawa on December 14, Los Angeles had scored 17 times on 103 shots, winning all four games during that small sample size as part of a six-game winning streak. The Kings were afforded no breaks or bounces in Tuesday's shootout loss.
-Los Angeles' secondary scoring has hit a rough patch. No skater outside of the top two lines has scored a goal since Alec Martinez and Tyler Toffoli scored in the win over San Jose on December 19.
Stoll's two goals over that span came when he was centering Brown & Williams, which I consider to be a top-six line.

— Jon Rosen (@lakingsinsider) January 8, 2014
Since Martinez & Toffoli scored against San Jose, goals have come from 77, 74, 77, 14, 14, 28, 11, 77, 77, 11, 23, 77, 77, 28.

— Jon Rosen (@lakingsinsider) January 8, 2014