As first reported by Dmitry Chesnokov, Slava Voynov has been named to Team Russia for the 2014 Winter Olympic Games.
Voynov is no stranger to representing Russia internationally. Though Anze Kopitar played for Slovenia three times in the Division I World Junior Championships, Voynov is the only King to have played in three separate WJC tournaments at the highest level. The defenseman who will turn 24 next week also appeared in the 2007 and 2008 World Under-18 Championships.
In 43 games this season, Voynov has three goals, 16 points and a plus-4 rating.
"It's very important for us," Voynov told LA Kings Insider last week. "Maybe it's the first and the last time that I'm going to play hockey for the Olympic team in Russia. It's very important for us."
Team Russia:
Forwards: Artem Anisimov, Pavel Datsyuk, Nikolai Kulemin — Toronto Maple Leafs, Evgeni Malkin, Valeri Nichushkin, Alex Ovechkin, Vladimir Tarasenko, Ilya Kovalchuk, Alexander Radulov, Viktor Tikhonov, Denis Kokarev, Alexander Popov, Sergei Soin, Alexei Tereshchenko
Defensemen: Anton Belov, Alexei Emelin, Andrei Markov, Nikita Nikitin, Fedor Tyutin, Slava Voynov, Yevgeny Medvedev, Ilya Nikulin
Goalies: Sergei Bobrovsky, Semyon Varlamov, Alexander Eremenko
Voynov playing in the 2007 Canada-Russia Super Series: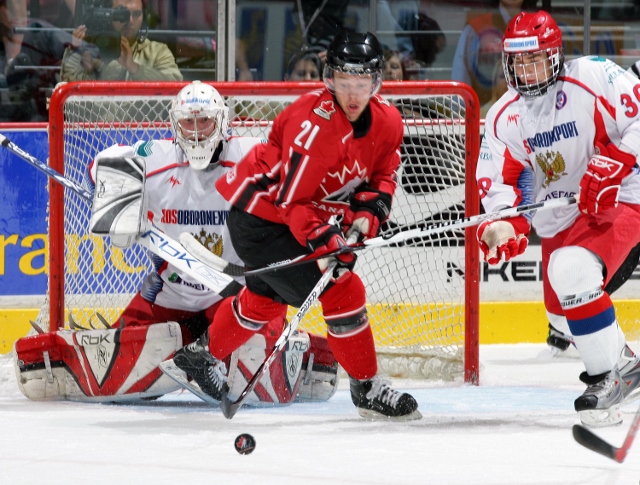 -Jeff Vinnick / Getty Images