Gasper Kopitar scored the overtime game-winner to lead the Ontario Reign to a 3-2 victory over the San Francisco Bulls last night at Citzens Business Bank Arena.
"He's added a lot," Ontario coach Jason Christie told Frozen Royalty's Gann Matsuda. "He's skilled. He's only 21 years old. He's his own person, he's his own player, and he plays a different style [compared to his older brother]. He can shoot the puck hard, so it's all a plus."
"He's a talented player. He's got to work on his foot speed. He's a totally different player from his brother, and that's what he likes. He [thrives] off that. He's got a great shot, he's only 21 years old, and this level fits his style of game. He competes hard. It's only uphill from here, and we're excited to have him."
More on Gasper and Anze Kopitar to come this week.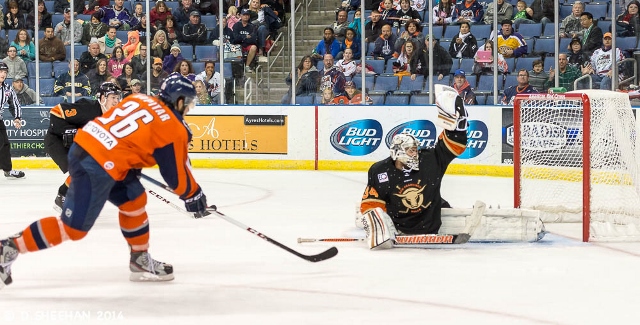 Photo Credits: David Sheehan