For a period and a half on Thursday the Kings put on a five-on-five demonstration of puck possession and generating chances against a quality opponent but were unable to find the net after failing to cash in on several Grade-A opportunities. Dwight King fed Jeff Carter on a three-on-three into the zone, and Carter snapped the pass off the inside of the post. Jarret Stoll was unable to lift a backhand past Brian Elliott after slipping past the St. Louis defense. Justin Williams tried to catch Elliott off his angle on a contested breakaway, but his wristshot was stopped from 15 feet out. After putting together a fine first period and showing life early in the second, the team's inability to take advantage of their opportunities came back to haunt them as the wheels came off during the final 30 minutes in which they were outscored 4-0. The game seemed to epitomize the team's woes during the current losing streak. They dominated five-on-five play early, trailed after a standout first period, and once again took too many penalties – including offensive zone infractions that led to St. Louis' first two goals. Eight of the 10 penalty minutes assessed to Los Angeles came off of offensive zone penalties.
Darryl Sutter pulled Martin Jones after the Blues scored their second goal of the game. Both goals were power play goals. After the game, Sutter said "You've got to make saves." It's easy in hindsight to determine whether or not it was the right call; I also saw the team needing something to turn the game around. I understand the goalie switch, even if Sutter didn't allude to it being a splash of water on the face of a team looking for a spark. The decision didn't amount to any change in the direction of the game as the Kings were beaten quickly off a faceoff shortly afterwards as Ben Scrivens allowed a goal on the first shot he faced and nine of 12 shots.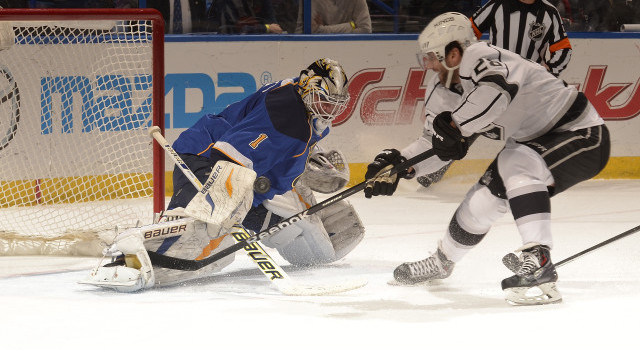 There were some wonky ice time totals in last night's game, one of which was Dustin Brown's 13:04. Brown, who had two attempts on net blocked and finished with one hit, was unable to find a rhythm after opening the trip with a pair of fine efforts, including an excellent performance in all facets of the game in Chicago. Matt Greene, who also was among the standout players in the Chicago game, earned 11:29. Matt Frattin played 15:26, a number boosted by virtue of his usage on the power play, which climbed to 5:04 by virtue of the team's six opportunities. Robyn Regehr earned only 12:34.
After reading some replies on Twitter and brushing over the comments on the game thread, I noted a few isolated opinions that the team should be put through a bag skate after last night's loss. That's not going to happen, and Daryl Sutter isn't looking for any punitive measures. Sutter is not someone who looks back; he's someone who will use whatever means necessary to win the next game on the schedule. A team meeting? Perhaps. This team is still a perfectly respectable 14-7-3 while starting its second and third string goalies over the last seven weeks, and even though that does little to minimize the sting of the team's first extended losing streak in two years, the team is still in an acceptable position despite hitting what appears to be the nadir of the 2013-14 season.