Los Angeles Kings (25-12-4) at St. Louis Blues (27-7-5)
Thursday, January 2, 2014, 7:00 p.m. CT
Scottrade Center, St. Louis, MO
Referees: #19 Gord Dwyer, #38 Francois St. Laurent
Linesmen: #98 John Grandt, #50 Scott Cherrey
FOX Sports West, KTLK 1150 AM
Kings Weekly to follow tonight's game
Los Angeles Projected Starting Goaltender – Martin Jones
2013-14 Season: 10 GP (10 GS) / 8-2-0 record / 1.28 GAA / .955 Sv% / 3 SHO
Career vs St. Louis: First Appearance
Last Game vs St. Louis: First Appearance
2013-14, Away: 5 (5) / 4-1-0 / 1.19 / .964 / 1
St. Louis Projected Starting Goaltender – Brian Elliott
2013-14 Season: 16 GP (12 GS) / 10-1-2 record / 1.96 GAA / .921 Sv% / 2 SHO
Career vs Los Angeles: 7 (5) / 0-4-1/ 3.04 / .898 / 1
Last Game vs Los Angeles: 5/10/13 / 59 MP / 14-16 shots / 2-1 L
2013-14, Home: 7 (4) / 5-0-0 / 2.19 / .909 / 0
2013-14 Los Angeles Leaders
Total Points: Anze Kopitar (13-21=34)
Goals: Anze Kopitar (13-21=34), Justin Williams (13-12=25), Jeff Carter (13-11=24)
Assists: Mike Richards (6-22=28)
Plus/Minus: Anze Kopitar (+21; 13-21=34)
Penalty Minutes: Daniel Carcillo (57; 1-1=2)
Time On Ice: Drew Doughty (25:35; 6-16=22)
2013-14 St. Louis Blues
Total Points: Alexander Steen (24-14=38)*
Goals: Alexander Steen (24-14=38)**
Assists: T.J. Oshie (6-27=33)
Plus/Minus: Jaden Schwartz (+19; 14-16=30)
Penalty Minutes: Chris Stewart (73; 13-9=22)
Time On Ice: Alex Pietrangelo (25:36; 4-20=24)
*Amongst active players, T.J. Oshie (6-27=33) leads the team in points.
** Amongst active players, David Backes (16-14=30) leads the team in goals.
Rankings and Statistics
Goals/Game: LAK – 20 / 2.54; STL – 2 / 3.46
Goals Against/Game: LAK – 1 / 1.98; STL – 7 / 2.33
Power Play: LAK – 22 / 16.2%; STL – 4 / 23.0%
Penalty Kill: LAK – 8 / 84.5%; STL – 9 / 84.1%
Shots/Game: LAK – 11 / 30.8; STL – 19 / 29.4
Shots Against/Game: LAK – 6 / 27.5; STL – 2 / 26.0
Faceoffs: LAK – 2 / 53.6%; STL – 14 / 51.1%
Save Percentage: LAK – t-1 / .928; STL – t-14 / .910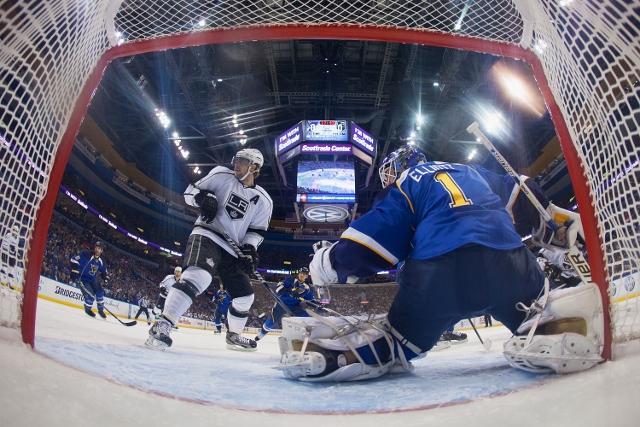 Los Angeles Projected Lines
Dwight King – Anze Kopitar – Jeff Carter
Dustin Brown – Mike Richards – Justin Williams
Matt Frattin – Jarret Stoll – Tyler Toffoli
Kyle Clifford – Trevor Lewis – Jordan Nolan
Jake Muzzin – Drew Doughty
Willie Mitchell – Slava Voynov
Robyn Regehr – Matt Greene
Martin Jones
Ben Scrivens
Level of confidence in projected lines: B+. Martin Jones exited the ice first, so he's your projected starter. Daniel Carcillo and Colin Fraser remained on the ice for extra work, so they're likely out tonight. Alec Martinez is the expected third scratch tonight, though he did not remain on for extra work. The above alignment reflects changes in the third and fourth lines, with Matt Frattin switching back over to the left side. It was over three months ago and isn't particularly relevant for tonight's game, but Frattin led the team in preseason scoring while skating as a left wing opposite Jeff Carter on a line centered by Mike Richards. It appears as though Trevor Lewis will center Kyle Clifford and Jordan Nolan after skating opposite Tyler Toffoli on Jarret Stoll's line earlier in the road trip.
Notes and milestones: The Kings are 70-94-24 all-time against the Blues, which includes a road record of 25-58-11. Los Angeles has beaten St. Louis five straight times in the regular season and is 7-1-0 in the last eight regular season games since October 18, 2011. Including the playoffs, the Kings are 15-3-0 in the last 18 matchups between the teams. Los Angeles won 3-2 at STAPLES Center on December 2 and will finish the season series between the recent playoff rivals on January 16 at the Scottrade Center. … The Kings have lost four consecutive games in regulation for the first time since losing five straight in regulation from December 3-13, 2011. … The Kings' 12-7-2 road record (26 points) is tied for the second best road record in club history. … The Kings are 5-7-1 against the Central Division and 20-5-3 against all other teams. … The Kings' penalty kill has allowed six goals in the last 21 opportunities. … The Kings have been assessed 183 minor penalties, tied for the second most in the NHL. … The last game in which Los Angeles earned more power plays than their opponent was on December 7, a 3-0 win over the New York Islanders. … Martin Jones has allowed zero or one goals in six of his 10 starts. … With seven shutouts (Scrivens 3, Jones 3, Quick 1), Los Angeles is on pace for 14 shutouts. The club record is 11, set in 2011-12. … Jeff Carter has 12 points (6-6=12) in his last 10 games. … In 28 career games against St. Louis, Anze Kopitar has 32 points (10-22=32). … With seven goals and 13 points at the season's midway point, Dustin Brown is on pace for his fewest points since recording five points (1-4=5) in his 19-year-old rookie season of 2003-04. Brown's 6.4% shooting percentage is his lowest since he scored once on 40 shots in 2003-04. … Darryl Sutter is coaching his 999th career game tonight.
St. Louis Projected Lineup
Jaden Schwartz – Vladimir Sobotka – T.J. Oshie
Brenden Morrow – Derek Roy – Chris Stewart
Magnus Paajarvi – Patrik Berglund – Vladimir Tarasenko
Chris Porter – Maxim Lapierre – Ryan Reaves
Jay Bouwmeester – Alex Pietrangelo
Barret Jackman – Kevin Shattenkirk
Ian Cole – Carlo Colaiacovo
Brian Elliott
Jake Allen
Notes and milestones: Lines via Jeremy Rutherford of the St. Louis Post-Dispatch. … Alex Steen (concussion), Roman Polak (ankle/foot) and Jordan Leopold (hand) are on injured reserve, while David Backes (upper-body) and Chris Stewart (facial lacerations) are questionable. Stewart took part in line rushes; Backes did not. Ryan Reaves, who broke his right hand in a fight with Dallas' Brenden Dillon on November 23, will return to the lineup after missing 17 games. … St. Louis is 0-5-0 against the California teams and 27-2-5 against all other teams. Against California teams, they've been outscored 24-11; they've outscored the rest of the field 128-69. … The only other time since the teams entered the league in 1967 that St. Louis has lost three straight regular season home games to Los Angeles was October 30, 1973 – April 2, 1975. … The Blues are 15-3-2 at home, tying Chicago and Anaheim for the most home wins in the Western Conference. … St. Louis is 49-0-1 in their last 50 home games when scoring as many as three goals. … The Blues have scored at least two goals in 26 consecutive regular season home games. … Jaden Schwartz has goals in six consecutive games. He has 11 points (7-4=11) in his last eight games. … Vladimir Tarasenko has five points (1-4=5) in the last four games.