DUSTIN BROWN
On when he found out he made the Olympic team:
I found out – I was actually getting up from a nap and I had about 10 text messages. It was on the TV, the Winter Classic, so I found out right after it was probably announced. I found out, just like everyone else did.
On if he had been told at Olympic Development Camp what his role might be:
No. They probably selected everybody player for a certain reason and I think every player knows the type of game they need to play and where they'll fit in. Like I said to Nick, it's one of those things where they picked a team based on slots and probably I'll slot in wherever they need me. I don't know the details and I don't think any player probably will until the time gets closer.
On what it would mean playing against Slava Voynov and Anze Kopitar in the Olympics:
It's always fun. I've had the opportunity to play against Kopi at the World Championships a few years ago. It's a unique experience playing against your teammates. At the end of the day, they're still your teammates. But it'll be exciting. Like I said, I think it's a unique experience, but it's a pretty fun experience when you get to play against Kopi or playing against Dewey.
On whether there was any on-ice interaction between him and Drew Doughty in 2010:
Not really, at that point we were roommates here with the Kings. So it was even more unique I guess. I think it's pretty easy to put away for the game. We don't really talk about it much now. Right after, we talked about the games and how much fun they were and that was pretty much the extent of it. Then we get back here and it's back to normal.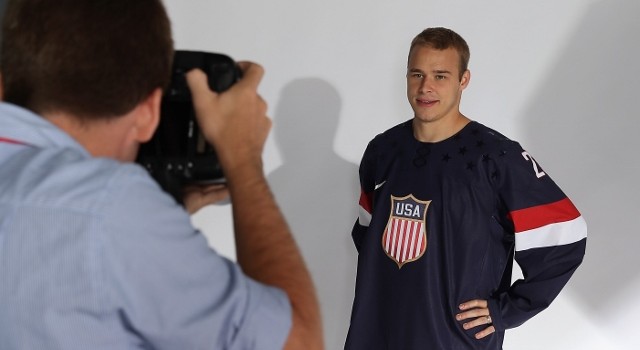 DREW DOUGHTY
On the possibility of facing Dustin Brown in the Olympics:
That'd be cool. Still have a lot of work to do before they name the team. Last time, it was a lot of fun playing against him. I know what he's going to do out there and he knows what I'm going to do out there, so it's a different challenge and it's fun. At the same time, when we were out there the last time, we weren't buddy-buddy or anything like that. We were playing to win the game. I'm sure if I make the team again and we happen to face off, then it'd be the same way. [Reporter: He said you guys were roommates on the road at the time.] Yeah, we were. So I had the upper hand when we got back for a little bit. It was all in fun.
On if he has considered who he might be skating with if he makes the Canadian roster:
No, I don't at all actually. All of that is out of my control. No matter what I think, nothing is going to happen. I still have to make that team. There are still a lot of days in between when they name the team – like five days, six days, whatever it is. All of that is out of my control. All I can control is how well I play for the Kings right now. We're on a losing streak that we should not be on and that's my only focus, to lead the way out of this losing streak and make a difference in the game and get a win tonight.
On how he learned he made the 2010 Olympic roster:
I got a phone call. They told us to keep our phones on. So I had to put it on loud before I went to bed and it woke me up with the phone call. We were actually in Calgary, so I'll always remember that. [Reporter: How cool was that?] It was actually a weird feeling I got actually, when I got the call. I was just so happy. I just wanted to right away tell Brownie. I woke Brownie up. Brownie told me 'congrats.' Right away I called my mom and my dad. I called my mom and she's crying, so that makes you a little sad. It was one of the best feeling I've ever had, is making that team. It was almost as good a feeling as it was winning it.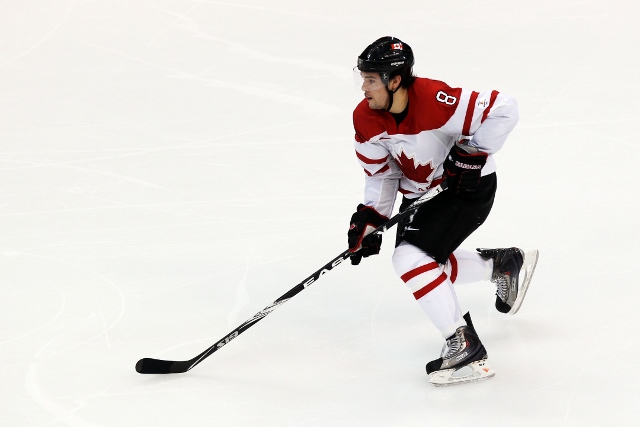 SLAVA VOYNOV
On playing the United States and Slovenia in the group stage:
It's nice to play against teammates, but I don't care who I play against.
On the excitement of playing for Russia as the hosting country:
It's very important for us. Maybe it's the first and the last time that I'm going to play hockey for the Olympic team in Russia. It's very important for us.
On Russia's win over the United States at World Juniors:
They played against the U.S…so it's a big win, yes.
On his overtime goal in St. Louis during the 2013 playoffs:
We were on the attack, and I got the puck from Kopitar, and I scored a goal.
On how the play developed:
I got a nice pass from Kopitar, and I just shot the puck.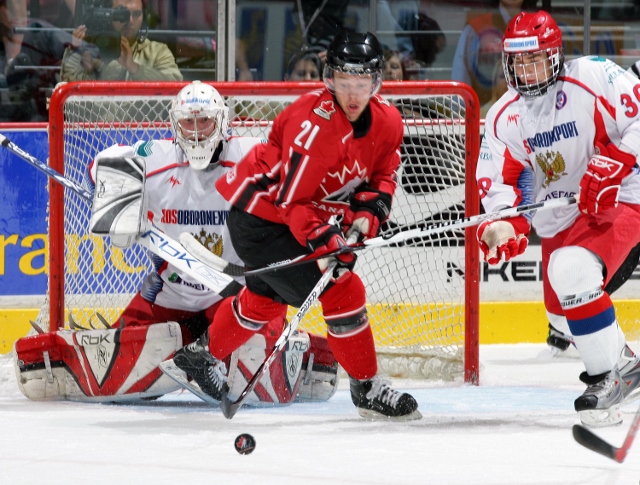 -Voynov, right, defends his net in the first of his three consecutive World Junior Championship appearances.