For the first time in the 2013-14 season, the Kings and their opponents played in a playoff-like game that provided a potential glimpse of what a late spring game between Los Angeles and Chicago could look like, lest anyone had forgotten. Often the reaction to an up-and-down, trading chances game in which an animated crowd hangs tightly on a higher scoring, 70-to-75 shot affair is to think "Wow! That was like a playoff game!," when really, playoff games, especially those played by Los Angeles, are tightly structured, defensive contests in which shots and scores are limited, and goals are scored off the odd mistake like last night. Monday's game was a fine defensive battle played by a pair of teams operating at a high level, punctuated by several supreme individual defensive performances by Chicago after breakdowns in their own zone. Jeff Carter finds the puck on his stick with some time and space in front of Antti Raanta? There's Jonathan Toews to tie him up without drawing a penalty. When Anze Kopitar found himself in a similar situation, though perhaps from not quite as head-on of an angle, there was a diving Johnny Oduya to deny him. Kyle Clifford tried to turn a race for a breakaway into an uncontested opportunity before Duncan Keith poked the puck away from him. Several of the Kings' quality opportunities were denied by excellent defensive efforts by a Blackhawks team that demonstrated it can win a 1-0 game in addition to a 5-3 game.
I loved the Kings' jump in the first five minutes. Despite the occasional drop-off – I'm looking at you, start of the third period – their cadence was kept up throughout the entirety of the game. It was a fast, physical game between the two teams, and several of the Kings' bangers were really good against a team that has the ability to exploit opponents with speed. The efforts of Dustin Brown and Matt Greene symbolized the team's physical charge, while hits by Colin Fraser on Michal Rozsival, Jake Muzzin on Toews, Greene on Bryan Bickell, and a sturdy 22-plus minute effort by Willie Mitchell contributed to one of the team's better efforts of the 2013-14 season.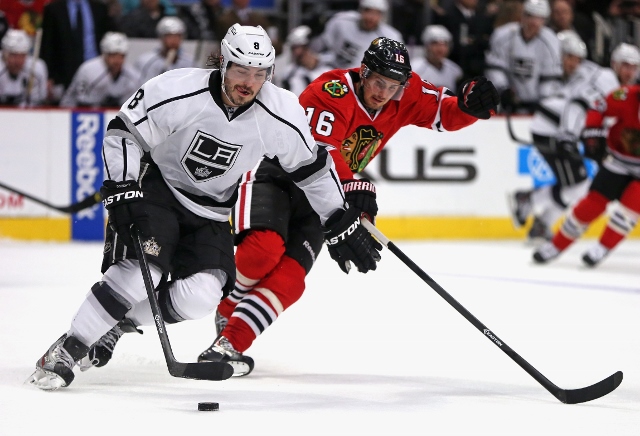 Martin Jones was excellent, and I've just about grown weary of typing that. Can I change my keyboard's controls so that by pressing the F5 button Microsoft Word will display that automatically? Coming off a poor performance one week prior in the home loss to Dallas, it was a good sign that the rookie goalie rebounded with one of his finest performances against the league's deepest offensive outfit. He denied all seven power play shots against a unit that entered the game 16-for-47 with the man advantage in December.
The goal came on a breakdown in which Muzzin got caught up ice and was the third player back in a 2-on-1 that developed between Bickell and Brandon Saad. Greene used a fine effort to disrupt the pass across the slot, but it did appear as though Mike Richards appeared to stickhandle his way out of a high tension situation instead of snap the puck towards the boards. It's easy to say that from upstairs, though with the speed of the game at ice level, the split second decision was the wrong one. Though Richards has had rough moments in key situations during the first two games of the road trip, that's mostly an unfortunate coincidence and isn't representative of any fundamentally unsound aspects creeping into his game. Think larger picture here. Though they didn't earn two points in this game, we learned more about this L.A. team than we did following a 3-0 win over Edmonton two weeks ago. They may not win tonight's game in Dallas. Heck, they might not win Thursday's game in St. Louis. But if a playoff series materializes between Los Angeles and Chicago for the second consecutive year, Kings fans should be feeling more confident than they were heading into last night's game.