With Hudson Fasching stringing together several quality performances  in the World Junior Championships in advance of the United States' group play finale against Canada on Tuesday, I asked several Los Angeles Kings about their experiences playing in the world's top tournament of players under 20 years of age.
Eleven Kings have played in at least one World Junior Championship, with Anze Kopitar also participating in the WJC B-Pool with Slovenia in 2003, 2004 and 2005.
The 11 Kings: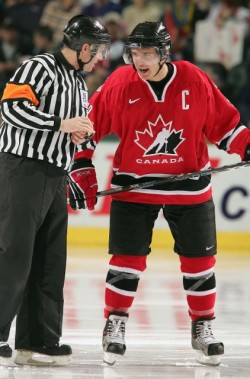 Dustin Brown – United States, 2002, 2003
Jeff Carter – Canada, 2004, 2005
Drew Doughty – Canada, 2008
Colin Fraser – Canada, 2005
Matt Greene – United States, 2003
Martin Jones – Canada, 2010
Trevor Lewis – United States, 2007
Robyn Regehr – Canada, 1999
Mike Richards – Canada, 2004, 2005
Jarret Stoll – Canada, 2001, 2002
Slava Voynov – Russia, 2007, 2008, 2009
The 2005 gold medal-winning Canadian team that Richards captained and also featured Fraser and Carter was bolstered by the NHL lockout and is widely considered to be one of the greatest teams assembled in tournament history. The Kings will face off against another member of the 2005 team tonight in Brent Seabrook; in addition to the four players referenced, that team was also filled out by a decent collection of talent in Shea Weber, Dion Phaneuf, Sidney Crosby, Corey Perry, Ryan Getzlaf and Patrice Bergeron.
"We were pretty lucky to have a lot of guys that we probably wouldn't have had if the league was playing right, and a lot of guys would've been in the NHL that year," Jeff Carter said. "It was a lot of fun. It's a pretty easy game to play when you're with guys like that. It was good."
Do current National Hockey League players pay attention to the tournament?
"We try, but it's tough. When you play in the States, you don't get much coverage. You get the American games, but nobody wants to watch those, anyways," Carter joked. "We watch as much as we can, obviously."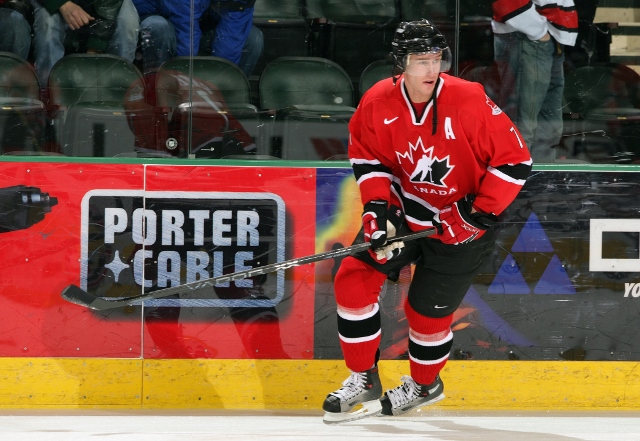 Earlier on the road trip, several tournament alums recalled their memories of the passion and rivalries incited by the World Junior Championships.
Dustin Brown, on his World Junior experience against Canada:
Luckily, I got to play Canada in the World Juniors in Canada, which is always, I think, more special. Very much like the 2010 Olympics, when you play Canada in Canada it's a little different. The year the U.S. won, that was my first year here so I didn't [play] in that one. I played them once there and then a couple times in the World Championships.
Brown, on the recent success of the United States at World Juniors:
Like I said, that first time, my first year here, that was the first time they won it. Now, they've won two or three more. I think it's just a tribute to growing the game and getting better players or getting better athletes playing hockey and you're starting to see that now.
Colin Fraser, on Canada's goal heading into the 2005 tournament:
I think it's obviously it's to win every year, but it's the lockout year right? So we had, gosh, a handful of guys that probably would've been in the NHL. Off the top of my head, you've got Rick and Carts, Getzlaf, Perry, Phaneuf, Weber, all those guys, probably more than that, would've all been in the NHL. Crosby, yeah, he was only [17]. He couldn't play [in the NHL], but Patrice Bergeron was in the NHL and then was in the American League for that year, so that's eight guys right there. So I think definitely that year, to win, when guys play in the NHL it changes the whole dynamic of the team, depending on who gets released and whatnot, right? I mean that's eight roster spots, that would've changed the whole team.
Fraser, on whether the U.S. was Canada's biggest rival at the time he played:
I didn't play the year before, but Rick and Carts played the year before and lost in Finland in '04 to U.S.A. And they were up maybe 3-1 or 4-1 and kind of collapsed in the third period there. I can't remember, but anyways, they collapsed and U.S.A. won. So I think the U.S.A. was the number one rivalry, but they were in the other pool so we didn't even play them because they were on A and B pool so we didn't play them. And the only way we could've played them was the finals.