Los Angeles Kings (25-10-4) at Chicago Blackhawks (27-7-7)
Monday, December 30, 2013, 7:00 p.m. CT
United Center, Chicago, IL
Referees: #32 Tom Kowal, #21 Don VanMassenhoven
Linesmen: #50 Scott Cherrey, #76 Michel Cormier
NBC Sports Network, KTLK 1150 AM
Los Angeles Projected Starting Goaltender – Martin Jones
2013-14 Season: 9 GP (9 GS) / 8-1-0 record / 1.31 GAA / .953 Sv% / 3 SHO
Career vs Chicago: First appearance
Last Game vs Chicago: First appearance
2013-14, Away: 4 (4) / 4-0-0 / 1.23 / .964 / 1
Chicago Projected Starting Goaltender – Antti Raanta
2013-14 Season: 14 GP (12 GS) / 9-1-3 record / 2.38 GAA / .906 Sv% / 0 SHO
Career vs Los Angeles: 1 (1) / 1-0-0 / 1.00 / .955 / 0
Last Game vs Los Angeles: 12/15/13 / 60 MP / 21-22 shots / 3-1 W
2013-14, Home: 7 (6) / 5-0-2 / 1.88 / .920 / 0
2013-14 Los Angeles Leaders
Total Points: Anze Kopitar (12-21=33)
Goals: Justin Williams (13-12=25)
Assists: Mike Richards (6-21=27)
Plus/Minus: Anze Kopitar (+21; 12-21=33)
Penalty Minutes: Daniel Carcillo (57; 1-1=2)
Time On Ice: Drew Doughty (25:41; 6-15=21)
2013-14 Chicago Leaders
Total Points: Patrick Kane (23-30=53)
Goals: Patrick Sharp (22-19=41)
Assists: Duncan Keith (3-35=38)
Plus/Minus: Marian Hossa (+19; 14-20=34), Brent Seabrook (+19; 4-24=28)
Penalty Minutes: Brandon Bollig (61; 3-5=8)
Time On Ice: Duncan Keith (24:24; 3-35=38)
Rankings and Statistics
Goals/Game: LAK – 16 / 2.62; CHI – 1 / 3.73
Goals Against/Game: LAK – 1 / 1.97; CHI – t-14 / 2.68
Power Play: LAK – 21 / 16.0%; CHI – 3 / 24.8%
Penalty Kill: LAK – 6 / 85.0%; CHI – 28 / 76.0%
Shots/Game: LAK – 10 / 31.1; CHI – 1 / 36.0
Shots Against/Game: LAK – t-4 / 27.3; CHI – 3 / 26.6
Faceoffs: LAK – 1 / 54.2%; CHI – t-9 / 51.5%
Save Percentage: LAK – t-2 / .928; CHI – 26 / .899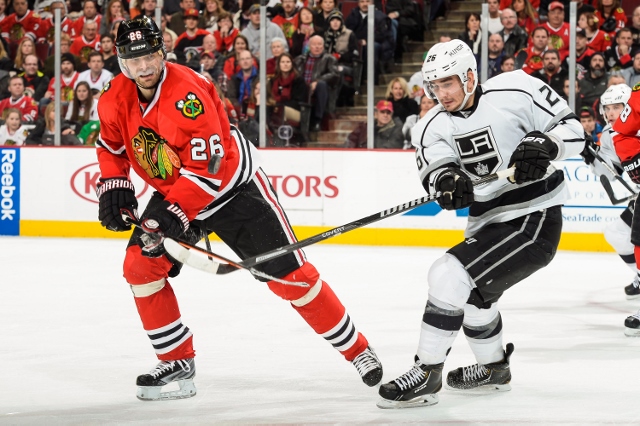 Los Angeles Projected Lines
Dwight King – Anze Kopitar – Jeff Carter
Dustin Brown – Mike Richards – Justin Williams
Trevor Lewis – Jarret Stoll – Tyler Toffoli
Kyle Clifford – Colin Fraser – Jordan Nolan
Jake Muzzin – Drew Doughty
Robyn Regehr – Slava Voynov
Willie Mitchell – Matt Greene
Martin Jones
Ben Scrivens
Level of confidence in projected lines: B. Darryl Sutter indicated that the team would use seven defensemen again, but I'm betting against that. If the team returns to six defensemen, Alec Martinez would be the man out, with Colin Fraser the most likely candidate to center Kyle Clifford and Jordan Nolan. If seven defensemen are in fact used, expect Fraser to sit and Jeff Carter, Anze Kopitar and Mike Richards to see the most time alongside Clifford and Nolan. I was in the dressing room when the first goalie left the ice, so there was no #LAKingsGoalieTweetOff today. Expect Jones to start.
Notes and milestones: The Kings are 77-82-22 all-time against the Blackhawks, which includes a record of 37-44-11 in Chicago. The two teams will conclude the season series in Los Angeles on February 3. … The Kings are 5-5-1 against the Central Division and 20-5-3 against all other teams. … Los Angeles has not lost three consecutive games this season, whether in regulation or in overtime or a shootout. … The Kings' 25-10-4 record (54 points) after 39 games is tied for the best record in club history. The 1974-75 club was 21-6-12 (54 points). … With 185 goals, Anze Kopitar is one goal behind Jim Fox (186 goals) for the 10th most goals in club history. … The last game in which Los Angeles earned more power plays than their opponent was on December 7, a 3-0 win over the New York Islanders. The Kings have been faced with at least four shorthanded situations in each of the last four games and eight of the last 11 games. Only Ottawa (193) and Philadelphia (176) have taken more minor penalties than Los Angeles' 174. … Dustin Brown hasn't recorded a point on the power play in 26 games. … Anze Kopitar has 28 points (12-16=28) in the last 31 games. … Jeff Carter has 10 points (5-5=10) in the last eight games. … Drew Doughty has seven points (1-6=7) and is a plus-10 over his last 10 games. Including playoffs, Doughty has eight points (1-7-8) and a minus-13 rating in 24 career games against Chicago. … Including playoff games with Los Angeles and Philadelphia, Mike Richards has eight points (6-2=8) and a minus-12 rating in 19 career games against Chicago.
Chicago Projected Lines
Patrick Sharp – Jonathan Toews – Marian Hossa
Kris Versteeg – Michal Handzus – Patrick Kane
Bryan Bickell- Andrew Shaw – Brandon Saad
Brandon Bollig – Marcus Kruger – Ben Smith
Duncan Keith – Brent Seabrook
Johnny Oduya – Niklas Hjalmarsson
Nick Leddy — Michal Rozsival
Antti Raanta
Jason LaBarbera
Notes and milestones: Lines via Brian Hedger of NHL.com … The Blackhawks are 8-0-3 against the Pacific Division. … Chicago has scored five-plus goals an NHL-leading 17 times this season. … The Blackhawks are 16-for-47 on the power play in December. … Patrick Kane ranks second in the NHL with 53 points (23-30=53). He has reached 50 points in every season of his career. … In 27 career regular season games against Los Angeles, Patrick Sharp has 32 points (19-13=32) and a plus-10 rating. The NHL's First Star of the Week, Sharp has 17 points (11-6=17) in the last 10 games. … Chicago has sold out 248 consecutive games (210 regular season, 38 playoffs) at United Center.