Los Angeles Kings (23-8-4) vs San Jose Sharks (21-7-6)
Thursday, December 19, 2013, 7:30 p.m. PT
STAPLES Center, Los Angeles, CA
Referees: #6 Francois Charron, #11 Kelly Sutherland
Linesmen: #79 Kiel Murchison, #91 Don Henderson
FOX Sports West, KTLK 1150 AM
Kings Weekly to follow tonight's game
Los Angeles Projected Starting Goaltender – Martin Jones
2013-14 Season: 6 GP (6 GS) / 6-0-0 record / 0.82 GAA / .972 Sv% / 3 SHO
Career vs San Jose: First appearance
Last Game vs San Jose: First appearance
2013-14, Home: 2 (2) / 2-0-0 / 0.00 / 1.000 / 2

San Jose Projected Starting Goaltender – Antti Niemi
2013-14 Season: 30 GP (30 GS) / 18-6-6 record / 2.26 GAA / .915 Sv% / 2 SHO
Career vs Los Angeles: 20 (20) / 11-5-3 / 2.44 / .921 / 2
Last Game vs Los Angeles: 11/27/13 / 65 MP / 38-40 shots + 5/8 / 3-2 SOW
2013-14, Away: 15 (15) / 7-5-3 / 2.35 / .911 / 2
2013-14 Los Angeles Leaders
Total Points: Anze Kopitar (11-18=29)
Goals: Anze Kopitar (11-18=29), Justin Williams (11-11=22)
Assists: Mike Richards (6-21=27)
Plus/Minus: Anze Kopitar (+16; 11-18=29)
Penalty Minutes: Daniel Carcillo (57; 1-1=2)
Time On Ice: Drew Doughty (25:48; 6-12=18)
2013-14 San Jose Leaders
Total Points: Joe Thornton (5-31=36)
Goals: Patrick Marleau (15-19=34), Tomas Hertl (15-10=25)
Assists: Joe Thornton (5-31=36)
Plus/Minus: Justin Braun (+17; 3-8=11)
Penalty Minutes: Andrew Desjardins (49; 1-5=6)
Time On Ice: Justin Braun (21:43; 3-8=11)
Rankings and Statistics
Goals/Game: LAK – 14 / 2.63; SJS – 3 / 3.21
Goals Against/Game: LAK – 1 / 1.89; SJS – 7 / 2.32
Power Play: LAK – 20 / 16.1%; SJS – 13 / 18.4%
Penalty Kill: LAK – t-4 / 86.0%; SJS – t-13 / 82.8%
Shots/Game: LAK – t-10 / 30.9; SJS – 1 / 36.3
Shots Against/Game: LAK – t-5 / 27.3; SJS – 7 / 27.4
Faceoffs: LAK – 1 / 54.4%; SJS – 5 / 52.5%
Save Percentage: LAK – 2 / .931; SJS – t-11 / .915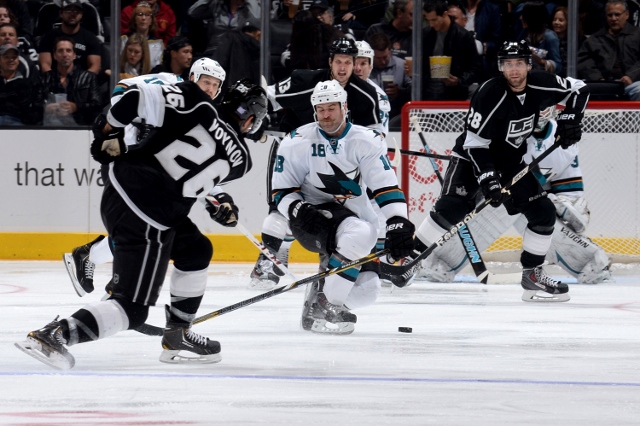 Los Angeles Projected Lines
Dwight King – Anze Kopitar – Jeff Carter
Dustin Brown – Jarret Stoll – Justin Williams
Trevor Lewis – Mike Richards – Tyler Toffoli
Kyle Clifford – Colin Fraser – Jordan Nolan
Jake Muzzin – Drew Doughty
Robyn Regehr – Slava Voynov
Alec Martinez – Matt Greene
Martin Jones
Ben Scrivens
Level of confidence in projected lines: A. Martin Jones left the ice first at the morning skate and is the projected starter. Expect Colin Fraser to be activated from injured reserve and center the fourth line. Daniel Carcillo, Linden Vey and Matt Frattin remained on the ice for extra work and were eventually joined by Willie Mitchell and Jonathan Quick.
Notes and milestones: The Kings are 55-54-19 all-time against the Sharks, which includes a 35-22-7 record at home. Including playoffs, Los Angeles is 9-0-1 in the last 10 games played between the teams at STAPLES Center. The teams will close out the season series with a pair of games at the SAP Center on January 27 and April 3. … The Kings' 23-8-4 record (50 points) is the best 35-game record in club history. … The Kings are 7-0-1 in their last eight games, outscoring their opponents 26-10 over that span. … Martin Jones is the first Kings goalie to win his first six games with the club. The NHL record for consecutive wins to start an NHL career is eight, recorded by Bob Froese in 1982-83. Jones is the third goalie in NHL history to record three shutouts in his first six starts, and the first since Boston's Frank Brimsek in 1938-39. … The Kings have scored three power plays in their last 45 opportunities. … The Kings have killed off 67 of the last 73 penalties, dating back to November 7, and 60 of the last 65 penalties, dating back to November 14. … Drew Doughty will play in his 400th career game tonight. … Justin Williams will play in his 300th game as a King tonight. … Jeff Carter has six points (2-4=6) in the last four games. … Dwight King has four points (2-2=4) in the last three games. … Dustin Brown has gone 12 games without recording an assist and 24 games without recording a point on the power play. … The home team has won 21 of the last 22 games in this series, including playoffs.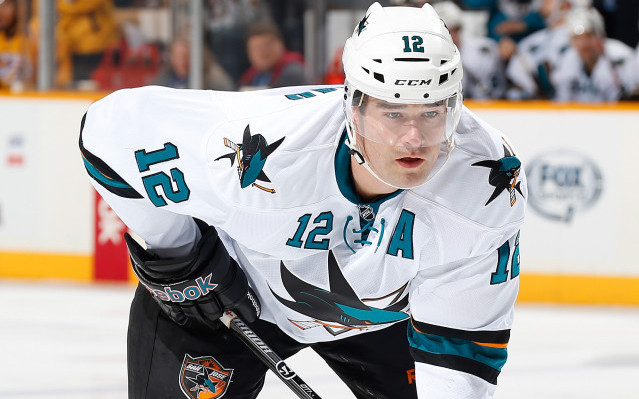 San Jose Projected Lines
Tomas Hertl – Joe Thornton – Brent Burns
Patrick Marleau – Logan Couture – Marty Havlat
James Sheppard – Joe Pavelski – Tommy Wingels
Tyler Kennedy – Andrew Desjardins – Mike Brown
Marc-Edouard Vlasic – Justin Braun
Matt Irwin – Dan Boyle
Scott Hannan – Brad Stuart
Antti Niemi
Alex Stalock
Notes and milestones: Lines via Kevin Kurz of CSNBayArea.com. … All four games played amongst the California teams have been three-point games. On October 30, Los Angeles beat San Jose 4-3 in overtime, on November 27, San Jose beat Los Angeles 3-2 in a shootout, on November 30, San Jose beat Anaheim 4-3 in a shootout, and on December 3, Los Angeles beat Anaheim 3-2 in a shootout. … The Sharks have scored a franchise record six goals in the opening minute of a game this season. Marc-Edouard Vlasic scored 13 seconds into Los Angeles' 4-3 overtime win over San Jose on October 30. … The Sharks are 2-4-1 in their last seven games. … Patrick Marleau will play in his 1,200th NHL game tonight. … Joe Thornton has 61 points (13-48=61) and 62 penalty minutes in 62 career games against the Kings. … Logan Couture has two goals in his last 16 games and no goals in his last seven. He has six goals and 15 points in 19 career regular season games against Los Angeles.