A sign of a good team is that it will win games even when playing below its capability. The very basic, general sports cliché was applicable Wednesday night as a Los Angeles Kings team was outplayed and outchanced by a hungry Toronto Maple Leafs squad yet still came away with a two-goal victory courtesy of an opportunistic third period and a key power play goal. Though Jake Muzzin's marker with the man advantage on Tuesday was mostly academic, Drew Doughty's first period snipe over Jonathan Bernier's right shoulder was the embodiment of Darryl Sutter's call not only for power play goals, but power play goals in important situations. It also provided one of the more audible gasps I can remember hearing at a sporting event. It went against the run of play in a first period game tilted towards Los Angeles' net, and with Martin Jones' ability to once again keep his team in the game with timely saves, the Kings were afforded enough time to find a way to win.
The Kings are now 12-1-4 in their last 17 games, and their 46 points through 32 games is the best start in club history. Really, what we're seeing now is among the best regular season runs the team has ever embarked on, and though it's difficult to compare different teams and eras, this does appear to be the best defensive sequence the team has ever strung together in the regular season. Even a game such as last night's in which they were operating well below the level they are capable of – credit that to a strong Toronto possession game, coupled with a quick back-to-back almost immediately after Los Angeles arrived in the Eastern Time Zone – the only goal conceded was one off a sneaky Phil Kessel pass to Cody Franson during a five-on-three. The Kings have allowed zero even strength goals over the last three games, and only one even strength goal – Ryan Getzlaf's second period chip-in in Anaheim two Tuesdays ago – over the last four.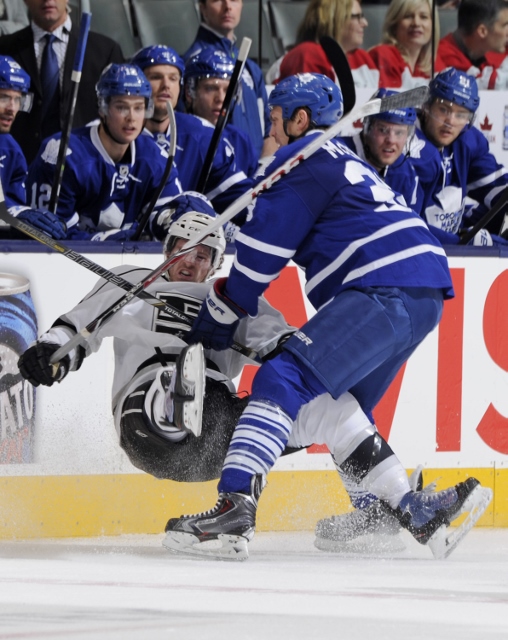 Matt Greene is ready to return to the lineup, and never mind the team's 33-8-5 record in the last 46 games Alec Martinez has dressed, as Greene could take Martinez's spot in the lineup on Saturday. Though the puck-moving defenseman scored a goal in Tuesday's win over Montreal, he logged only 10:55 Wednesday night, and Greene, a natural right defenseman, had been skating with Willie Mitchell prior to being sidelined with an upper-body injury. "I think everyone is extremely happy just knowing that when you watch guys come in and get a chance that work extremely hard, like Marty," Greene said on Saturday. "You watch him, he just goes about his business the last two years and keeping himself ready. Then when he comes in and plays as well as he has, it's really good and really rewarding to watch, and everybody's really happy for him."
The Kings have scored 12 times in their last 77 shots, and it was only natural for them to experience an uptick in their shooting percentage. Even with the recent surge, they still rank only 20th in the league and have scored on only 8.35 percent of their shots. The four highest shooting percentages? St. Louis (11.31%), Chicago (11.02%), Phoenix (9.82%) and Anaheim (9.78%). Alex Steen is no doubt having a banner year for the Blues, but he's going to experience some regression in his 21.4% rate; keep in mind Patrik Berglund rode a 23.0% surge towards 17 regular season goals last season before leveling off in the playoffs, scoring once on 11 shots. St. Louis will show some regression, while teams like Vancouver (22nd / 8.17%) and the New York Rangers (29th / 7.11) should see their scoring rates increase. Buy stock in the second half Rangers. Does such a holding exist? I don't think it does.