Several brief notes before we head down to the Air Canada Center on a busy day:
-Last night's score accurately depicts a runaway Kings victory over the Montreal Canadiens in a result that was influenced heavily by Martin Jones turning aside multiple high grade scoring opportunities while killing penalties in the first period before Anze Kopitar doubled Los Angeles' lead with a back-breaking goal 13 seconds from the end of the opening frame. Both Kopitar's goal and Jordan Nolan's goal resulted from the often-used hockey phrase of "keeping things simple." For Nolan, it was crashing the net to bury the rebound of a Willie Mitchell shot that Kopitar had deflected. For Kopitar, it was winning the faceoff, finding a soft spot in the slot, and burying a deft Mike Richards pass.
-The Kings blew the doors off in the second period by crashing the net and providing a physical challenge that Montreal was ill equipped to stand up to. Alec Martinez's early second period goal was questionable, and I'm actually surprised the Canadiens didn't amount much of a complaint after it was scored, even if the play wasn't reviewable. Watching the replay, Kyle Clifford made contact with Carey Price and briefly looked over towards the officials after Martinez buried the loose puck. There was clearly more contact on that play than the contact Mike Richards tried to avoid when Los Angeles had what should have been a goal taken away in a 5-1 loss at Tampa Bay in October. Tuesday's goal stood, and for Clifford, it was representative of the beelines he made towards the net throughout the game and Montreal's difficulty in keeping large power forwards away from high percentage scoring areas.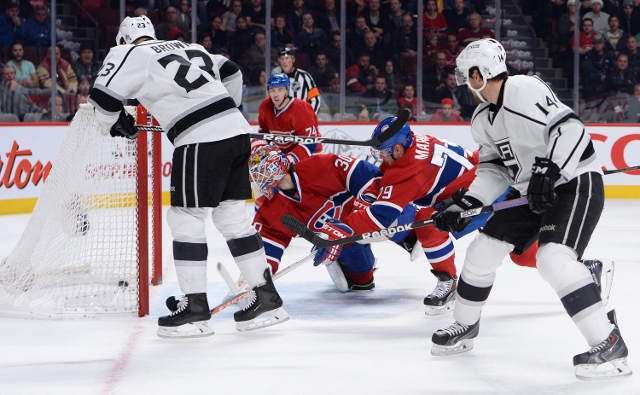 -Martin Jones pitched a shutout and the second, third and fourth line right wings all scored for Los Angeles, which raises the question of whether Ben Scrivens and Matt Frattin will enter into the lineup to face their former club in tonight's heavily anticipated game. I'm expecting Darryl Sutter to play both tonight. In so many interviews Sutter has deferred to his players and the work they've put in, and it isn't easy to get players to buy in to the level that the Kings have by keeping them out of the lineup of a game they've been looking forward to. Counterpoint: Do you really make adjustments to a lineup that produced a 6-0 win over a quality opponent? Tough decisions will be made at the ACC today.