Los Angeles Kings (20-7-4) at Toronto Maple Leafs (16-12-3)
Wednesday, December 11, 2013, 7:30 p.m. ET
Air Canada Centre, Toronto, ON
Referees: #14 Dennis LaRue, #15 Jean Hebert
Linesmen: #73 Vaughan Rody, #75 Derek Arnell
FOX Sports West, KTLK 1150 AM
Los Angeles Projected Starting Goaltender – Martin Jones
2013-14 Season: 3 GP (3 GS) / 3-0-0 record / 0.65 GAA / .973 Sv% / 2 SHO
Career vs Toronto: First appearance
Last Game vs Toronto: First appearance
2013-14, Away: 2 (2) / 1-0-0 / 0.97 / .966 / 1
Toronto Projected Starting Goaltender – Jonathan Bernier
2013-14 Season: 20 GP (17 GS) / 9-8-2 record / 2.49 GAA / .929 Sv% / 1 SHO
Career vs Los Angeles: First appearance
Last Game vs Los Angeles: First appearance
2013-14, Home: 11 (8) / 6-4-0 / 2.56 / .924 / 0
2013-14 Los Angeles Leaders
Total Points: Anze Kopitar (9-18=27)
Goals: Justin Williams (11-11=22)
Assists: Anze Kopitar (9-18=27)
Plus/Minus: Anze Kopitar (+13; 9-18=27)
Penalty Minutes: Daniel Carcillo (55; 1-1=2)
Time On Ice: Drew Doughty (25:52; 5-10=15)
2013-14 Toronto Leaders
Total Points: Phil Kessel (16-13=29)
Goals: Phil Kessel (16-13=29)
Assists: Cody Franson (0-14=14)
Plus/Minus: Dion Phaneuf (+12; 2-10=12)*
Penalty Minutes: Colton Orr (73; 0-0=0)**
Time On Ice: Dion Phaneuf (24:13; 2-10=12)***
*suspended; Phil Kessel, James van Riemsdyk and Jake Gardiner lead active players with a plus-five rating
**on injured reserve; Frazer McLaren leads active players with 57 penalty minutes
***suspended; Cody Franson leads active players with an average TOI of 21:03
Rankings and Statistics
Goals/Game: LAK – 18 / 2.58; TOR – t-15 / 2.64
Goals Against/Game: LAK – t-1 / 1.94; TOR – t-18 / 2.74
Power Play: LAK – 22 / 15.8%; TOR – 4 / 23.7%
Penalty Kill: LAK – 4 / 86.3%; TOR – 26 / 77.0%
Shots/Game: LAK – 10 / 31.3; TOR – 28 / 26.7
Shots Against/Game: LAK – 4 / 26.2; TOR – 30 / 37.1
Faceoffs: LAK – 1 / 54.6%; TOR – 25 / 47.1%
Save Percentage: LAK – t-3 / .926; TOR – t-3 / .926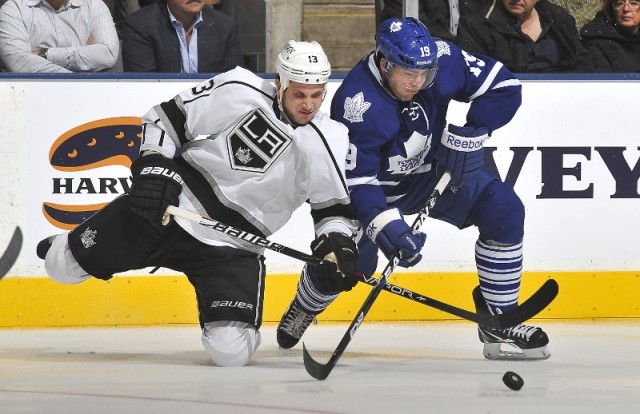 Los Angeles Projected Lines
Dwight King – Anze Kopitar – Jeff Carter
Dustin Brown – Jarret Stoll – Justin Williams
Kyle Clifford – Mike Richards – Tyler Toffoli
Daniel Carcillo – Colin Fraser – Jordan Nolan
Jake Muzzin – Drew Doughty
Robyn Regehr – Slava Voynov
Willie Mitchell – Alec Martinez
Martin Jones
Ben Scrivens
Level of confidence in projected lines: A. I told you it would be below "A+! Great job, JR!" Martin Jones left the ice first at the morning skate. Ben Scrivens, Matt Frattin, Linden Vey, Matt Greene and Trevor Lewis remained on the ice for extra work, so they're your projected scratches. Expect the same line-up as last night.

Notes and milestones: The Kings are 60-57-22 against the Maple Leafs, which includes a road record of 23-34-12. Los Angeles has won three straight in Toronto and is 5-0-1 at the Air Canada Centre since January 17, 2001. These teams will meet at STAPLES Center on March 13, 2014. … The Kings' 10-3-2 record (22 points) after 15 road games is the most in club history. … The Kings' 44 points (20-7-4) after 31 games is tied for the most in club history. The 1980-81 club was 21-8-2 (44 pts), and the 1974-75 club was 17-4-10 (44 pts). … The Kings have points in 15 of their last 16 games, going 11-1-4. … Excluding shootout goals, the Kings have allowed two goals or less in 16 straight games, a team record. … The Kings have gone 16 games without allowing a first period goal. … The Kings have scored one power play goal in their last 35 opportunities. Jake Muzzin's second period goal last night snapped a 0-for-34 stretch. … The Kings have killed off 57 of the last 61 penalties, dating back to November 7, and 50 of the last 53 penalties, dating back to November 14. … The Kings are now 6-0-2 in the last eight road games, which ties the third longest road point streak in club history. … Martin Jones carries a scoreless streak of 142:46 into tonight's game. Ben Scrivens posted a scoreless streak of 191:19 earlier in the season. The club record is 202:11, set by Jonathan Quick in 2011-12. … Ben Scrivens and Martin Jones have combined to stop 87-of-91 shots (.956) while the team is shorthanded. Jones stopped all 10 shots Montreal took on the power play Tuesday night. He has stopped 51-of-52 even strength shots (.981) through three games. … Jarret Stoll has points in four straight games (1-4=5). … Anze Kopitar has 22 points (9-13=22) in the last 23 games. … Mike Richards has five points (0-5=5) in the last four games, 17 points (4-13=17) in the last 18 games and 20 points (6-14=20) in the last 22 games. … Tyler Toffoli has five points (4-1=5) in the last four games. … Though Tuesday's win snapped a two game goal scoring streak, Dustin Brown has goals in only five of 31 games this season. He scored 18 goals last year. … By playing tonight, Dustin Brown will move into a tie with Mike Murphy for seventh place in club history with 673 games played. … Dustin Brown is one point shy of 400 career points (187-212=399). … Drew Doughty is one point shy of 200 career points (54-145=199).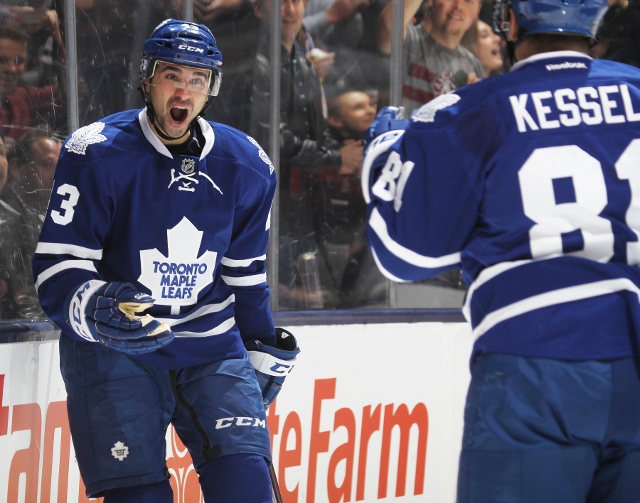 Toronto Projected Lines
James van Riemsdyk – Nazem Kadri – Phil Kessel
Joffrey Lupul – Peter Holland – Nikolai Kulemin
Mason Raymond – Trevor Smith – David Clarkson
Frazer McLaren – Jay McClement – Jerry D'Amigo
Carl Gunnarsson – Cody Franson
Jake Gardiner – John-Michael Liles
Mark Fraser – Paul Ranger
Jonathan Bernier
James Reimer
Notes and milestones: Lines via Joe Yerdon of NHL.com. … Joffrey Lupul, who hasn't played since November 25 due to a groin injury, will be activated from injured reserve in time to play tonight. … Dave Bolland (ankle tendon), Tyler Bozak (oblique) and Colton Orr (elbow) are on injured reserve, while Dion Phaneuf is serving the first game of a two-game suspension for a hit from behind on Boston's Kevan Miller that did not draw a penalty. … The Leafs are 4-2-1 in the first game of back-to-back sets. They play in St. Louis tomorrow night. … With an average age of 26.8 years, Toronto sports a roster that is tied with Buffalo and Edmonton for the third-youngest roster in the NHL. Winnipeg (26.6 years) and Columbus (26.7 years) are the two youngest teams in the league. … David Clarkson's next goal will be the 100th of his career. … With 99 career points (19-80=99), Paul Ranger's next point will be the 100th of his career.