Los Angeles Kings (19-7-4) at Montreal Canadiens (19-9-3)
Tuesday, December 10, 2013, 7:00 p.m. ET
Bell Centre, Montreal, QC
Referees: #6 Francis Charron, #33 Kevin Pollock
Linesmen: #50 Scott Cherrey, #88 Mike Cvik
FOX Sports West, KTLK 1150 AM
Los Angeles Projected Starting Goaltender – Martin Jones
2013-14 Season: 2 GP (2 GS) / 2-0-0 record / 0.97 GAA / .955 Sv% / 1 SHO
Career vs Montreal: First appearance
Last Game vs Montreal: First appearance
2013-14, Away: 1 (1) / 1-0-0 / 1.87 / .929 / 0
Montreal Projected Starting Goaltender – Carey Price
2013-14 Season: 24 GP (24 GS) / 14-8-2 record / 1.95 GAA / .938 Sv% / 1 SHO
Career vs Los Angeles: 3 (3) / 3-0-0 / 1.67 / .940 / 0
Last Game vs Los Angeles: 12/3/11 / 60 MP / 26-27 shots / 2-1 W
2013-14, Away: 18 (18) / 11-5-2 / 1.93 / .939 / 0
2013-14 Los Angeles Leaders
Total Points: Anze Kopitar (8-17=25)
Goals: Justin Williams (10-11=21)
Assists: Anze Kopitar (8-17=25)
Plus/Minus: Anze Kopitar (+11; 8-17=25), Dustin Brown (+11; 6-5=11)
Penalty Minutes: Daniel Carcillo (55; 1-1=2)
Time On Ice: Drew Doughty (25:55; 5-10=15)
2013-14 Montreal Leaders
Total Points: P.K. Subban (4-20=24)
Goals: Tomas Plekanec (11-11=22), Max Pacioretty (11-3=14)
Assists: P.K. Subban (4-20=24)
Plus/Minus: Andrei Markov (+13; 2-17=19)
Penalty Minutes: George Parros (37; 0-0=0)
Time On Ice: Andrei Markov (25:28; 2-17=19)
Rankings and Statistics
Goals/Game: LAK – 20 / 2.47; MTL – 13 / 2.68
Goals Against/Game: LAK – t-2 / 2.00; MTL – t-2 / 2.00
Power Play: LAK – 23 / 15.2%; MTL – 6 / 22.7%
Penalty Kill: LAK – 5 / 85.8%; MTL – t-3 / 86.4%
Shots/Game: LAK – t-9 / 31.4; MTL – 16 / 29.8
Shots Against/Game: LAK – 4 / 26.1; MTL – t-20 / 30.7
Faceoffs: LAK – 1 / 54.6%; MTL – 15 / 50.4%
Save Percentage: LAK – 5 / .923; MTL – 1 / .935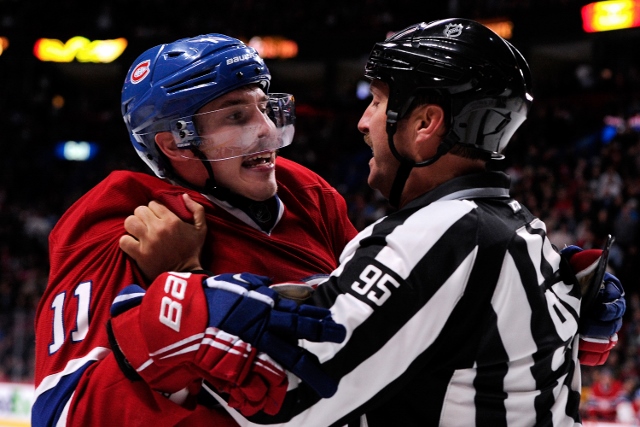 Los Angeles Projected Lines
Dwight King – Anze Kopitar – Jeff Carter
Dustin Brown – Jarret Stoll – Justin Williams
Kyle Clifford – Mike Richards – Tyler Toffoli
Daniel Carcillo – Colin Fraser – Jordan Nolan
Jake Muzzin – Drew Doughty
Robyn Regehr – Slava Voynov
Willie Mitchell – Alec Martinez
Martin Jones
Ben Scrivens
Level of confidence in projected lines: A. Darryl Sutter confirmed that Matt Greene and Trevor Lewis will not come off injured reserve to play tonight. Linden Vey and Matt Frattin remained on the ice after the morning skate for extra work. Vey and/or Frattin may take part in pre-game warm-ups, but the alignment above should be the one the team uses in tonight's game.
Notes and milestones: The Kings are 27-88-20 all-time against the Canadiens and 8-48-11 all-time in Montreal. Since a 2-1 home win on March 8, 2003, Los Angeles has lost seven straight in the overall series. The Kings have lost five straight road games to the Canadiens since a 4-2 win in Montreal on December 11, 1999. The two teams will meet at STAPLES Center on March 3, 2014. … Los Angeles' 19-7-4 record (42 points) after 30 games is tied for the second best record in club history. The 1980-81 club was 21-7-2 (44 pts) after 30 games, while the 1974-75 club was 16-4-10 (42 points). Through 30 games last season, the Kings were 17-11-2 (36 points). … The Kings have points in 14 of their last 15 games, going 10-1-4. … Excluding shootout goals, the Kings have allowed two goals or less in 15 straight games, a team record. … Los Angeles has killed off 53 of the last 57 penalties, dating back to November 7, and 46 of the last 49 penalties, dating back to November 14. … The Kings are 0-for-30 on the power play over the last eight games and 0-for-33 overall. The team's last power play goal was scored by Matt Frattin in the first period of a 5-2 win over Tampa Bay on November 19. … Los Angeles hasn't allowed a first period goal in 15 straight games. … Dustin Brown has scored goals in consecutive games (2-0=2). With 399 career points (187-212=399), he is one point shy of 400 in his NHL career. … Drew Doughty (54-145=199) is one point shy of 200 points in his NHL career. … Mike Richards (36-63=99) is one point shy of 100 points as a King. … Jarret Stoll has points in three straight games (1-2=3). … Slava Voynov will play in his 100th consecutive regular season game tonight.
Montreal Projected Lines
Alex Galchenyuk – Tomas Plekanec – Brian Gionta
Max Pacioretty – David Desharnais – Brendan Gallagher
Michael Bournival – Lars Eller – Daniel Briere
Travis Moen – Brandon Prust – Ryan White
Andrei Markov – P.K. Subban
Josh Gorges – Alexei Emelin
Francis Bouillon – Raphael Diaz
Carey Price
Peter Budaj
Notes and milestones: Lines via Arpon Basu of NHL.com. … Davis Drewiske is on injured reserve and may not return this season after undergoing shoulder surgery in October. … Montreal has won straight games and is 9-0-1 in the last 10 games and has not lost in regulation since a 1-0 setback to the New York Rangers on November 16. The Kings beat the Rangers 1-0 at Madison Square Garden the following night. … The Canadiens have outscored opponents 24-13 in first periods this season. … P.K. Subban, Montreal's leading scorer, has been held without a point and is a minus-1 over the last three games. … Forward Ryan White was a teammate of Martin Jones with the WHL's Calgary Hitmen. … The Canadiens have sold out every regular season and postseason home game since January 8, 2004, a string of 378 consecutive sellouts.