Good day to you from the skies somewhere above the Great Plains.
As cold as it has been in Southern California – it dropped to 36 degrees while driving through Marina del Rey en route to LAX this morning – at least it does not look like this: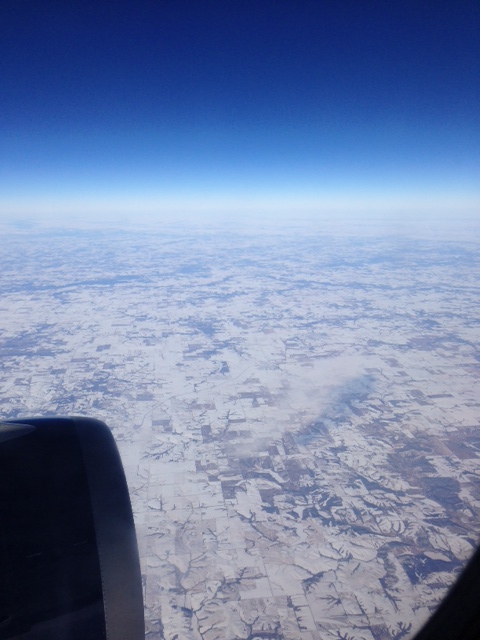 We've been airborne for a few hours now, allowing me time to work on an LAKings.com goaltending feature that will go live on Wednesday. It uses the recent play of Ben Scrivens and Martin Jones to highlight the team's organizational success in net. Entering the game in Buffalo in which Jonathan Quick was felled by a groin injury, the Kings were tied for 21st in the league in save percentage. Heading into tonight's NHL action, they rank fifth.
As a sneak preview of this week's feature, here are excerpts of a discussion with Bill Ranford in which Los Angeles' goaltending coach articulates that the improvement in the statistics is the result of a combination of Scrivens' and Jones' refined technique and detail, as well as the shored up defensive play in front of whoever happens to man the crease on any given night.
Ranford, on the success in net since Jonathan Quick's injury:
Well, I think the big part is we've found our game from the structure, defensively. We were giving up probably 10-plus more chances a game early on in the season, and we felt we had to clean that area up and get the puck moving quicker and faster, and I think that everything started to fall into place. You give good teams that many extra opportunities, pucks are going to end up in the net. It doesn't matter who's in goal.
Ranford, on his expectations of Martin Jones when he was recalled:
Exactly what you saw. That's what the expectations [were]. I've always felt that Marty could play in this league, and the unfortunate thing is he hasn't had the opportunity because our goalies have been so healthy over the past three years. It's one of those things – he's worked hard at his game in Manchester, and he's worked hard to prove that he can be a number one, and all he wanted was the opportunity to play at the NHL level, and he's been given that opportunity, and he's kind of trying to take the ball and run with it.