-The Los Angeles Kings produced the desired response following a home loss to the Calgary Flames on Saturday with a pair of terrific performances in back-to-back wins against playoff teams in the St. Louis Blues and Anaheim Ducks. After scuffling to score against the league's worst defensive unit in Saturday's loss, Los Angeles heavily out-chanced St. Louis in Monday's win before throwing an astounding 103 pucks towards or on the net in Tuesday's win. Not all of the pucks made it through – and not all were pristine opportunities – but any honest evaluation of last night's game puts the scoring chance balance strongly in favor of the Kings, even if the discrepancy of chances wasn't quite as wide as the shots attempted total.
-The California teams have been hoarding points and straining friendships around the Pacific Division over the last week. Los Angeles at San Jose? Shootout, three points. Anaheim at San Jose? Shootout, three points. Los Angeles at Anaheim? Shootout, three points. The only team to play both games on the road in the round robin was the Kings, and they came away with a perfectly acceptable three points against a pair of divisional rivals. Keep in mind Drew Doughty said before the St. Louis game that "we were satisfied with losing in overtime, and even though we were getting points – and you're happy you're getting points – but you want to be winning games," which makes Tuesdays win all the more satisfying for the team.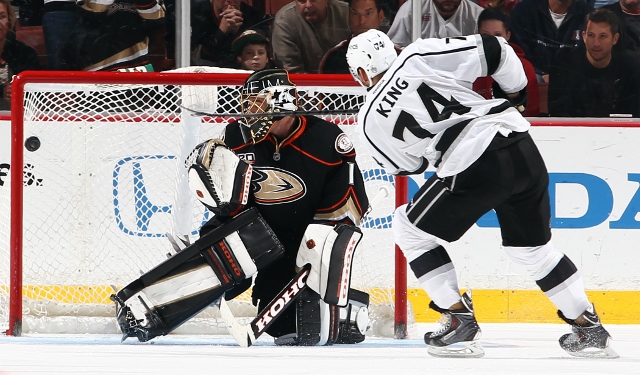 -I've never particularly agreed with the argument that because of three-point games, teams adjust to a more conservative style in an effort to play for overtime, a notion that would contradict with Doughty's quote above. The Kings and Ducks combined for 20 shots in the third period, a stretch of play that offered no real difference in the quality of chances generated when compared to the first 40 minutes. Though there were some late power plays, Los Angeles' shootout loss in San Jose also offered a rewarding share of tension and excitement, as have most of the third periods the Kings have taken part in that preceded overtime hockey.
-Penalty kill. The Kings have been on an efficient little run here, even if they surrendered a go-ahead power play goal early in the third period. The number of kills isn't as important as the timeliness of the kills, and to win a game in which the opposition had a five-on-three in overtime with one key penalty killer in the box is a mark of a tight, character shorthanded group. Martin Jones also made several saves. Also: Willie Mitchell's sprint from the penalty box to the bench in overtime? The vet was flying.
-Power play. The Kings took 14 (!) shots on goal in their five power plays and constantly created pressure in front of an excellent Jonas Hiller. I'm with Darryl Sutter when he says that "The power play was awesome tonight. They just didn't score." Goals are coming.
-Goaltending. In the fall of 2008, I remember watching Martin Jones – then a member of the Calgary Hitmen – post a shutout against my Everett Silvertips (Brandon Kozun had a two-point performance in Calgary's win) in which the lanky 6-foot-3 goaltender wasn't heavily challenged but still managed to put himself in excellent position to face every shot. His poise, positioning, and ability to square himself well to shooters were what stood out to me in his performance that night, and I saw glimpses of that in a terrific debut on Tuesday. After displaying a slight touch of nerves early on, Jones improved as the game progressed, culminating in a nine-save shootout performance in which he remained deep in his net and kept his focus and composure after hitting the reset button after every shot. The team also played an excellent 65 minutes in front of him, dominating the game in time of possession and shots generated. It was representative of the team's play and to the goalie's benefit that the first save he had to make – a fine save on Saku Koivu, alone in front of the net – came 9:01 into the game.
Did you know? @LAKings' Martin Jones' 9 shootout stops last night vs. Anaheim were the most by a goaltender in his NHL debut.

— NHL (@NHL) December 4, 2013
Martin Jones tried his best to stop Perry by emulating Drew McIntyre's behind-the-back glove reach. Not bad. Stop on Koivu in 1st was solid.

— The Goalie Guild (@TheGoalieGuild) December 4, 2013
Nice stop by Jones here. Shoulder saves are the best. He has done a good job of keeping elbows as well. pic.twitter.com/fUWSuXD8Xv

— The Goalie Guild (@TheGoalieGuild) December 4, 2013