Los Angeles Kings (16-7-4) vs St. Louis Blues (18-4-3)
Monday, December 2, 2013, 7:30 p.m. PT
STAPLES Center, Los Angeles, CA
Referees: #3 Mike Leggo, #21 Don Van Massenhoven
Linesmen: #76 Michel Cormier, #66 Darren Gibbs
FOX Sports West, KTLK 1150 AM
Los Angeles Projected Starting Goaltender – Ben Scrivens
2013-14 Season: 14 GP (11 GS) / 6-2-4 record / 1.52 GAA / .944 Sv% / 3 SHO
Career vs St. Louis: 1 (1) / 1-0-0 / 1.85 / .950 / 0
Last Game vs St. Louis: 11/10/11 / 65 MP / 38-40 shots + 3/3 / 3-2 W
2013-14, Home: 4 (4) / 1-1-2 / 1.72 / .921 / 0
St. Louis Projected Starting Goaltender – Jaroslav Halak
2013-14 Season: 20 GP (19 GS) / 14-3-2 record / 2.12 GAA / .915 Sv% / 2 SHO
Career vs Los Angeles: 10 (10) / 6-4-0 / 2.23 / .919 / 2
Last Game vs Los Angeles: 3/28/13 / 60 MP / 36-39 shots / 2-4 L
2013-14, Away: 9 (8) / 6-2-0 / 2.09 / .919 / 0
2013-14 Los Angeles Leaders
Total Points: Anze Kopitar (7-17=24)
Goals: Justin Williams (10-9=19)
Assists: Anze Kopitar (7-17=24)
Plus/Minus: Anze Kopitar (+10; 7-17=24), Dustin Brown (+10; 4-5=9)
Penalty Minutes: Daniel Carcillo (55; 1-1=2)
Time On Ice: Drew Doughty (25:45; 5-8=13)
2013-14 St. Louis Leaders
Total Points: Alexander Steen (20-11=31)
Goals: Alexander Steen (20-11=31)
Assists: T.J. Oshie (4-18=22) Jay Bouwmeester (1-18=19)
Plus/Minus: Alexander Steen (+14; 20-11=31)
Penalty Minutes: Ryan Reaves (65; 2-2=4)
Time On Ice: Alex Pietrangelo (25:28; 4-14=18)
Rankings and Statistics
Goals/Game: LAK – t-20 / 2.44; STL – 2 / 3.44
Goals Against/Game: LAK – 3 / 2.07; STL – 7 / 2.24
Power Play: LAK – t-19 / 17.0%; STL – 2 / 24.7%
Penalty Kill: LAK – 9 / 85.0%; STL – 11 / 84.3%
Shots/Game: LAK – 11 / 31.2; STL – 15 / 30.3
Shots Against/Game: LAK – 5 / 26.3; STL – 3 / 25.8
Faceoffs: LAK – 2 / 54.5%; STL – 7 / 52.3%
Save Percentage: LAK – 7 / .921; STL – 14 / .913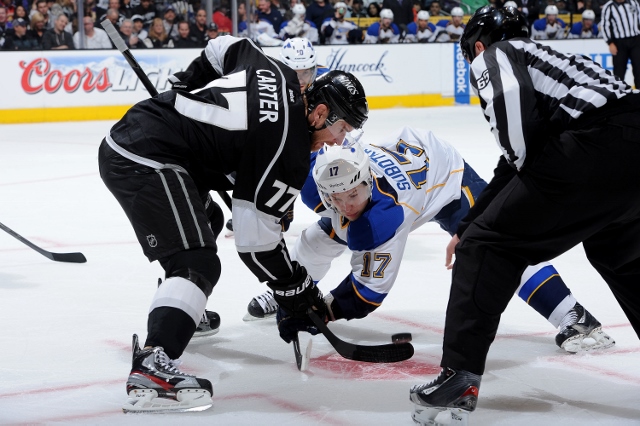 Los Angeles Projected Lines
Dwight King – Anze Kopitar – Jeff Carter
Dustin Brown – Jarret Stoll – Justin Williams
Jordan Nolan – Mike Richards – Tyler Toffoli
Kyle Clifford – Colin Fraser – Matt Frattin
Jake Muzzin – Drew Doughty
Robyn Regehr – Slava Voynov
Willie Mitchell – Alec Martinez
Ben Scrivens
Martin Jones
Level of confidence in projected lines: A. Tanner Pearson, Linden Vey and Daniel Carcillo remained on the ice for extra work, so they're likely out of the lineup. Darryl Sutter confirmed that Frattin would dress. Matt Greene took part in the morning skate as the seventh defenseman, while Trevor Lewis took the ice near the conclusion of the skate. Both are still on injured reserve and will not play tonight. Lines are certain to evolve throughout the game.
Notes and milestones: Los Angeles is 69-94-24 all-time against St. Louis, including a home record of 44-36-13. The Kings have beaten the Blues in four straight regular season games; including playoffs, Los Angeles is 14-3-0 in the teams' last 17 head-to-head matchups. Including playoffs, the Kings have won eight consecutive home games against St. Louis, dating back to the 2011-12 home opener. After tonight, the Kings will play on January 2 and January 16 at the Scottrade Center. … Excluding shootout goals, Los Angeles has allowed two goals or less in 12 straight games, a club record. They have allowed 16 goals over the last 12 games. … The Kings have killed off 41 of the last 44 power plays dating back to November 7, and 34 of the last 36 power plays, dating back to November 14. … The Kings are 0-for-18 on the power play over the last five games. … Dustin Brown has two goals in his last 23 games. With 185 career goals, he is one goal behind Jim Fox for ninth place on the club's all-time goal scoring list.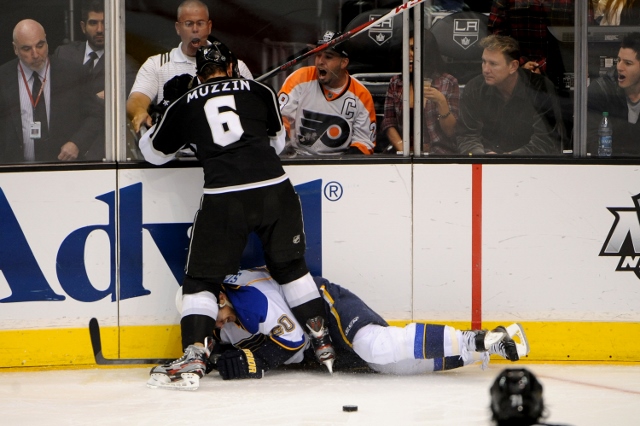 St. Louis Projected Lines
Alexander Steen – David Backes – TJ Oshie
Jaden Schwartz – Vladimir Sobotka – Chris Stewart
Vladimir Tarasenko – Patrik Berglund – Derek Roy
Brenden Morrow – Maxim Lapierre – Adam Cracknell
Jay Bouwmeester – Alex Pietrangelo
Barret Jackman – Kevin Shattenkirk
Carlo Colaiacovo – Roman Polak
Jaroslav Halak
Brian Elliott
Notes and milestones: Lines via NHL.com's At the Rink blog. … Ryan Reaves and Jordan Leopold are out with hand injuries. … Jaden Schwartz has points in a career-best six consecutive games (3-4=7). … Alexander Steen has points in four consecutive games. … When scoring the first goal, St. Louis is 15-1-2. … The Blues recorded five fighting majors against the Kings last season. … St. Louis has killed off 18-of-20 power plays over the last six games and is 30-for-33. Their road power penalty kill is 30-of-33 on the season (90.9%). … David Backes has a 21.1% shooting percentage; his career high is 14.9%, set in 2008-09. … Alex Steen is tied for second in the NHL with 31 points (20-11=31). His career high in goals is 24, set in 2009-10.