-It's not only that the Kings failed to take advantage of a home game against the Pacific Division also-ran Flames, it's the manner in which they surrendered an opportunity to come away with points and (less importantly) set a franchise record for points in consecutive games. The 2-1 loss did not at all resemble one of the games in which the Kings heavily out-chanced their opponents while dominating territorially and in shot generation despite losing (see: Nashville, Buffalo, New Jersey). It was a mostly even game against a team that entered having allowed the most goals per game in the league, was without two of its top defensemen in Mark Giordano and Dennis Wideman, and lost a valuable stay-at-home defender when Ladislav Smid was shown the gate for boarding Dwight King. Los Angeles rarely at any point tilted the ice towards Calgary's end, and quickly a franchise-record points streak has evolved into a one-win-in-five-games rut.
-Over the last two days I agreed with the sentiments of Darryl Sutter and the players when they expressed satisfaction in how the power play was being operated despite the inability to find the back of the net; in the San Jose game, excellent puck movement and spacing led to a variety of quality opportunities that were blocked or rebuffed by Antti Niemi. On Saturday night, the Kings generated five shots on goal in 8:48 of power play time while surrendering a shorthanded goal during Smid's five minute major. Jeff Carter, who may still need some additional time to feel completely comfortable in all situations as he fully recovers from a foot injury, saw most of his chances occur in traffic and close proximity to the crease instead of with the space and open ice favorable to allow him to unleash his quick, accurate wristshot – easily his best asset.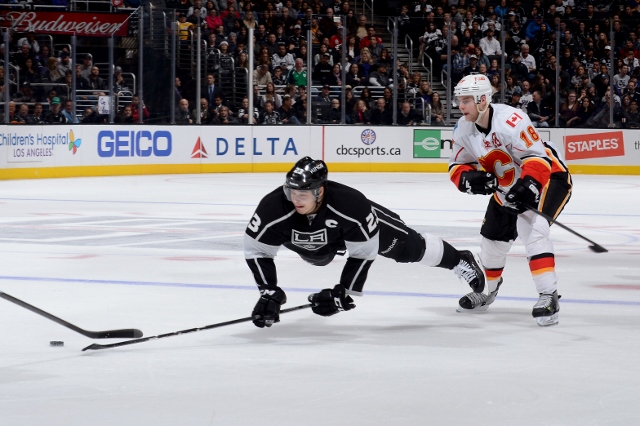 -Similar to what Ben Scrivens has done for the Kings, Karri Ramo provided an opportunity for the Flames to gradually find their game with several outstanding first period saves. Though many will turn to the five minute major and Blair Jones' shorthanded goal as the turning point in the game, don't overlook the stops on Grade-A and Grade-B chances that Ramo made in the first period that kept the game scoreless and allowed Calgary to develop their legs.
-Dustin Brown, who has averaged nine power play goals over the last seven seasons but has one goal on the man advantage in 2013-14 despite a total of 69:32 of total power play ice time, has seen his average ice time drop by two minutes and six seconds per game. His current ice time average of 17:24 per game is the lowest since the 2005-06 season, when he averaged 13:58 per game.
-I saw a few comments on the blog and received several replies on Twitter than the Kings have a tendency to play to the level of their competition, a notion I don't disagree with. With that in mind, it's going to be interesting to see how a pair of rivalry games play out on Monday and Tuesday. As Darryl Sutter referenced last night, the Kings had played in four consecutive overtime games – two against major divisional rivals – and were a bit mentally and physically drained for Saturday night's game. The turnaround? A back-to-back set against St. Louis and Anaheim. If there was any dip in their stimulus, the Kings will need to summon their attention quickly.