-Generally you would expect some sting associated with losing such a breathtaking, well-played hockey game that extended past 65 minutes and into eight shootout rounds, but if there's any disappointment over the final outcome of Wednesday night's 3-2 loss to the San Jose Sharks, it wore off as soon as the team packed up its bags and cleared out of the locker rooms at the rechristened SAP Center at San Jose. "Obviously we'll take every point we can get, but we aren't satisfied by any means with three," Ben Scrivens noted in the latest stage of his indoctrination into the culture and confidence of the Kings' locker room. When the severity of Jonathan Quick's groin injury became known following the morning skate on Long Island two weeks ago, I remembered looking ahead to a two-game road trip to Vancouver and San Jose, thinking something to the extent of "Wow, the Kings are going to be challenged to come away with points in those games," and yet here we are, discussing how the team grabbed three of a possible four points while tying a franchise record by recording points in their 10th and 11th consecutive games. While earning an additional point would have been a significant coup in a building that doesn't distribute many to visitors, there are hardly any valid negative feelings towards a recent string of games in which a battered Kings roster has reinforced its Pacific Division standing.
-How evenly was last night's game played? Each team benefited from a goal generated by outworking the opposition deep in the attacking zone, and each team scored a goal off a fortunate bounce. Each team was credited with 40 shots, each team received high caliber goaltending – perhaps with the exception of Joe Thornton's goal, nothing easy got past either goaltender – and each team was perfect on the penalty kill. This was the best five-on-five hockey we've seen in a game this season. That the shootout extended to the eighth round was appropriate and raised the climactic level of a skills competition that can often seem like a letdown after an open ice four-on-four overtime.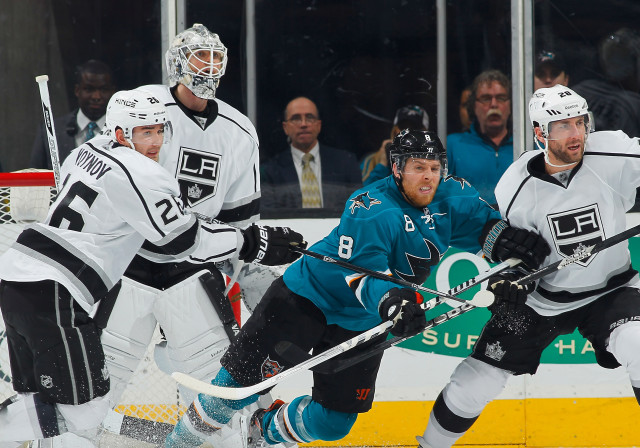 -Here's to streaky special teams! The Kings are currently in an 0-for-15 power play stretch despite killing off 36 of their last 39 shorthanded situations. Earlier this year, the Kings were 6-for-25 on the power play and 17-for-26 on the penalty kill from October 21 to November 2, and 0-for-13 on the power play while killing off 13-of-14 penalties from October 11 to 17. If the Kings ever hit these special teams streaks in stride with one another, watch out, Laszlo Panaflex!
-Happy Thanksgiving, Insiders! Enjoy spending this day with family and close friends, watching football, overeating, generating a 12-response chain over why Linden Vey should have a permanent spot in the lineup, relaxing, reading, and/or doing whatever it is that makes you happy and gracious and appreciative to be living on this fine continent of ours. I'm planning on getting another story up this afternoon, but, hey, I'm not stressing myself out on this important day. A very warm Thanksgiving day to you and yours, Insiders.