Los Angeles Kings (16-6-3) at San Jose Sharks (15-3-5)
Wednesday, November 27, 2013, 7:30 p.m. PT
SAP Center, San Jose, CA
Referees: #18 Greg Kimmerly, #3 Mike Leggo
Linesmen: #88 Mike Cvik, #56 Mark Wheler
FOX Sports West, KTLK 1150 AM
Los Angeles Projected Starting Goaltender – Ben Scrivens
2013-14 Season: 12 GP (9 GS) / 6-1-3 record / 1.44 GAA / .947 Sv% / 3 SHO
Career vs San Jose: First appearance
Last Game vs San Jose: First appearance
2013-14, Away: 9 (6) / 5-1-1 / 1.35 / .953 / 3
San Jose Projected Starting Goaltender – Antti Niemi
2013-14 Season: 20 GP (20 GS) / 12-3-5 record / 2.16 GAA / .917 Sv% / 2 SHO
Career vs Los Angeles: 19 (19) / 10-5-3 / 2.47 / .919 / 2
Last Game vs Los Angeles: 10/30/13 / 62 MP / 19-23 shots / 3-4 OTL
2013-14, Home: 10 (10) / 7-1-2 / 2.19 / .913 / 0
2013-14 Los Angeles Leaders
Total Points: Anze Kopitar (7-16=23)
Goals: Justin Williams (9-9=18)
Assists: Anze Kopitar (7-16=23)
Plus/Minus: Dustin Brown (+10; 4-5=9)
Penalty Minutes: Daniel Carcillo (51; 1-1=2)
Time On Ice: Drew Doughty (25:41; 4-8=12)
2013-14 San Jose Leaders
Total Points: Joe Thornton (2-22=24)
Goals: Tomas Hertl (12-6=18)
Assists: Joe Thornton (2-22=24)
Plus/Minus: Justin Braun (+16; 2-5=7)
Penalty Minutes: Andrew Desjardins (33; 1-4=5); Mike Brown (33; 1-0=1)
Time On Ice: Justin Braun (21:55; 2-5=7)
Rankings and Statistics
Goals/Game: LAK – t-20 / 2.52; SJS – 3 / 3.39
Goals Against/Game: LAK – 4 / 2.08; SJS – 5 / 2.09
Power Play: LAK – 17 / 18.3%; SJS – 13 / 19.6%
Penalty Kill: LAK – 11 / 83.8%; SJS – 16 / 82.3%
Shots/Game: LAK – 9 / 31.2; SJS – 1 / 35.9
Shots Against/Game: LAK – 5 / 26.0; SJS – t-6 / 27.2
Faceoffs: LAK – 1 / 55.3%; SJS – t-3 / 53.3%
Save Percentage: LAK – t-7 / .920; SJS – 5 / .923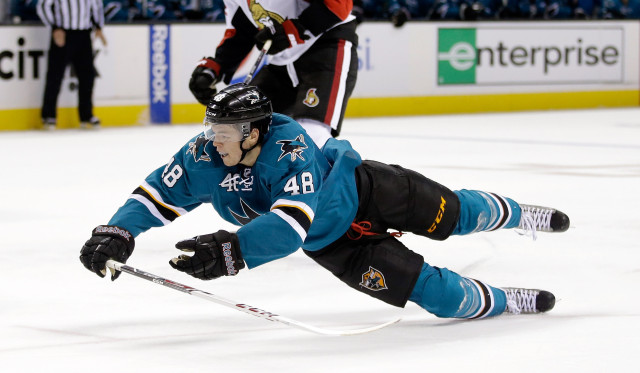 Los Angeles Projected Lines
Dustin Brown – Anze Kopitar – Justin Williams
Dwight King – Mike Richards – Jeff Carter
Daniel Carcillo – Jarret Stoll – Jordan Nolan
Kyle Clifford – Linden Vey – Tyler Toffoli
Jake Muzzin – Drew Doughty
Robyn Regehr – Slava Voynov
Willie Mitchell – Alec Martinez
Ben Scrivens
Martin Jones
Level of confidence in projected lines: A. The forward pairings were the first groups to take line rushes at the morning skate. There are only six healthy skaters on defense. Martin Jones won't make his NHL debut tonight.
Notes and milestones: Los Angeles is 55-54-18 all-time against San Jose, including a record of 20-32-11 on the road. The Kings have lost six straight regular season games in San Jose (0-3-3), dating back to April 4, 2011.Los Angeles' last win in San Jose was in Game 5 of the 2011 Western Conference Quarterfinals, a 3-1 win on April 23, 2011. The Kings' last regular season road win in the series was a 4-0 win on December 27, 2010. … The Kings have recorded points in 10 straight games (7-0-3). The franchise record is 11, accomplished in 1973-74 and 2010-11. … Excluding the shootout goal in Buffalo, Los Angeles has allowed two goals or fewer in 10 straight games. They have allowed 12 goals over the last 10 games. … The Kings have killed off 33 of the last 36 power plays dating back to November 7, and 26 of the last 28 power plays, dating back to November 14. … In his last seven games (spanning 425:50), Ben Scrivens is 5-0-2 with a 1.27 GAA, a .954 Sv% and two shutouts, having stopped 187 of 196 shots. He has allowed seven goals in the last 400:52, having stopped 177 of 184 shots (.962 Sv%) over that period. … Anze Kopitar has 12 points in the last 12 games (6-6=12) and 18 points in the last 17 games (7-11=18). … Kopitar's next point will be the 500th of his career. His 499 points have come on 180 goals and 319 assists. … Justin Williams' next goal will be the 200th of his career. … With 185 career goals, Dustin Brown is one goal behind Jim Fox for ninth place on the club's all-time goal scoring list.
San Jose Projected Lines
Tomas Hertl – Joe Thornton – Brent Burns
Patrick Marleau – Logan Couture – Tommy Wingels
Marty Havlat – Joe Pavelski – Tyler Kennedy
James Sheppard – Andrew Desjardins – Mike Brown
Matt Irwin – Dan Boyle
Marc-Edouard Vlasic – Justin Braun
Scott Hannan – Brad Stuart
Antti Niemi
Alex Stalock
Notes and milestones: Lines via Kevin Kurz of CSNBayArea.com. … San Jose is 9-0-1 with Brent Burns in the lineup, having outscored their opponents 46-17 over that span. Without Burns in the lineup, the Sharks are 6-3-4 and have 32 goals for and 30 goals against. … San Jose has outscored its opponents 32-12 in first periods this season.