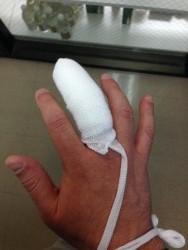 -Good afternoon! Thank you for your patience as this blog went on a four hour IR stay. After a 3:30 arrival at the team hotel last night, I did what any reasonable person would want to do – I made a first-thing-in-the-morning trip to O'Connor Hospital. LAKI had come down with a dreaded case of Blogger Finger, also known as severe Paronychia, which is disgusting. You don't want to know what lies underneath that gauze.
Instead of doing a google images search for Paronychia, watch this clip and learn how I am more or less living out a classic Seinfeld episode. Skip 2:50 or so into the clip, unless you don't have a whole lot going on today.
-So, last night's game. There have been many accounts of the Kings' patience and composure in similar tense, late-game situations, and last night's game certainly fits in with theme. Another recurring theme? The Ben Scrivens Is Playing Out Of His Mind theme. With 37 saves on 39 shots – and 12 saves on 13 power play shots – he continues to give the team a chance to win in hostile environments, against divisional rivals, in tense game sequences, in overtime, with traffic in front, without traffic in front, on redirects, deflections, and when Sedins are on the ice.
I couldn't sum it up any better than Anze Kopitar, who was quoted by Helene Elliott after the overtime win.
"He's making the big saves at the big times of the game to keep us really involved," Kopitar said. "He's making the saves to keep us within striking distance and giving us some time to find our game."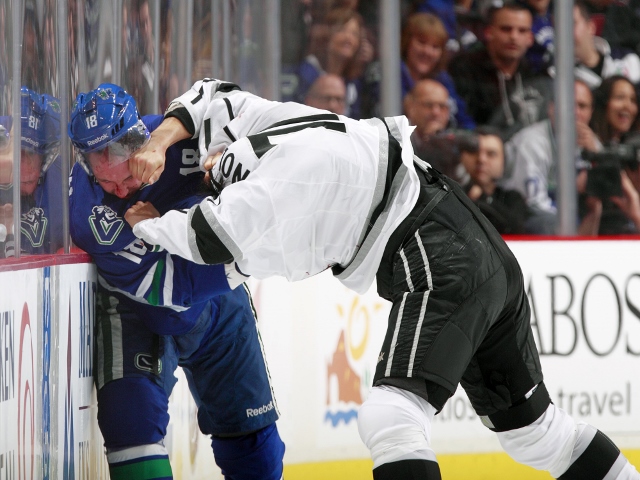 -Mike Richards and Anze Kopitar had a typically excellent performance against the Canucks, and when Los Angeles finds success against Vancouver, it often stems from the outstanding 200-foot, 60-minute play of the team's centers. After Richards and Kopitar, the best Kings in five-on-five play may have been the line of Kyle Clifford, Linden Vey and Tyler Toffoli. Noticeable and productive in the first period, the line was also able to channel some of the game's momentum away from the Canucks when they received even strength shifts following Vancouver power plays later in the game. Though Clifford scored off a 2-on-1 feed from Vey in the first, the line forechecked effectively through much of the night. Clifford very nearly gave the Kings a 2-0 lead in the second period on a terrific redirect that sailed over the crossbar.
-The Kings generated as many odd-man rushes in the first period as they would normally generate in a two-game span. The Kings are also tied for 22nd in the league with an 8.1 shooting percentage. As such, the Kings scored only once in the first 20 minutes and very nearly paid for their inefficient tendencies. Though this is becoming somewhat of a familiar refrain, it's also worth noting that several of the games in which they've failed to transform pressure into scoring – games at Carolina, at Buffalo and versus New Jersey – they've been stymied by fine performances on behalf of some of the league's elite goaltenders, and Roberto Luongo was excellent in the first period last night.