Los Angeles Kings (15-6-3) vs Vancouver Canucks (12-9-4)
Monday, November 25, 2013, 7:00 p.m. PT
Rogers Arena, Vancouver, BC
Referees: #2 Mike Hasenfratz, #40 Steve Kozari
Linesmen: #78 Brian Mach, #73 Vaughan Rody
FOX Sports West, KTLK 1150 AM
Los Angeles Projected Starting Goaltender – Ben Scrivens
2013-14 Season: 11 GP (8 GS) / 5-1-3 record / 1.37 GAA / .946 Sv% / 3 SHO
Career vs Vancouver: First appearance
Last Game vs Vancouver: First appearance
2013-14, Away: 8 (5) / 4-1-1 / 1.24 / .955 / 3
Vancouver Projected Starting Goaltender – Roberto Luongo
2013-14 Season: 21 GP (21 GS) / 10-7-4 record / 2.30 GAA / .914 Sv% / 2 SHO
Career vs Los Angeles: 28 (28) / 14-10-4 / 2.31 / .918 / 3
Last Game vs Los Angeles: 11/9/13 / 32 MP / 14-18 shots / 1-5 L
2013-14, Home: 12 (12) / 5-5-2 / 2.07 / .920 / 1
2013-14 Los Angeles Leaders
Total Points: Anze Kopitar (6-16=22)
Goals: Justin Williams (9-9=18)
Assists: Anze Kopitar (6-16=22)
Plus/Minus: Dustin Brown (+10; 4-5=9)
Penalty Minutes: Daniel Carcillo (34; 1-1=2)
Time On Ice: Drew Doughty (25:39; 4-8=12)
2013-14 Vancouver Leaders
Total Points: Henrik Sedin (6-18=24)
Goals: Ryan Kesler (10-7=17)
Assists: Henrik Sedin (6-18=24)
Plus/Minus: Kevin Bieksa (+9; 1-10=11)
Penalty Minutes: Tom Sestito (52; 1-0=1)
Time On Ice: Alexander Edler (24:18; 3-5=8)
Rankings and Statistics
Goals/Game: LAK – 21 / 2.50; VAN – 18 / 2.56
Goals Against/Game: LAK – 4 / 2.08; VAN – 14 / 2.48
Power Play: LAK – 14 / 18.9%; VAN – t-28 / 11.5%
Penalty Kill: LAK – t-11 / 83.5%; VAN – 1 / 89.2%
Shots/Game: LAK – 8 / 31.6; VAN – 3 / 32.8
Shots Against/Game: LAK – 3 / 25.5; VAN – t-7 / 27.4
Faceoffs: LAK – 1 / 55.6%; VAN – 12 / 50.9%
Save Percentage: LAK – 9 / .918; VAN – t-19 / .910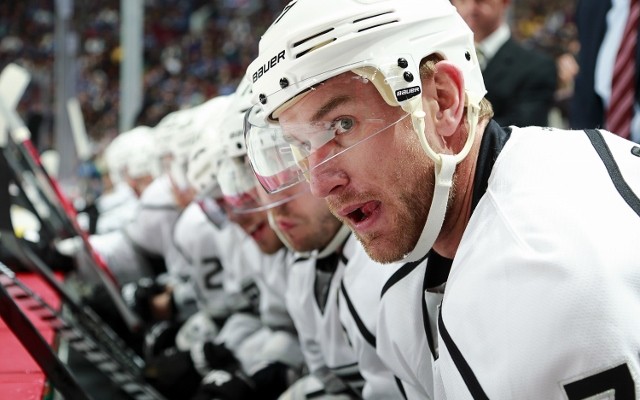 Los Angeles Projected Lineup
Dustin Brown – Anze Kopitar – Justin Williams
Dwight King – Mike Richards – Jeff Carter
Daniel Carcillo – Jarret Stoll – Tyler Toffoli
Kyle Clifford – Colin Fraser – Jordan Nolan
Jake Muzzin – Drew Doughty
Robyn Regehr – Slava Voynov
Willie Mitchell – Alec Martinez
Ben Scrivens
Martin Jones
Level of confidence in projected lines: B+. Jeff Carter has been activated from injured reserve and is expected to play tonight, barring any setback during pre-game warm-ups. Daryl Sutter said that a decision would be made on Carter following the warm-up; if he's unable to go, either Linden Vey or Tanner Pearson would dress. Vey and Pearson both stayed on the ice for extra work with Martin Jones, an indication that they will be out of the lineup tonight.
Notes and milestones: Los Angeles is 97-96-35 all-time against Vancouver, which includes a road record of 37-58-17. The Kings are 2-7-0 in the last nine meetings in Vancouver, dating back to March 13, 2009. After tonight, the teams will meet on January 4 and 13 in Los Angeles, and on April 5 in Vancouver. … The Kings have scored two goals or fewer four times in the last five games and are 3-0-2 over that stretch. … Excluding the shootout goal in Buffalo, Los Angeles has allowed two goals or fewer in nine straight games. They have allowed 10 goals over the last nine games. … The Kings' nine-game point streak (6-0-3) is the fifth longest point streak in club history. The franchise record is 11, accomplished in 1973-74 and 2010-11. … Los Angeles has killed off 26 of the last 28 power plays dating back to November 7, and 19 of the last 20 power plays, dating back to November 14. … Ben Scrivens has allowed five goals in the last 340:04, having stopped 140 of 145 shots over that period. … Dustin Brown has three points (2-1=3) and is a plus-7 in 10 November games. He has gone 13 games without recording a power play point. … Justin Williams has 16 points (7-9=16) over the last 16 games. … With 185 career goals, Dustin Brown is one goal behind Jim Fox for ninth place on the club's all-time goal scoring list. … Justin Williams' next goal will be the 200th of his career. … Mike Richards is expected to play in his 600th career game tonight.
Vancouver Projected Lines
Daniel Sedin – Henrik Sedin – Alexandre Burrows
David Booth – Ryan Kesler – Jannik Hansen
Chris Higgins – Mike Santorelli – Zack Kassian
Tom Sestito – Brad Richardson – Dale Weise
Alexander Edler – Jason Garrison
Dan Hamhuis – Christopher Tanev
Ryan Stanton – Kevin Bieksa
Roberto Luongo
Eddie Lack
Notes and milestones: Lines via Kevin Woodley of NHL.com. … Ryan Stanton ranks second amongst rookie defensemen with 10 points (1-9=10). … With 299 career goals, Daniel Sedin is one goal shy of 300 in his career. Earlier this year, Winnipeg forward and former Los Angeles draft pick Olli Jokinen scored his 300th career goal against the Kings. … With an average of 22:32 minutes per game, Henrik Sedin leads all NHL forwards in average time on ice. He will play in his 655th consecutive game tonight, which ranks second amongst active players (Jay Bouwmeester, STL / 657) and sixth in NHL history. … Vancouver is 7-6-1 when their opponent scores first.
Henrik Sedin, on his defensive responsibility:
I think the last couple years we've been mainly put in a position to score goals. We didn't play PK. We didn't take a lot of faceoffs in our own end because our team was built that way. We've never cheated…We take a lot of pride in playing well defensively. We want to be complete players, so that's my only comment, and I think our plus/minus shows that we're not cheating. If you look around the league, there are a lot of players that have put a lot of points up on the board, but they're still minus players, and I think that might be when you question it a little bit. But we've always taken a lot of pride in that. But again, in the past couple years…we've been on the ice mainly to score goals. We still are, but we take a lot of pride in it, for sure.
Sedin, on whether Drew Doughty's comments were "bulletin board material":
Don't care at all. No. Zero percent.
John Tortorella, on the earlier loss to Los Angeles, and the team's scoring rut:
I didn't even think it was a blowout….because I thought we had some good minutes in that game. But within that – I think they had three goals on four shots within that time. That's what happened there. But, again – it's a loss. I'm just anxious for the guys to get their uniform on and play again, and I'm sure they are, because they're frustrated with some of the things that have gone on, and I just don't think we're far. And I know no one wants to hear that, but you're not going to talk me into saying 'This is a lousy hockey club that's played lousy,' because it hasn't. We have not gotten the results that we've wanted, but as I've said all along, I'm going to coach the team the way it's playing. That's a huge part, as far as a coach, for me, is I watch the tape, and if we're playing like crap, we're going to handle it like we're playing like crap. If we're playing well, we're going to stay with 'em. And I'm staying with the team. I am going to support 'em, and I'm going to get through this.