Los Angeles Kings (15-6-1) vs Colorado Avalanche (16-5-0)
Saturday, November 23, 2013, 7:30 p.m. PT
STAPLES Center, Los Angeles, CA
Referees: #17 Frederick L'Ecuyer, #11 Kelly Sutherland
Linesmen: #50 Scott Cherrey, #78 Brian Mach
FOX Sports West, KTLK 1150 AM
Los Angeles Projected Starting Goaltender – Ben Scrivens
2013-14 Season: 10 GP (7 GS) / 5-1-2 record / 1.43 GAA / .942 Sv% / 3 SHO
Career vs Colorado: First appearance
Last Game vs Colorado: First appearance
2013-14, Home: 2 (2) / 1-0-1 / 1.96 / .889 / 0
Colorado Projected Starting Goaltender – Semyon Varlamov
2013-14 Season: 16 GP (15 GS) / 11-5-0 record / 2.23 GAA / .931 Sv% / 0 SHO
Career vs Los Angeles: 6 (6) / 4-2-0 / 2.14 / .928 / 0
Last Game vs Los Angeles: 2/23/13 / 60 MP / 22-26 shots / 1-4 L
2013-14, Away: 6 (5) / 4-2-0 / 2.07 / .938 / 0
-Colorado did not hold a morning skate today, so I'm projecting the default starter.
2013-14 Los Angeles Leaders
Total Points: Anze Kopitar (6-16=22)
Goals: Justin Williams (9-9=18)
Assists: Anze Kopitar (6-16=22)
Plus/Minus: Dustin Brown (+10; 4-5=9)
Penalty Minutes: Daniel Carcillo (34; 1-1=2)
Time On Ice: Drew Doughty (25:34; 4-8=12)
2013-14 Colorado Leaders
Total Points: Matt Duchene (12-8=20)
Goals: Matt Duchene (12-8=20)
Assists: Nathan MacKinnon (3-10=13), Andre Benoit (1-10=11)
Plus/Minus: Jan Hejda (+13; 2-4=6)
Penalty Minutes: Cody McLeod (47; 2-3=5)
Time On Ice: Jan Hejda (22:52; 2-4=6)
Rankings and Statistics
Goals/Game: LAK – t-18 / 2.61; COL – 5 / 3.24
Goals Against/Game: LAK – 3 / 2.13; COL – t-4 / 2.14
Power Play: LAK – 14 / 19.8%; COL – 12 / 20.6%
Penalty Kill: LAK – t-13 / 83.0%; COL – t-11 / 83.3%
Shots/Game: LAK – 6 / 32.2; COL – t-16 / 30.0
Shots Against/Game: LAK – t-2 / 25.2; COL – 24 / 32.5
Faceoffs: LAK – 1 / 55.9%; COL – 24 / 48.0%
Save Percentage: LAK – t-9 / .915; COL – t-2 / .934
Los Angeles Projected Lines
Dustin Brown – Anze Kopitar – Justin Williams
Dwight King – Mike Richards – Tyler Toffoli
Daniel Carcillo – Jarret Stoll – Matt Frattin
Tanner Pearson – Linden Vey – Trevor Lewis
Jake Muzzin – Drew Doughty
Robyn Regehr – Slava Voynov
Willie Mitchell – Alec Martinez
Ben Scrivens
Martin Jones
Level of confidence in projected lines: C. Today's morning skate was optional, and Darryl Sutter wasn't available to field any questions related to the lineup. There is a chance Kyle Clifford will be activated from injured reserve prior to game-time. If such a move is made, he would likely replace Daniel Carcillo. Colin Fraser is also a candidate to play in place of Linden Vey. Jeff Carter (IR) and Jordan Nolan remained on the ice with Martin Jones for extra work after the morning skate, so they're out for tonight.
Notes and milestones: Los Angeles is 58-47-11 all-time against the Colorado franchise, including a record of 34-18-7 at home. The Kings are 6-1-1 in the last eight head-to-head meetings at STAPLES Center, dating back to February 13, 2010. … The Kings' 15-6-2 record (32 points) after 23 games is tied for the fourth best start in club history. … The Kings are 6-0-2 in their last eight games. The eight-game point streak is tied for the eighth longest point streak in club history. The franchise record is an 11-game point streak, which has been accomplished twice. … Excluding the shootout goal in Buffalo, Los Angeles has allowed two goals or fewer in eight straight games. They have allowed nine goals over the last eight games. … Los Angeles has killed off 23 of the last 25 power plays, dating back to November 7. … Anze Kopitar has 11 points (5-6=11) in the last 10 games and 17 points (6-11=17) in the last 15 games. He is two points shy of 500 in his career (179-319=498). Kopitar has 27 points (11-16=27) in 27 career games against the Avalanche. … Mike Richards has 10 points (3-7=10) in the last 10 games. … Justin Williams has seven points (4-3=7) in the last seven games and 16 points (7-9=16) in the last 15 games. He recorded his 200th point as a King with a goal – the 199th of his career – in Thursday's overtime loss. … Drew Doughty has 13 points (5-8=13) and a plus-7 rating in 18 career games against Colorado. He scored his first career goal against the Avs on October 20, 2008. … With 185 career goals, Dustin Brown is one goal behind Jim Fox for ninth place on the club's all-time goal scoring list. … Mike Richards is scheduled to play in his 599th career game tonight. … Robyn Regehr was selected 19th overall by Colorado in 1998. The Avalanche also selected Alex Tanguay (12th), Martin Skoula (17th) and Scott Parker (20th) in the first round that year.
Morning skate quotes:
Tyler Toffoli, on New Jersey game:
I thought we played a pretty good game but we just have to capitalize on our chances. We had a lot of shots, a lot of chances, and it doesn't matter how well you played. If you didn't win the game it doesn't matter. We have to come back and have a really strong start had have a good 60 minute game.
Toffoli, on whether anything has been different for him this season:
I don't think a whole lot is different. I think the only thing that is different is there are some more younger guys with Veysey and Pears. I think that is the only real big difference, but at the same time it's the same core group. All the older guys are still around and it is such a veteran presence around here it's easy to get along with everybody.
Toffoli, on whether he brings anything additional to the team this season:
I think I am bringing the same [things] as I did last year. Trying to create offense and play good in my own zone and just keep things pretty simple and shoot the puck. So that's what I did last year and that is what I am trying to do this year too.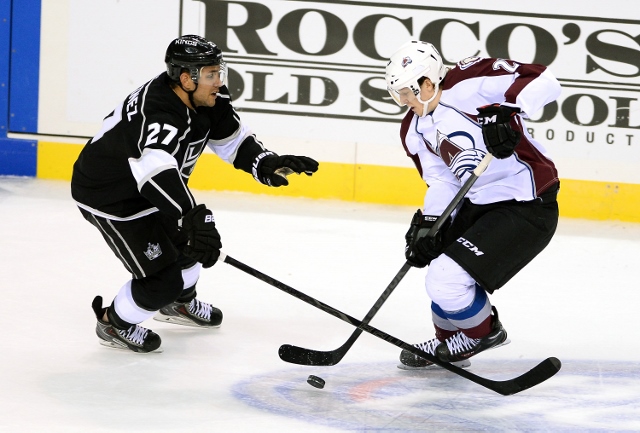 Colorado Projected Lines
Gabriel Landeskog – Nathan MacKinnon – Ryan O`Reilly
Jamie McGinn – Paul Stastny – PA Parenteau
Cody McLeod – John Mitchell – Max Talbot
Patrick Bordeleau – Marc Andre Cliche – Brad Malone
Jan Hejda – Erik Johnson
Cory Sarich – Andre Benoit
Nate Guenin – Tyson Barrie
Semyon Varlamov
J.S. Giguere
Notes and milestones: Colorado lines via Mile High Hockey. Colorado did not hold a morning skate today. … Matt Duchene (oblique) remains day-to-day. He is on the active roster. … Colorado's 16 wins and 32 points are their most through 21 games in franchise history. … Gabriel Landeskog, the youngest captain in the NHL, is celebrating his 21st birthday today. … Nathan MacKinnon, the first overall pick in the 2013 NHL Draft, has 10 assists, tied for first amongst NHL rookies. He leads all rookies with 62 shots and sports a 4.8% shooting percentage. … Cody McLeod and John Mitchell have scored goals in two straight games. … Paul Stastny has 12 points (7-5=12) in his last 12 games and 29 points (11-18=29) in 26 career games against Los Angeles. … The Avalanche are 14-0-0 when scoring the first goal, the NHL's only unbeaten team when scoring first. They are 11-0-0 when leading after one period and 14-0-0 when leading after two. … Colorado has allowed a league-low nine first period goals and has outscored the opposition 20-9 through the first 20 minutes.