Los Angeles Kings (14-6-1) vs Tampa Bay Lightning (14-6-0)
Tuesday, November 19, 2013, 7:30 p.m. PT
STAPLES Center, Los Angeles, CA
Referees: #27 Eric Furlatt, #12 Justin St. Pierre
Linesmen: #50 Scott Cherrey, #55 Shane Heyer
FOX Sports West, KTLK 1150 AM
Los Angeles Projected Starting Goaltender – Ben Scrivens
2013-14 Season: 8 GP (5 GS) / 4-1-1 record / 1.24 GAA / .955 Sv% / 3 SHO
Career vs Tampa Bay: 3 (2) / 1-1-0 / 3.57 / .862 / 0
Last Game vs Tampa Bay: 10/15/13 / 24 MP / 6-8 shots / 1-5 L (ND)
2013-14, Home: First appearance
Tampa Bay Projected Starting Goaltender – Ben Bishop
2013-14 Season: 16 GP (16 GS) / 13-2-0 record / 2.11 GAA / .927 Sv% / 1 SHO
Career vs Los Angeles: 3 (1) / 1-0-0 / 2.51 / .911 / 0
Last Game vs Los Angeles: 10/15/13 / 60 MP / 30-31 shots / 5-1 W
2013-14, Away: 7 (7) / 5-1-0 / 1.82 / .935 / 1
2013-14 Los Angeles Leaders
Total Points: Anze Kopitar (5-14=19)
Goals: Justin Williams (7-8=15)
Assists: Anze Kopitar (5-14=19)
Plus/Minus: Dustin Brown (+7; 3-4=7); Anze Kopitar (+7; 5-14=19)
Penalty Minutes: Kyle Clifford (32; 1-0=1), Daniel Carcillo* (27; 1-1=2)
Time On Ice: Drew Doughty (25:37; 4-6=10)
*amongst active players
2013-14 Tampa Bay Leaders
Total Points: Steven Stamkos (14-9=23), Martin St. Louis* (8-12=20)
Goals: Steven Stamkos (14-9=23), Martin St. Louis* (8-12=20), Valtteri Filppula* (8-7=15)
Assists: Martin St. Louis (8-12=20)
Plus/Minus: Steven Stamkos (+11; 14-9=23), Martin St. Louis* (+9; 8-12=20)
Penalty Minutes: Radko Gudas (61; 1-5=6)
Time On Ice: Matthew Carle (22:10; 1-9=10)
*amongst active players
Rankings and Statistics
Goals/Game: LAK – t-16 / 2.57; TBL – t-7 / 3.05
Goals Against/Game: LAK – 4 / 2.14; TBL – t-13 / 2.50
Power Play: LAK – 9 / 20.8%; TBL – t-15 / 19.2%
Penalty Kill: LAK – 14 / 82.9%; TBL – 7 / 84.5%
Shots/Game: LAK – 6 / 32.1; TBL –26 / 27.8
Shots Against/Game: LAK – 5 / 25.9; TBL – 10 / 28.5
Faceoffs: LAK – 1 / 55.5%; TBL – 16 / 50.0%
Save Percentage: LAK – 10 / .917; TBL – 18 / .912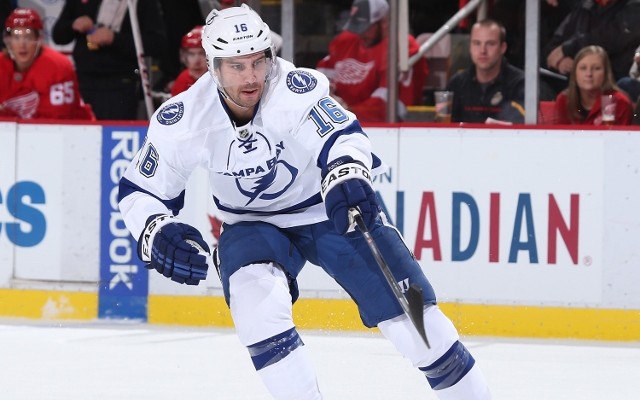 Los Angeles Projected Lineup
Dustin Brown – Anze Kopitar – Justin Williams
Dwight King – Mike Richards – Tyler Toffoli
Daniel Carcillo – Jarret Stoll – Matt Frattin
Tanner Pearson – Linden Vey – Trevor Lewis
Jake Muzzin – Drew Doughty
Robyn Regehr – Slava Voynov
Willie Mitchell – Alec Martinez
Ben Scrivens
Martin Jones
Level of confidence in projected lines: A. Jordan Nolan, Colin Fraser and Martin Jones remained on the ice for extra work and were joined by IR-designated players Jeff Carter and Kyle Clifford. Nolan or Fraser could take warm-ups with the team, but the above alignment represents the players that should dress in tonight's game against Tampa Bay.
Notes and milestones: The Kings are 9-16-3 all-time against the Lightning, including a record of 2-10-2 at home. Los Angeles' two home wins against Tampa Bay were a 1-0 win on 11/4/10 and a 5-2 win at The Forum on 11/6/97. The Kings have beaten the Lightning in three of the last four meetings, dating back to November 14, 2009. Tonight is the last regular season meeting between these two teams until 2014-15. … Ben Scrivens will carry a 155:02 scoreless streak into tonight's game. The franchise's scoreless record by a goaltender is 202:11, set by Jonathan Quick in 2011-12. Should Scrivens' streak extend to the 7:10 mark of the third period he will break Quick's franchise record. … Dating back to November 14 the Kings have killed off 11 straight power plays. They have also killed off 18 of 19, dating back to November 7. … Anze Kopitar has eight points in the last eight games (4-4=8) and 14 points in the last 13 games (5-9=14). … Mike Richards has 10 points in the last eight games (3-7=10) and 13 points in the last 12 games (5-8=13). … Tyler Toffoli has eight points in the last seven games (4-4=8). His three game-winning goals are the most amongst NHL rookies and place him in a tie for fourth in the NHL. … Justin Williams has 13 points in the last 13 games (5-8=13). … Slava Voynov has five points in the last five games (1-4=5). … Excluding the shootout goal in Buffalo, Los Angeles has allowed five goals over the last six games. … The team's 14-6-1 record (29 points) after 21 games is tied for the fourth best record in club history. … Ben Scrivens was the goaltender for the Toronto Marlies team that was swept by the Norfolk Admirals, Tampa Bay's affiliate coached by current Lightning coach Jon Cooper, in the 2012 Calder Cup Final. Matt Frattin had 13 points in 13 games for the Marlies during the playoff run but did not play in the championship series because of a knee injury.
Anze Kopitar, on the pace of the New York game:
It felt like everybody was skating pretty well. I thought our start was pretty good – at least better than the one in New Jersey. It was maybe a little easier to build up a little bit of confidence and start playing faster and faster and react on the ice as opposed to think and trying to react after.
Kopitar, on his chemistry with Dustin Brown and Justin Williams:
When we're on our game as a line, too, it's reacting all over the ice. It's not thinking, it's not looking at each other, who's going to go, who's going to forecheck, who's not. Everything just seems to fall in place. There's no looking around. We're moving the puck quick. Everybody knows where everybody is. I think that's the biggest part of our chemistry.
Tampa Bay Projected Lineup
Alex Killorn – Brett Connolly – Martin St. Louis
J.T. Brown – Valtteri Filppula – Teddy Purcell
Ryan Malone – Nate Thompson – B.J. Crombeen
Ondrej Palat – Tyler Johnson – Richard Panik
Sami Salo – Victor Hedman
Radko Gudas – Matthew Carle
Eric Brewer – Dmitry Korobov
Ben Bishop
Anders Lindback
Notes and milestones: Lines via Curtis Zupke of NHL.com. … Leading scorer Steven Stamkos is out with a broken right tibia. He was selected first overall in the 2008 NHL Draft, one spot ahead of Drew Doughty. … Tampa Bay is 7-1-0 against the Western Conference. … The Lightning are the only NHL team not to have lost back-to-back games this season. Their last outing was a 6-3 loss in Phoenix on Saturday. … Martin St. Louis is expected to play in his 1,000th career game tonight. Tonight's game will mark his 931st regular season game with Tampa Bay; he also played 69 games with Calgary. … The Lightning have outscored the Kings 43-27 in 14 all-time matchups in Los Angeles. … Ben Bishop is tied with Chicago's Corey Crawford for the NHL lead with 13 wins. … Tampa Bay has allowed only three power play goals over the last 11 games. … Radko Gudas ranks third in the NHL with 74 hits and third with 61 penalty minutes. … The Lightning have outscored their opponents 17-8 in first periods this season. … Valtteri Filppula is 3-for-3 in shootouts, while Ben Bishop has stopped all six shootout attempts against him this season.
Jon Cooper, on Victor Hedman:
I would almost kind of put Victor's progression very much in the ways Stamkos has progressed. He's playing all 200-feet of the rink. He's defending extremely well. He's playing against the team's best lines, but his offensive touches – he's really getting a good feel for when to jump into the play, when not to, when to lead the rush, when not to. He's earning all his ice, and he's just becoming a really, really dependable player that's really starting to play in all situations. It's just been kind of baby steps this year with him. But now here he is. He's killing penalties. He's playing on the power play, and he eats up all sorts of minutes five-on-five. He's kind of becoming a horse back there for us.
Radko Gudas, on losing Steven Stamkos:
Obviously he's been a great player for us, and he's been one of the best players in the world, so it's obviously hard to lose a player like this, but I think we've got a pretty good, strong group around. We've got to step up and make sure somebody's going to score those goals, somebody's going to backcheck for him, somebody's going to do the stuff he does. Obviously it's not going to be probably one guy, it's going to be all the guys that have to take a little more responsibility and a little more on their shoulders. It's something that we've been trying to do the last three games, and working to them. We're looking forward to continuing [it].