On his hotel management degree from Cornell:
It's great to have in your back pocket. Hopefully I don't have to use it for a while.
On how the roadtrip has been for him personally:
Obviously it has been kind of a crazy trip with Quickie going down, but you've got to be ready. Two games is great to get those wins, but we've got a lot of work to do, and you can't…let off. You've got to try and maintain some consistency in your game, so that's the ongoing challenge that I'm facing right now, is to try and replicate over and over.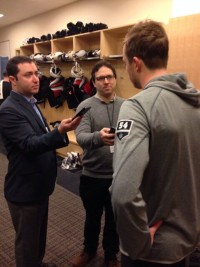 On whether he initially felt comfortable after the first period of the Phoenix game:
I mean, I got a shutout my first game…It's great playing behind these guys. They're a very disciplined team on the defensive side of the puck, and it makes my job easier. So you're just forced to try and stops the shots you should, and make a couple that you shouldn't, and just give the team a chance. It's been a real pleasure for me playing behind these guys.
On staying fresh with three games in four nights:
We played a bunch of three-in-threes when I was in the AHL with some travel. But again, like I said the other day, the NHL's a whole different beast. You've got to just make sure that you take care of your body, you're eating right, eating to win, and getting your rest and hydrating and making sure you take care of all the little things outside of the game that can help lead to success on the ice. You've got to just feel good on the ice, and give the guys a chance.
On his most difficult three-in-three stretch:
I think I even played a four-in-five once. I think we had one, Peoria, Rockford, Chicago and Milwaukee, maybe? I can't remember, though. That was a while ago. The memory's fading as I'm getting older. You're just trying to give the team a chance. You don't look at the big picture, you're just one game at a time. It sounds real cliché and boring, and that's essentially what it's supposed to be, is boring and monotonous. That's the way you keep yourself grounded, I think.
On being an Alberta native and working under Bill Ranford:
It's great. He's got quite the legacy back home, and a lot of guys – both goalies that I played with growing up, and guys from back home – have been asking me about him. He's a great guy. He's been fantastic to work with. I think we have a really healthy dialogue going. It seems to be working well between the two of us. Again, it's still really early. You don't want to put the cart before the horse, but you've just got to keep working with him.
On how well Neil deGrasse Tyson and TED Talks go over in the room:
I keep it away from these guys. They don't want to hear that stuff. [Reporter: Well, if you can get them all on board, or a few of them…] It's herding cats.… Everyone's got their own individual stuff they like outside the rink. You don't have to share everything with your brothers in here. Obviously we've got a lot of stuff in common, so we stick to that currently. [Reporter: So you haven't heard any of the 'Oh, the Cornell kid' comments, or stuff like that?] Oh yeah, I get that all the time. You take that for the compliment that it is.
Media scrum photo courtesy of Jim Fox