Los Angeles Kings (13-6-1) at New York Rangers (10-9-0)
Sunday, November 17, 2013, 7:00 p.m. ET
Madison Square Garden, New York, NY
Referees: #14 Dennis LaRue, #36 Dean Morton
Linesmen: #75 Derek Arnell, #95 Jonny Murray
FOX Sports West, KTLK 1150 AM
Los Angeles Projected Starting Goaltender – Ben Scrivens
2013-14 Season: 7 GP (4 GS) / 3-1-1 record / 1.51 GAA / .940 Sv% / 2 SHO
Career vs New York: First appearance
Last Game vs New York: First appearance
2013-14, Away: 7 (4) / 3-1-1 / 1.51 / .940 / 2
New York Projected Starting Goaltender – Henrik Lundqvist
2013-14 Season: 14 GP (13 GS) / 6-7-0 record / 2.51 GAA / .915 Sv% / 2 SHO
Career vs Los Angeles: 7 (7) / 3-3-1 / 2.67 / .909 / 0
Last Game vs Los Angeles: 10/7/13 / 60 MP / 28-29 shots / 3-1 W
2013-14, Home: 7 (7) / 4-3-0 / 2.00 / 1.73 / .938 / 1
2013-14 Los Angeles Leaders
Total Points: Anze Kopitar (5-14=19)
Goals: Justin Williams (7-8=15)
Assists: Anze Kopitar (5-14=19)
Plus/Minus: Dustin Brown (+7; 3-4=7); Anze Kopitar (+7; 5-14=19)
Penalty Minutes: Kyle Clifford (32; 1-0=1)
Time On Ice: Drew Doughty (25:40; 4-6=10)
2013-14 New York Leaders
Total Points: Brad Richards (6-10=16)
Goals: Brad Richards (6-10=16), Ryan Callahan (6-2=8)
Assists: Brad Richards (6-10=16), Derek Stepan (4-10=14)
Plus/Minus: Carl Hagelin (+6; 4-4=8)
Penalty Minutes: Derek Dorsett (73; 2-1=3)
Time On Ice: Ryan McDonagh (22:55; 4-7=11)
Rankings and Statistics
Goals/Game: LAK – 16 / 2.65; NYR – 25 / 2.21
Goals Against/Game: LAK – t-6 / 2.25; NYR – 15 / 2.58
Power Play: LAK – 10 / 21.0%; NYR – 16 / 18.8%
Penalty Kill: LAK – 18 / 81.8%; NYR – 11 / 83.6%
Shots/Game: LAK – 5 / 32.2; NYR – 7 / 31.0
Shots Against/Game: LAK – t-4 / 25.3; NYR – 11 / 29.2
Faceoffs: LAK – t-1 / 55.1%; NYR – t-18 / 49.5%
Save Percentage: LAK – 18 / .911; NYR – t-15 / .912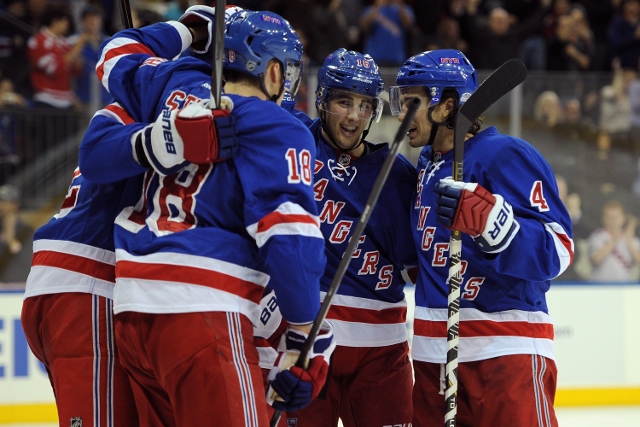 Los Angeles Projected Lines
Dustin Brown – Anze Kopitar – Justin Williams
Dwight King – Mike Richards – Tyler Toffoli
Daniel Carcillo – Jarret Stoll – Matt Frattin
Tanner Pearson – Linden Vey – Trevor Lewis
Jake Muzzin – Drew Doughty
Robyn Regehr – Slava Voynov
Willie Mitchell – Alec Martinez
Ben Scrivens
Martin Jones
Level of confidence in projected lines: A. Following the morning skate, Jordan Nolan and Colin Fraser remained on the ice for extra work along with Martin Jones. Nolan and Fraser may take warm-ups, but the above groups are likely to be the lines Darryl Sutter rolls with to start the game.
Notes and milestones: Los Angeles is 44-63-19 all-time against New York, which includes a road record of 18-36-7. The Kings are 3-1-1 in their last five trips to Madison Square Garden, dating back to January 9, 2002. These teams are not scheduled to meet again until the 2013-14 season. … Los Angeles is vying to sweep the three New York-area teams in succession for the second time in club history. On January 5, 7 and 9, 2002, the Kings beat the Islanders, 3-0, the Devils, 3-2 and the Rangers, 4-0, respectively. … Los Angeles has outshot its opponent 16 times in 20 games, though they have been outshot twice in three games on the current trip. … Excluding the shootout goal in Buffalo, the Kings have allowed five goals over the last five games. … Including playoffs, Los Angeles is 25-7-2 in the last 34 games Alec Martinez has dressed. … Anze Kopitar has eight points (4-4=8) in the last seven games and 14 points (5-9=14) in the last 12 games. … Dwight King played in his 100th career NHL game on Friday. By scoring his career-high sixth goal of the season, he is on pace for 24.6 goals. … Justin Williams played in his 150th consecutive regular season game on Friday. He has 13 points (5-8=13) in the last 12 games and carries a four-game point streak (2-2=4) into tonight's game. … Tyler Toffoli has seven points (3-4=7) in the six games since he was called up. … The Kings will be vying for the 600th road win in franchise history tonight.
Dwight King, on what a win would mean, given the injury adversity:
It would be huge. Obvoiusly you want to end the trip off on the right way, but as far as personnel-wise, I think all the guys are stepping up. Obvoiusly Scrivs has been playing great for us the last two games, and I just need to continue to chip in here and there when we need it and continue to play solid defense.
King, on the New York Rangers:
They're very similar to most teams. They're a forechecking team. They like to be hard on you. Thy've got some skilled guys on their top two lines that you've got to watch out there. But overall, I think if we play like every other team that wants to play, and play in their end, I think things will be good for us.
New York Projected Lines
Chris Kreider – Derek Stepan – Mats Zuccarello
Carl Hagelin – Brad Richards – Ryan Callahan
Brian Boyle – Derick Brassard – Derek Dorsett
J.T. Miller – Dominic Moore – Benoit Pouliot
Dan Girardi – Ryan McDonagh
Anton Stralman – Marc Staal
John Moore – Justin Falk
Henrik Lundqvist
Cam Talbot
Notes and milestones: New York lines via NHL.com's At the Rink blog. … The Rangers are on an 8-3-0 streak after opening the season 2-6-0. In their last 11 games, they have averaged 2.70 goals per game while allowing 1.63 goals per game. … In 25 career games against the Kings, Brad Richards has 29 points (9-20=29). … 3-1 winners in Montreal last night, New York is 2-1-0 in the second game of a back to back. Dating back to the start of the 2011-12 season, they are 15-6-2 in the second half of a back-to-back set. … The Rangers have registered a point in 99 consecutive games when leading after the second period, dating back to the 2009-10 season. With a record of 93-0-6 over that span, the last New York regulation loss when leading after 30 minutes was a 6-5 loss to Washington on February 4, 2010. … The Rangers have played 5,961 regular season games through the franchise's 88 seasons. They are scheduled to play the 6,000th game in franchise history on February 6, 2014 against the Edmonton Oilers. … Derek Dorsett is slated to play in his 300th career NHL game tonight.