-The Los Angeles Kings were a patient, intelligent team in their 2-0 win over the New Jersey Devils Friday night in a game that strongly embodied their identity, experience and familiar physical play. After relying on Ben Scrivens for some important saves during a first period in which they struggled to find a rhythm early, the Kings improved significantly in the second period and by the time the third period opened in a scoreless tie, it did feel like it was only a matter of time before the Kings would strike first. The Kings scored by using the heavily recycled line of "keeping things simple." After Cory Schneider maintained his Cory Schneider-eque streak against the Kings – he has now stopped 164-of-171 (.960) shots in the regular season and playoffs against L.A. – Anze Kopitar drew attention along the half boards, attracting three Devils in his immediate area. That allowed Jake Muzzin to wrist a low shot towards the net through non-existent traffic as Dwight King remained unmarked in front of the net. His deflection past Schneider served as the game winner, and aside from his career high in goals, how about the points in the standings King has assisted in? His late equalizer against Buffalo earned a point for Los Angeles, and his deflection Friday night helped to add another two. He also posted a third period go-ahead goal in Carolina in addition to his hat trick against Phoenix, and much like the 2012 playoffs, has been able to step up in important situations.
-In his last six games, Jake Muzzin has five assists and a plus-1 rating. They're solid numbers if they don't exactly set the world on fire, and there are still occasional hiccups in his own end of the ice. Still, the offensive catalyst appears more poised with and without the puck, and this recent stretch of play should help in continuing to build his confidence. You can't argue with results – the Kings' last two game-winning goals have come on deflections of pucks Muzzin sent from the point. He recognizes the situation and has been adept at keeping pucks low to the ice in perfect position to be tipped or redirected. Early results of the reunion of Muzzin and Drew Doughty as a defensive pair have been positive.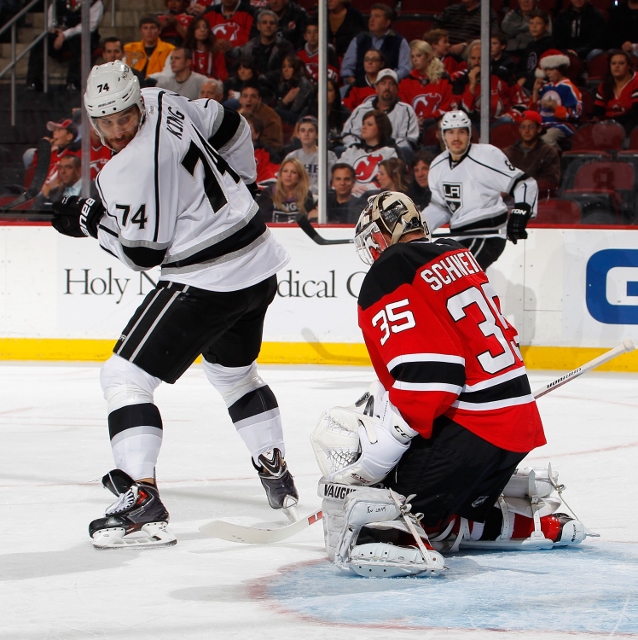 -Dustin Brown and Anze Kopitar were excellent. Brown was flying towards pucks as aggressively as he had at any point this season; is it crazy to think that the eight hits he was credited with were a touch low? He effectively used his body on every shift he took. How many additional first, second, third, fourth and fifth place Selke votes did Kopitar earn last night from members of the media that aren't afforded many opportunities to see him play? Both were instrumental in limiting New Jersey's chances throughout the second half of the game.
-The Kings are 2-0 since losing Jonathan Quick and doing their part in this interim injury binge to remain afloat in the ludicrously competitive Western Conference. While much of the narrative has surrounded the infusion of youth into the roster, there may be a period of time – perhaps on the road – in which the Kings will be overexposed if they rely too heavily on the rookies that were called up from Manchester. Tyler Toffoli has been excellent, even if his game against New Jersey was probably the weakest of the six games he has played thus far. Tanner Pearson was strong late against the Islanders, and Vey mostly appears comfortable playing at a National Hockey League pace. The Kings will eventually need a seventh healthy defenseman, however, and injured forwards will begin to draw back onto the active roster. In those situations, keep in mind the larger picture if any of the trio – or all three of the players – is optioned back to Manchester. In the year the Kings won the Stanley Cup, Slava Voynov was sent to Manchester twice in October and once in February. An 82-game season is a marathon, and while Toffoli and Vey have exceeded expectations to this point, and while Pearson is gaining comfort with every shift, these players do not have permanent roster spots set in stone.