Los Angeles Kings (11-6-1) at New York Islanders (7-9-3)
Thursday, November 14, 2013, 7:00 p.m. ET
Nassau Veterans Memorial Coliseum
Referees: #25 Marc Joannette, #29 Ian Walsh
Linesmen: #59 Steve Barton, #71 Brad Kovachik
FOX Sports West, KTLK 1150 AM
Kings Weekly to follow tonight's game
Los Angeles Projected Starting Goaltender – Ben Scrivens
2013-14 Season: 5 GP (2 GS) / 1-1-1 record / 1.89 GAA / .924 Sv% / 1 SHO
Career vs New York: 1 (1) / 0-1-0 / 6.73 / .800 / 0
Last Game vs New York: 1/24/13 / 45 MP / 20-25 shots / 4-7 L
2013-14, Away: 5 (2) / 1-1-1 / 1.89 / .924 / 1
New York Projected Starting Goaltender – Kevin Poulin
2013-14 Season: 6 GP (6 GS) / 2-4-0 record / 2.35 GAA / .920 Sv% / 0 SHO
Career vs Los Angeles: First appearance
Last Game vs Los Angeles: First appearance
2013-14, Home: 3 (3) / 2-1-0 / 2.00 / .934 / 0
2013-14 Los Angeles Leaders
Total Points: Mike Richards (5-12=17), Anze Kopitar (4-13=17)
Goals: Justin Williams (7-6=13)
Assists: Anze Kopitar (4-13=17)
Plus/Minus: Dustin Brown (+6; 3-4=7)
Penalty Minutes: Kyle Clifford (32; 1-0=1)
Time On Ice: Drew Doughty (25:48; 4-5=9)
2013-14 New York Leaders
Total Points: John Tavares (8-14=22)
Goals: Frans Nielsen (9-12=21)
Assists: John Tavares (8-14=22). Kyle Okposo (6-14=20)
Plus/Minus: Kyle Okposo (+6; 6-14=20)
Penalty Minutes: Matt Carkner (30; 0-2=2)
Time On Ice: Andrew MacDonald (26:49; 1-5=6)
Rankings and Statistics
Goals/Game: LAK – 15 / 2.67; NYI – 13 / 2.74
Goals Against/Game: LAK – t-11 / 2.39; NYI – 26 / 3.10
Power Play: LAK – t-10 / 20.0%; NYI – 9 / 20.3%
Penalty Kill: LAK – 22 / 80.3%; NYI – 30 / 73.8%
Shots/Game: LAK – 3 / 33.3; NYI – 19 / 30.0
Shots Against/Game: LAK – 3 / 25.3; NYI – 19 / 30.6
Faceoffs: LAK – t-1 / 55.2%; NYI – 28 / 45.1%
Save Percentage: LAK – 23 / .905; NYI – 26 / .899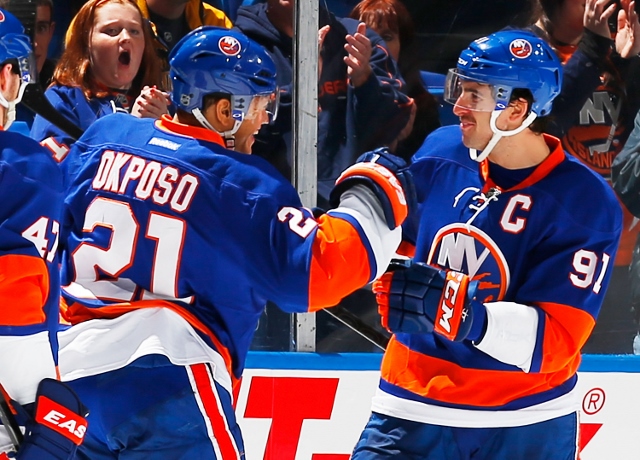 Los Angeles Projected Lines
Dustin Brown – Anze Kopitar – Justin Williams
Dwight King – Mike Richards – Tyler Toffoli
Tanner Pearson – Linden Vey – Matt Frattin
Jordan Nolan – Colin Fraser – Trevor Lewis
Jake Muzzin – Drew Doughty
Robyn Regehr – Slava Voynov
Willie Mitchell – Alec Martinez
Ben Scrivens
Martin Jones
Level of confidence in projected lines: C. Several players did not take the ice for the morning skate, which made projecting tonight's lineup based off of line rushes difficult. Daniel Carcillo, Jarret Stoll and Martin Jones remained on the ice for extra work, so the players above represent the group likely to dress tonight. As for the lines, I'm projecting Tanner Pearson and Linden Vey to skate together, and for Matt Frattin to join them on the right wing. Jordan Nolan could skate for the second consecutive game as a left wing, though he has vast AHL and junior experience on the left side. Darryl Sutter responded "I think Toffoli's good with Mike Richards" when asked whether the line of Pearson, Vey and Toffoli could be reunited. Ben Scrivens will draw his third start of the season.
Notes and milestones: The Kings are 42-42-13 all-time against the Islanders, including a record of 18-25-6 at Nassau Coliseum. Los Angeles is 6-1-1 in the last eight games versus New York, dating back to October 10, 2006. The teams will conclude the season series on December 7 at STAPLES Center. … The Kings have out-shot their opponents 16 times in 18 games. Their +8.0 shot discrepancy ranks second in the league behind San Jose's +10.7. … Mike Richards carries a five-game point streak (3-6=9) into tonight's game. He has 12 points (5-7=12) in the last nine games. … Tyler Toffoli has points in all four games (2-4=6) since being recalled. … Justin Williams has 11 points (5-6=11) in the last 10 games. … Anze Kopitar has six points in the last five games (3-3=6) and 12 points in the last 10 games (4-8=12). … Dwight King's five goals ties a career high. Spread over 82 games, he is on pace for 22.8 goals. King has three points (1-2=3) in the last two games. … Los Angeles is 23-7-2 in the last 32 games Alec Martinez has been in the lineup. … Matt Frattin will play in his 100th career game tonight. Anze Kopitar (493 points) is one point behind Rob Blake (494 points) for seventh place on the club's all-time scoring list. Butch Goring ranks sixth with 659 career points as a King. … Dustin Brown (184 goals) is two goals behind Jim Fox (186 goals) for ninth place overall on the club's all-time goal list. Mike Murphy ranks eighth in franchise history with 194 goals as a King.
New York Projected Lines
Brock Nelson – John Tavares – Kyle Okposo
Pierre-Marc Bouchard – Frans Nielsen – Josh Bailey
Michael Grabner – Peter Regin – Colin McDonald
Matt Martin – Casey Cizikas – Cal Clutterbuck
Andrew MacDonald – Travis Hamonic
Thomas Hickey – Matt Donovan
Aaron Ness – Matt Carkner
Kevin Poulin
Evgeni Nabokov
Notes and milestones: Lines via NHL.com's At the Rink blog. … Thomas Vanek skated this morning but will not take part in tonight's game. … Former King Lubomir Visnovsky remains sidelined with a concussion. … John Tavares is tied for third place in NHL scoring with 22 points (8-14=22). Sidney Crosby (24 points) and Steven Stamkos (23 points) rank first and second, respectively. … Tavares (1-4=5) and Frans Nielsen (1-3=4) are on three-game point streaks. … New York is 1-7-2 when allowing at least one power play goal. … Kevin Poulin is 2-2-0 / 1.75 / .939 over his last four starts. … Matt Martin leads the NHL with 85 hits. He led the league in hits in each of the last two seasons. … The Islanders and their opponents have combined for 51 goals in second periods this season. In first periods, third periods and overtimes combined, they have combined for 60 goals with their opponents. … New York has not won when limited to two goals or fewer, going 0-8-1. … Andrew MacDonald ranks third in the league with an average ice time of 26:49. Ryan Suter leads the league with an average ice time of 29:43, while Dennis Wideman ranks second with 27:24.
Jack Capuano, on the Los Angeles Kings' physicality:
When Dean Lombardi got there, that's the style that they built. We've seen a lot of these guys in Manchester, too, and they've done a real good job developing. It doesn't matter who they put in the lineup. They work extremely hard. They go to the net hard. That'll be a test for our defense back there, our young defense. But again, we have to focus on what we have to do. Our guys, again, will be prepared for L.A., but we're going to stay within the framework and the structure of how we need to play five-and-five and special teams.
Capuano, on Ben Scrivens:
We've seen him in Toronto. A good goalie, a big goalie. Any goalie at this level is good. A lot of goalies are always going to make that first save, so you've got to get second and third opportunities around the net, no matter who's in there. For us, it doesn't change.