Los Angeles Kings (11-6-0) at Buffalo Sabres (3-15-1)
Tuesday, November 12, 2013, 7:00 p.m. ET
First Niagara Center
Referees: #9 Dan O'Rourke, #29 Ian Walsh
Linesmen: #96 David Brisebois, #71 Brad Kovachik
FOX Sports West, KTLK 1150 AM
Los Angeles Projected Starting Goaltender – Jonathan Quick
2013-14 Season: 15 GP (15 GS) / 10-5-0 record / 2.38 GAA / .906 Sv% / 1 SHO
Career vs Buffalo: 4 (3) / 3-0-0 / 1.78 / .918 / 1
Last Game vs Buffalo: 11/7/13 / 60 MP / 19-19 shots / 2-0 W
2013-14, Away: 5 (5) / 3-2-0 / 2.39 / .919 / 0
Buffalo Projected Starting Goaltender – Ryan Miller
2013-14 Season: 13 GP (13 GS) / 2-11-0 record / 3.40 GAA / .912 Sv% / 0 SHO
Career vs Los Angeles: 7 (6) / 4-1-1 / 2.38 / .931 / 1
Last Game vs Los Angeles: 10/8/11 / 60 MP / 31-33 shots / 4-2 W
2013-14, Away: 8 (8) / 5-1-2 / 2.30 / .917 / 1
2013-14 Los Angeles Leaders
Total Points: Anze Kopitar (4-13=17)
Goals: Justin Williams (6-6=12)
Assists: Anze Kopitar (4-13=17)
Plus/Minus: Matt Greene (+5; 2-1=3), Dustin Brown (+5; 3-4=7)
Penalty Minutes: Kyle Clifford (32; 1-0=1)
Time On Ice: Drew Doughty (25:33; 4-5=9)
2013-14 Buffalo Leaders
Total Points: Matt Moulson (8-7=15)*
Goals: Matt Moulson (8-7=15)*
Assists: Cody Hodgson (5-8=13)
Plus/Minus: Matt Moulson (+1; 8-7=15)*
Penalty Minutes: Cody McCormick (34; 1-4=5)
Time On Ice: Christian Ehrhoff (24:10; 0-4=4)
*Includes statistics with the New York Islanders
Rankings and Statistics
Goals/Game: LAK – 15 / 2.71; BUF – 29 / 1.63
Goals Against/Game: LAK – 11 / 2.41; BUF – 26 / 3.21
Power Play: LAK – 8 / 21.5%; BUF – 24 / 12.3%
Penalty Kill: LAK – 19 / 81.2%; BUF – 21 / 79.7%
Shots/Game: LAK – 5 / 32.6; BUF – 30 / 25.2
Shots Against/Game: LAK – 3 / 25.8; BUF – t-28 / 36.5
Faceoffs: LAK – 1 / 55.2%; BUF – 27 / 45.4%
Save Percentage: LAK – t-21 / .906; BUF – t-14 / .912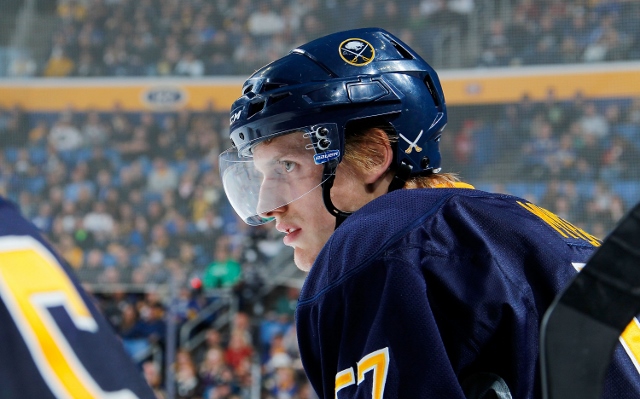 Los Angeles Projected Lines
Dustin Brown – Anze Kopitar – Justin Williams
Dwight King – Mike Richards – Tyler Toffoli
Daniel Carcillo – Colin Fraser – Matt Frattin
Jordan Nolan – Linden Vey – Trevor Lewis
Jake Muzzin – Drew Doughty
Robyn Regehr – Slava Voynov
Willie Mitchell – Alec Martinez
Jonathan Quick
Ben Scrivens
Level of confidence in projected likes: A. Jarret Stoll did not participate in line rushes and remained on the ice for extra work, so he is almost certainly out. Jeff Carter is still on injured reserve. Kyle Clifford and Matt Greene did not join the team at the outset of the trip, though Darryl Sutter said they could "maybe" join the team in New York. Jordan Nolan took several rushes as a left wing, a position he has played before. "That was pretty much where I played growing up," Nolan said following the morning skate. "The first time I played right wing was about a few weeks before I got called up to L.A. a few years ago. So, I am familiar with it, it just felt good to be on that side again."
Notes and milestones: The Kings are 41-55-18 all-time against the Sabres, which includes a record of 16-31-9 on the road. Los Angeles is 1-10-1 in their last 12 games at Buffalo and have not won at the First Niagara Center since a 4-1 win on February 21, 2003, a game in which Ziggy Palffy and Bryan Smolinski scored twice and Jamie Storr stopped 31 of 32 shots. Ryan Miller started in net for Buffalo. … The Kings have out-shot their opponents 15 times in 17 games. Their +6.8 shot differential is third best in the NHL, trailing San Jose (+10.0) and Chicago (+6.9). … Anze Kopitar has points in four straight games (3-3=6) and 12 points in the last nine games (4-8=12). … Mike Richards has points in four straight games (3-5=8) and 11 points in his last eight games (5-6=11). … Tyler Toffoli has points in three straight games (1-4=5). … Justin Williams has 10 points in the last nine games (4-6=10). … Drew Doughty has eight points in the last nine games (3-5=8). … Richards has 27 points (12-15=27) in 23 career games against Buffalo. … Anze Kopitar (493 points) is one point behind Rob Blake (494 points) for seventh place on the club's all-time scoring list. Butch Goring ranks sixth with 659 career points as a King. … Dustin Brown (184 goals) is two goals behind Jim Fox (186 goals) for ninth place overall on the club's all-time goal list. Mike Murphy ranks eighth in franchise history with 194 goals as a King. … Matt Frattin will play in his 99th career game tonight. … These two teams will not meet again until the 2014-15 season.
Morning Skate Quotes
Dustin Brown, on Saturday's win over Vancouver:
I always think our game is about puck possession and we had a lot of it. But from a team wide standpoint, I think it was really good. Quickie is a big part of it, but collectively we bent but didn't break in the D-zone. A team like that, they are going to get some good offensive chances with the personnel they have. And I thought we were really good about limiting the Grade-A scoring chances and being able to stay in our D-zone for a couple minutes at a time and not really give up much.
Jordan Nolan, on his game against Vancouver:
I think I just moved my feet. I was getting pucks out of our blue line and getting them in the red line, stuff like that. I was playing the way I need to play and that is also comfortable.
Nolan, on ways to start off the first game of an east coast road trip:
Just get yourself into the game. Whether it is a hard play along the boards or a big hit or a shot on goal, just anything to get yourself going and that will carry the rest of the game.
Buffalo Projected Lines
Steve Ott – Cody Hodgson – Matt Moulson
Ville Leino – Tyler Ennis – Drew Stafford
Zemgus Girgensons – Marcus Foligno – Brian Flynn
Mikhail Grigorenko – Cody McCormick – Corey Tropp
Christian Ehrhoff – Mark Pysyk
Henrik Tallinder – Tyler Myers
Jamie McBain – Rasmus Ristolainen
Ryan Miller
Jhonas Enroth
Notes and milestones: Lines via the Buffalo Sabres' website. … The Sabres are yet to win on home ice this season, going 0-8-1. … Matt Moulson has 14 points (7-7=14) in his last 12 games. … Drew Stafford has five points (3-2=5) in five career games against the Kings. … Los Angeles' last visit to Buffalo was on November 19, 2010, a 4-2 Sabres win. … Brian Flynn has played in 45 career regular season games without taking a penalty. … Buffalo is the first NHL team since 1995-96 to dress four teenagers over the course of the season (Zemgus Girgensons, Mikhail Grigorenko, Rasmus Ristolainen, Nikita Zadorov). In 1995-96 Buffalo and Florida dressed four teenagers, while Winnipeg dressed six. … Drew Doughty (2 / LA), Cody Hodgson (10 / VAN), Tyler Myers (12 / BUF) and Tyler Ennis (26 / BUF) were all selected in the first round of the 2008 NHL Entry Draft. … The Sabres are 3-for-7 on the penalty kill over their last two games.
Morning Skate Quotes
Ron Rolston, on Mike Richards' success against Buffalo:
Well I think they have a lot of top players. They have a lot of depth in their lineup. So it's our ability to be aware of that. Just like when we are playing the Ducks and – Gezlaf and Perry – you have to be aware of when they are out on the ice and you have to manage the puck well and understand the situation of the game. L.A. has a lot of good hockey payers.
Rolston, on the success of the Western Conference teams:
I think of the teams we played out west, starting with San Jose, then L.A. and Anaheim, big, strong, they skate well. Heavy teams, good defenders, good goaltending, it's a good combination.