Los Angeles Kings forward Trevor Lewis has several ties to the Buffalo Sabres' locker room. Though Lewis is four years his junior, he played with Matt Moulson for parts of the 2006-07, 2007-08 and 2008-09 seasons with the Manchester Monarchs.
"When I was there, we were really young. He was kind of one of the older guys, and I remember listening to him, and he had been called up a few times. He was definitely a good voice in the locker room," Lewis said.
"He's a really good guy. He's a little bit older than me, and he kind of maybe took me under his wing a little bit in Manch. He's a good guy. He knows how to find the back of the net, that's for sure. He's really strong on the puck and strong on his skates. He's definitely a good player."
Lewis has also become acquainted with Sabres goaltender Ryan Miller, who spends the off-season in Los Angeles and skated regularly with several members of the Kings at Toyota Sports Center during informal workouts.
"He's good. He's very detailed. He's big in the net," Lewis said. "You've got to kind of get him moving and find holes."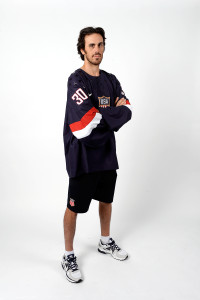 The two traveled together from Los Angeles to the Washington Capitals' practice facility in late August to take part in USA Hockey's Olympic orientation camp, and were roommates during the two-day stay.
"It was a quick in-and-out, but long days," Lewis said. There was little downtime during the camp, and the two weren't exactly racking up lengthy room service bills while in Northern Virginia. They haven't remained in contact since training camps opened.
Jhonas Enroth started for Buffalo in Los Angeles' 2-0 win last Thursday. Miller started the following night against Anaheim and allowed six goals on 34 shots. He did not play in the third period.
When the teams meet Tuesday night at the First Niagara Center, it will mark the first time that the Sabres take the ice since the line of Tyler Ennis, Cody Hodgson and Matt Moulson was benched for the final 26 minutes of Friday's loss to the Ducks. More on Buffalo's return home and the shift to pair Steve Ott with Hodgson and Moulson can be found here, via Mike Harrington of the Buffalo News.