Los Angeles Kings (10-6-0) vs Vancouver Canucks (11-5-2)
Saturday, November 9, 2013, 7:00 p.m. PT
STAPLES Center
Referees: #28 Chris Lee, #26 Rob Martell
Linesmen: #91 Don Henderson, #98 John Grandt
FOX Sports West, CBC Hockey Night in Canada, KTLK 1150 AM
Los Angeles Projected Starting Goaltender – Jonathan Quick
2013-14 Season: 14 GP (14 GS) / 9-5-0 record / 2.48 GAA / .901 Sv% / 1 SHO
Career vs Vancouver: 17 (17) / 6-10-1 / 2.04 / .923 / 0
Last Game vs Vancouver: 3/23/13 / 59 MP / 12-13 shots / 0-1 L
2013-14, Home: 9 (9) / 6-3-0 / 2.53 / .890 / 1
Vancouver Projected Starting Goaltender – Roberto Luongo
2013-14 Season: 15 GP (15 GS) / 9-4-2 record / 2.23 GAA / .916 Sv% / 2 SHO
Career vs Los Angeles: 27 (27) / 14-9-4 / 2.21 / .922 / 3
Last Game vs Los Angeles: 1/28/13 / 65 MP / 26-28 + 2/3 shots / 2-3 SOL
2013-14, Away: 8 (8) / 5-1-2 / 2.30 / .917 / 1
2013-14 Los Angeles Leaders
Total Points: Anze Kopitar (4-12=16)
Goals: Justin Williams (5-6=11), Jeff Carter (5-4=9)
Assists: Anze Kopitar (4-12=16)
Plus/Minus: Matt Greene (+5; 2-1=3)
Penalty Minutes: Kyle Clifford (32; 1-0=1)
Time On Ice: Drew Doughty (25:43; 4-4=8)
2013-14 Vancouver Leaders
Total Points: Henrik Sedin (3-17=20)
Goals: Ryan Kesler (9-4=13)
Assists: Henrik Sedin (3-17=20)
Plus/Minus: Kevin Bieksa (+11; 0-8=8)
Penalty Minutes: Tom Sestito (34; 0-0=0)
Time On Ice: Alex Edler (24:49; 2-4=6)
Rankings and Statistics
Goals/Game: LAK – t-18 / 2.56; VAN – 12 / 2.83
Goals Against/Game: LAK – t-12 / 2.50; VAN – 10 / 2.44
Power Play: LAK – 6 / 22.6%; VAN – 27 / 10.3%
Penalty Kill: LAK – 20 / 80.6%; VAN – 2 / 88.5%
Shots/Game: LAK – 4 / 32.6; VAN – 5 / 32.1
Shots Against/Game: LAK – t-3 / 25.8; VAN – t-8 / 27.6
Faceoffs: LAK – t-2 / 55.4%; VAN – 11 / 51.6%
Save Percentage: LAK – t-24 / .903; VAN – 18 / .911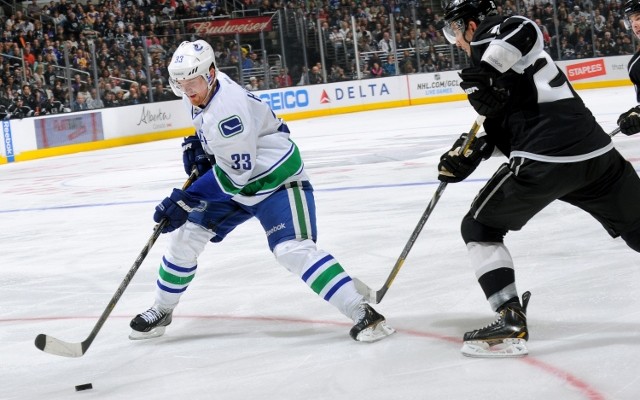 Los Angeles Projected Lines
Dustin Brown – Anze Kopitar – Justin Williams
Dwight King – Mike Richards – Tyler Toffoli
Daniel Carcillo – Trevor Lewis – Matt Frattin
Kyle Clifford – Colin Fraser – Jordan Nolan
Jake Muzzin – Drew Doughty
Robyn Regehr – Slava Voynov
Willie Mitchell – Alec Martinez
Jonathan Quick
Ben Scrivens
Level of confidence in projected likes: B+. Jarret Stoll skated after the main group for the third consecutive day, so he's out tonight. Matt Greene and Jeff Carter are out. The question is whether Linden Vey or Colin Fraser will get the nod to center Kyle Clifford and Jordan Nolan. Neither player stayed on for extra work after the morning skate. Based on Sutter's quote yesterday that "[Vey] had some trouble in his own zone just about every shift," I'm leaning towards Fraser getting the nod. Expect both players to take the ice for warm-ups.
Notes and milestones: The Kings are 96-96-35 all-time against the Canucks, including a record of 59-38-18 at home. Los Angeles is 1-3-0 in the last four regular season meetings against Vancouver, dating back to 3/26/12. The lone win came in a shootout against Roberto Luongo on 1/28/13. … The teams will play five times this season, with upcoming games on November 25 (@ VAN), January 4 (vs VAN), January 13 (vs VAN) and April 5 (@ VAN). … The Kings have been outscored 14-7 in second periods this season. … Los Angeles has out-shot their opponents 14 times in 16 games. Their +6.9 shot differential is third best in the NHL, trailing San Jose (+11.4) and Chicago (+7.1). … Anze Kopitar has goals in three straight games (3-2=5 over that span) and 11 points (4-7=11) in the last eight games. … Mike Richards has points in three straight games (2-3=5 in that span) and eight points (4-4=8) in the last seven games. … Drew Doughty has seven points (3-4=7) in the last eight games. … The Kings are 6-for-17 (35.3%) on the power play over the last four games. … By playing tonight, Anze Kopitar will tie Bob Berry and Wayne Gretzky for 15th place in Kings history with 539 games played.
Vancouver Projected Lines
Ryan Kesler – Henrik Sedin – Daniel Sedin
Chris Higgins – Mike Santorelli – Alexandre Burrows
Zack Kassian – Brad Richardson – Darren Archibald
Tom Sestito – Jeremy Welsh – Zac Dalpe
Jason Garrison – Alexander Edler
Dan Hamhuis – Christopher Tanev
Kevin Bieksa – Ryan Stanton
Roberto Luongo
Eddie Lack
Notes and milestones: Lines via Curtis Zupke of NHL.com … Vancouver's 7-2-2 road record has produced more road points than any other NHL team. … Daniel Sedin has 298 career goals. Only two players have scored 300 career goals in a Canucks jersey, Markus Naslund (346) and Trevor Linden (318). … Vancouver is 6-3-1 when their opponents score first. … Henrik Sedin ranks second overall amongst active players and sixth in NHL history in consecutive games played with 647. Jay Bouwmeester of St. Louis leads all active players with 649 consecutive games played, while Doug Jarvis holds the NHL record with 964 consecutive games played. … Brad Richardson will play the Kings for the first time since spending five consecutive seasons with the team. In five career games against Los Angeles (registered as a member of the Colorado Avalanche from 2005-08), he has no points, a plus-1 rating and six penalty minutes. His nine points (5-4=9) through 18 games represents his highest point total since posting 19 points (7-12=19) in 68 games with Los Angeles in 2010-11. His career high in points is 27 (11-16=27), set with Los Angeles in 2009-10.