-Spotting a National Hockey League team a two-goal lead in the first period is never an optimal way to start a game, though when Anze Kopitar buried a Jake Muzzin rebound to bring the Los Angeles Kings within one 37 seconds before the first intermission, the buoyancy appeared to rebound as the team would have a chance to carry momentum into the second period after outshooting the Nashville Predators 14-6 in the opening frame. That didn't happen. Nashville was the better team over the first half of the second period, and though they benefited from a fluky bounce off referee Mike Hasenfratz in setting up Eric Nystrom's goal, referees are a part of the on-ice action, and fluky deflections occur. Perhaps it stings a little bit more because it appeared as though there were one or two high sticks on Tyler Toffoli that went unpenalized, but the real back breaker in this game was when Los Angeles fell behind by two goals in the second period. Also, Patric Hornqvist should be arrested for serial regicide, as he continues to kill the Kings. With three assists last night, he upped his career numbers to seven goals and six assists in 17 games against L.A. Those are impressive numbers considering the games between these two teams aren't generally as high scoring as Saturday's game.
-Speaking of Tyler Toffoli, he was excellent and well-deserving of his career-high 19:23 of ice time. He produced several high-tension moments for the Nashville defense, including an assist he earned by snapping the puck towards the net during a third period power play before Mike Richards tied the game by depositing a loose puck past Carter Hutton. His best moments might have come during a delayed call in the first period when he did an excellent job of finding space and recognizing Anze Kopitar entering the ice as an extra attacker before feeding him a pass between a pair sticks. He then found a soft spot near the tops of the circles, used his skate to receive the return pass from Kopitar, and fired off a high-quality opportunity from just inside the right circle that Hutton kicked aside. It was one of five shots by the 21-year-old.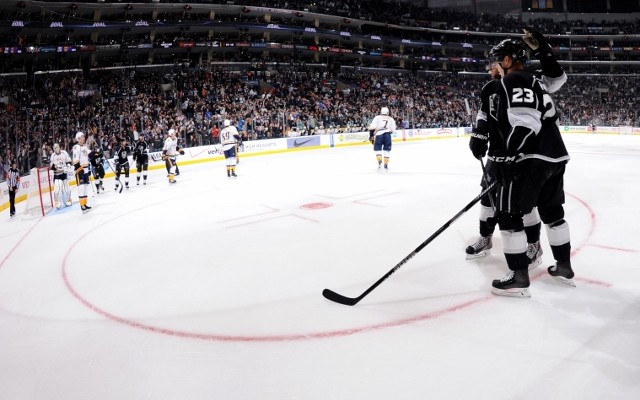 -The penalty killing is in the type of rut that has never really been associated with the team over the last three seasons. After killing off 14 consecutive power plays, Los Angeles has now conceded a goal while shorthanded in six straight games, going 17-for-26 over that span. Though Nashville's second goal came as the result of some impressive puck movement between Hornqvist and Shea Weber, the first goal was a simple play in which David Legwand skated with impunity from the right wing half boards towards the tops of the circles and unleashed a hard wristshot against the grain, beating Jonathan Quick to the gloveside with Hornqvist in front. Nobody stepped up to provide pressure; both goals were lamented by Darryl Sutter during the post-game press conference. The Kings did end a seven-game streak of allowing their opponents at least four opportunities on the power play.
-There's no word on Jarret Stoll's ailment – and don't expect one, given teams' reluctance to disclose injuries – but if the Kings will be in the position to call up another player from Manchester, is it possible that we could see the reunion of the Pearson-Vey-Toffoli line at the NHL level? It's an intriguing consideration, though it would obviously be less desirable than a quick return by Stoll.
-Carter Hutton made an excellent save on a Slava Voynov one-timer with under a minute to play in this game. It was the exact type of clutch third period save he was unable to make Thursday night, when the Predators let a two-goal lead slip away before losing in a shootout at Phoenix. Though he's not out there to be Pekka Rinne, if he continues to make big saves duriung key situations, he'll do an adequate job of holding down the fort until Nashville's star goaltender returns from his hip injury.