Los Angeles Kings (9-5-0) vs Nashville Predators (6-5-2)
Saturday, November 2, 2013, 7:30 p.m. PT
STAPLES Center
Referees: #13 Dan O'Halloran, #2 Mike Hasenfratz
Linesmen: #74 Lonnie Cameron, #57 Jay Sharrers
FOX Sports West, KTLK 1150 AM
Los Angeles Projected Starting Goaltender – Jonathan Quick
2013-14 Season: 12 GP (12 GS) / 8-4-0 record / 2.56 GAA / .903 Sv% / 0 SHO
Career vs Nashville: 9 (9) / 2-5-2 / 2.62 / .897 / 0
Last Game vs Nashville: 10/17/13 / 65 MP / 34-35 shots + 3/3 / 2-1 SOW
2013-14, Home: 7 (7) / 5-2-0 / 2.67 / .890 / 0
Nashville Projected Starting Goaltender – Carter Hutton
2013-14 Season: 5 GP (4 GS) / 2-1-1 record / 2.71 GAA / .912 Sv% / 0 SHO
Career vs Los Angeles: First appearance
Last Game vs Los Angeles: First appearance
2013-14, Away: 3 (2) / 1-0-1 / 2.05 / .930 / 0
2013-14 Los Angeles Leaders
Total Points: Anze Kopitar (2-11=13)
Goals: Justin Williams (5-5=10), Jeff Carter (5-4=9)
Assists: Anze Kopitar (2-11=13)
Plus/Minus: Matt Greene (+5; 2-1=3)
Penalty Minutes: Kyle Clifford (30; 1-0=1)
Time On Ice: Drew Doughty (25:39; 4-3=7)
2013-14 Nashville Leaders
Total Points: David Legwand (2-8=10)
Goals: Patric Hornqvist (4-3=7)
Assists: David Legwant (2-8=10)
Plus/Minus: Nick Spaling (+1; 1-2=3), Paul Gaustad (+1; 2-0=2)
Penalty Minutes: Matt Hendricks (24; 1-0=1)
Time On Ice: Shea Weber (26:28; 3-3=6)
Rankings and Statistics
Goals/Game: LAK – 18 / 2.57; NAS – 25 / 2.08
Goals Against/Game: LAK – t-11 / 2.57; NAS – 15 / 2.69
Power Play: LAK – 14 / 20.4%; NAS – 19 / 17.5%
Penalty Kill: LAK – 17 / 81.7%; NAS – 20 / 80.4%
Shots/Game: LAK – 4 / 32.6; NAS – t-18 / 29.9
Shots Against/Game: LAK – 5 / 26.9; NAS – 13 / 29.5
Faceoffs: LAK – 1 / 55.9%; NAS – 2 / 55.7%
Save Percentage: LAK – t-21 / .904; NAS – t-17 / .909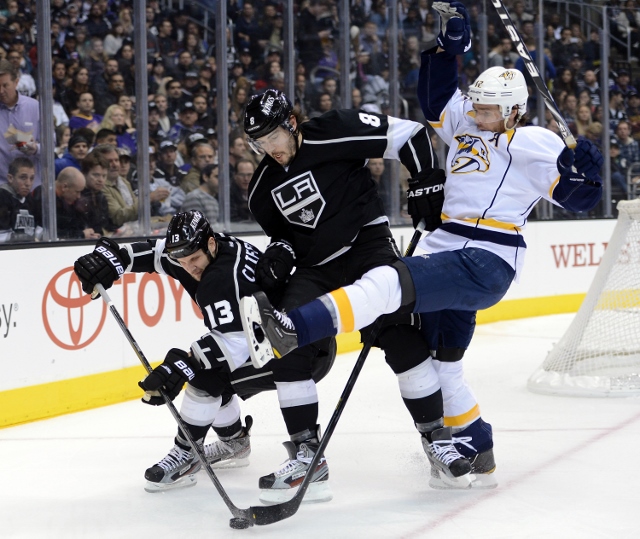 Los Angeles Projected Lines
Dwight King – Anze Kopitar – Justin Williams
Daniel Carcillo – Mike Richards – Tyler Toffoli
Dustin Brown – Jarret Stoll – Trevor Lewis
Kyle Clifford – Colin Fraser – Matt Frattin
Jake Muzzin – Drew Doughty
Robyn Regehr – Slava Voynov
Willie Mitchell – Matt Greene
Jonathan Quick
Ben Scrivens
Level of confidence in projected lines: C. As mentioned exhaustively, lines are fluid throughout the game and will change. Linden Vey could slot in for Colin Fraser, and Jordan Nolan could slot in for Matt Frattin. Forwards haven't stayed on for much extra work this year, so it's difficult to get a firm indication of who will be in, and who will be out.
Notes and milestones: Los Angeles is 29-21-6 overall against Nashville, including a record of 14-12-2 at home. L.A. is 4-1-1 in the teams' last six overall meetings (dating back to March 6, 2012) and 3-0-1 in the last four meetings at STAPLES Center (dating back to November 8, 2011). … The Kings have won more faceoffs than their opponent in each of the last six games and are 231-for-398 (58.0%) over that span. Overall, the team leads the league with a 55.9% success rate. Nashville ranks second in the league with a 55.7% success rate. … Since killing off 14 consecutive power plays, the Kings' penalty kill has allowed at least one goal in each of its last five games, going 16-for-23 (69.6%) over that span. Kings opponents have had at least four power plays in each of the last seven games. … Justin Williams has eight points (3-5=8) in the last six games. … Anze Kopitar has eight points (2-6=8) in the last six games. … Drew Doughty has six points (3-3=6) in the last six games. … Mike Richards has five points (2-3=5) in the last five games. … Los Angeles has won three straight games at home. … The Kings have recorded at least 30 shots on goal in 10 of 14 games this season and have out-shot their opponents in 12 of 14 games. … Los Angeles is 6-0 in games that extend past 60 minutes (2-0 OT; 4-0 SO). … The Kings have out-shot their opponents 13-3 in overtime this season.
Nashville Projected Lines
Colin Wilson – Mike Fisher – Viktor Stalberg
Eric Nystrom – David Legwand – Patric Hornqvist
Nick Spaling – Matt Cullen – Craig Smith
Rich Clune – Paul Gaustad – Filip Forsberg
Seth Jones – Shea Weber
Roman Josi – Kevin Klein
Mattias Ekholm – Ryan Ellis
Carter Hutton
Magnus Hellberg
Notes and milestones: Lines via Fang Faction. … Goaltender Pekka Rinne is on injured reserve with a bacterial infection in his hip that necessitated arthroscopic surgery. … Matt Hendricks (upper-body injury) returned to Nashville to be evaluated, which means that Filip Forsberg is likely to draw back in to the Predators' lineup. … Though the Kings have an annual Grammy Awards road trip that takes them away from Los Angeles in February, the Predators are currently on their annual Country Music Awards road trip. By duration, the seven-game, 17-day roadtrip is the longest amount of time the Predators will have remained away from Nashville in franchise history. After opening the trip with a shootout loss in Phoenix on Thursday, the Predators will travel from Los Angeles to Colorado, Winnipeg, New Jersey, New York and Pittsburgh. The next game at Bridgestone Arena takes place on November 16 against the Chicago Blackhawks. … Along with Buffalo, Nashville is one of two teams to field multiple teenagers in their lineup. Seth Jones and Filip Forsberg are both 19. … After finishing last in the league in shots generated a season ago, the Predators currently rank 12th in the NHL with 29.5 shots per game. They have outshot their opponents 307-285 over the last 10 games.