Los Angeles Kings (7-4-0) vs Edmonton Oilers (3-8-1)
Sunday, October 27, 2013, 6:00 p.m. PT
STAPLES Center
Legends Night
Referees: #3 Mike Leggo, #26 Rob Martell
Linesmen: #66 Darren Gibbs, #73 Vaughan Rody
FOX Sports West, KTLK 1150 AM
Los Angeles Projected Starting Goaltender – Jonathan Quick
2013-14 Season: 10 GP (10 GS) / 6-4-0 record / 2.71 GAA / .904 Sv% / 0 SHO
Career vs Edmonton: 14 (14) / 9-1-4 / 1.54 / .941 / 1
Last Game vs Edmonton: 4/6/13 / 60 MP / 23-24 shots / 4-1 W
2013-14, Home: 5 (5) / 3-2-0 / 3.01 / .889 / 0
Edmonton Projected Starting Goaltender – Richard Bachman
2013-14 Season: First appearance
Career vs Los Angeles: 2 GP (1 GS) / 2-0-0 record / 0.57 GAA / .980 Sv% / 0 SHO
Last Game vs Los Angeles: 4/9/13 / 46 MP / 22-22 shots / 5-1 W
2013-14, Away: First appearance
-With Devan Dubnyk nursing an ankle injury, Richard Bachman was recalled from AHL-Oklahoma City and will draw the start tonight. Bachman was 3-4-1 with a 2.37 GAA and .925 Sv% over eight AHL games. The Salt Lake City native and former Dallas Stars prospect has found success against Los Angeles, though in a small sample size. He stopped 26 of 27 shots in a 2-1 Dallas win at Staples Center on December 10, 2011, Terry Murray's final game as head coach. He also relieved Kari Lehtonen, who had suffered a groin injury early in a 5-1 Dallas win over Los Angeles on April 9, 2013, and stopped all 22 shots.
2013-14 Los Angeles Leaders
Total Points: Anze Kopitar (1-10=11)
Goals: Jeff Carter (5-3=8)
Assists: Anze Kopitar (1-10=11)
Plus/Minus: Matt Greene (+4; 2-1=3)
Penalty Minutes: Kyle Clifford (18; 1-0=1)
Time On Ice: Drew Doughty (25:28; 3-2=5)
2013-14 Edmonton Leaders
Total Points: Jordan Eberle (3-7=10), Mark Arcobello (0-10=10), Ryan Nugent-Hopkins (4-6=10)
Goals: Boyd Gordon (4-1=5), Ryan Nugent Hopkins (4-6=10)
Assists: Mark Arcobello (0-10=10)
Plus/Minus: Mark Arcobello (+3; 0-10=10)
Penalty Minutes: Luke Gadzic (23; 1-1=2)
Time On Ice: Justin Schultz (22:16; 1-6=7)
Rankings and Statistics
Goals/Game: LAK – t-17 / 2.73; EDM – 15 / 2.83
Goals Against/Game: LAK – 13 / 2.64; EDM – 30 / 4.00
Power Play: LAK – t-13 / 20.0%; EDM – 24 / 12.2%
Penalty Kill: LAK – 11 / 83.0%; EDM – 29 / 72.7%
Shots/Game: LAK – 9 / 31.2; EDM – t-23 / 28.5
Shots Against/Game: LAK – 7 / 27.7; EDM – 13 / 30.0
Faceoffs: LAK – 3 / 55.2%; EDM – 8 / 52.3%
Save Percentage: LAK – t-19 / .905; EDM – 30 / .867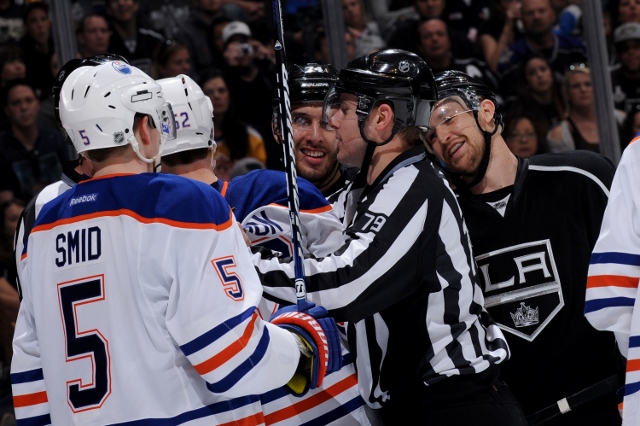 Los Angeles Projected Roster
Dwight King – Anze Kopitar – Justin Williams
Mike Richards – Jeff Carter – Matt Frattin
Dustin Brown – Jarret Stoll – Trevor Lewis
Daniel Carcillo – Colin Fraser – Kyle Clifford
Robyn Regehr – Drew Doughty
Willie Mitchell – Slava Voynov
Jake Muzzin – Matt Greene
Jonathan Quick
Ben Scrivens
Level of confidence in projected lines: C. Jonathan Quick did not take the ice at the morning skate, and Ben Scrivens stayed on for additional work, so Quick is the projected starter. Jordan Nolan, Alec Martinez and Keaton Ellerby also remained on for extra work, though Nolan left the ice before Martinez and Ellerby. Consider Martinez and Ellerby likely scratches for tonight; if Nolan doesn't go, it's difficult to think of Kyle Clifford or Daniel Carcillo serving as a right wing. Expect Nolan to take the warm-up skate as an option, and a decision on the fourth line to be made shortly before game time.
Notes and milestones: The Kings are 68-79-38 all-time against the Oilers, which includes a record of 35-36-21 in Los Angeles. The Kings are 11-1-4 in the teams' last 16 meetings. After tonight, the teams will meet on December 17 at STAPLES Center, and on March 9 and April 10 at Rexall Place. Edmonton is the only Pacific Division team the Kings will face four times. They will face all other teams five times. … Anze Kopitar has six points in the last three games (1-5=6). … Drew Doughty has points in three straight games (2-2=4). … Justin Williams has points in three straight games (2-4=6). … With four goals, Dwight King is one goal below his career high of five, set in 2011-12. … Los Angeles is undefeated when a player records a multi-point game. … Dustin Brown's 183 career goals are three goals behind Jim Fox for ninth place overall in club history. … Drew Doughty's 52 goals are the sixth most overall by a defenseman in club history and one goal behind Mark Hardy's 53 goals as a King. Doughty's 25 power play goals place him one PPG behind Hardy's fourth-ranked 26 power play goals amongst defensemen. … Anze Kopitar is tied for sixth place in club history with nine shorthanded goals and trails Ziggy Palffy by one SHG for fifth place. … With 155 career wins, Jonathan Quick is 16 wins behind Rogie Vachon for the most wins by a goaltender in Kings history.
Edmonton Projected Lines
Nail Yakupov – Ryan Nugent-Hopkins – Jordan Eberle
David Perron – Mark Arcobello – Ales Hemsky
Ryan Jones – Boyd Gordon – Anton Lander
Luke Gadzic – Will Acton – Ben Eager
Ladislav Smid – Jeff Petry
Andrew Ference – Nick Schultz
Anton Belov – Justin Schultz
Richard Bachman
Jason LaBarbera
Notes and milestones: Lines via the Edmonton Oilers website. … Tonight marks Edmonton's ninth and final road game in October out of 14 total October games. The Oilers are 2-5-1 on the road thus far. … Goaltender Richard Bachman and forward Anton Lander were recalled from AHL-Oklahoma City; both will make their 2013-14 season debuts tonight. Defenseman Corey Potter has also been recalled from Oklahoma City but will not play tonight. … Edmonton's last win in Los Angeles was a 3-0 shutout on on November 3, 2011. … The Oilers lead the NHL with 195 blocked shots. … Tonight's game marks the conclusion of Edmonton's second back-to-back set this year; the Oilers lost both ends of a back-to-back in Washington and Pittsburgh on October 14 and 15. … Jordan Eberle has five points (1-4=5) in his last five games. … Edmonton has lost 64 man games to injury this season. In 48 games last season, the Oilers lost 114 man games to injury.