-Many analysts and prognosticators who attempted to find order out of unpredictability lit into the Calgary Flames over the off-season. They were near-universal picks to finish at the bottom of the Pacific Division and amongst the teams with the fewest points in the National Hockey League. One adage often used throughout sports is that a team is never as good or as bad as those on the outside believe they are, and the Flames, though at the outset of finding direction through a dedicated and arduous rebuilding process and still the longest of long shots to make the playoffs, will not resemble anything close to being a pushover. Led by Bob Hartley, Calgary will win games by maintaining a raised compete level throughout the season and outworking their opponents, as they did while winning a healthy amount of individual puck battles and moving their feet well in a 3-2 win Monday night. They also scored three times on the power play, which comes as a bit of an anomaly after Los Angeles had leapt to the top three shorthanded units in the league by virtue of 14 consecutive successful penalty kills, dating back to October 11.
-The Kings have now averaged five shorthanded situations against per game over the last three games. After killing off five penalties in the win over Dallas on Saturday, the Kings were shorthanded six times against Calgary, and versus a team that entered Monday night averaging 3.29 goals per game and welcomed its most skilled player, Mike Cammalleri, back to the lineup, Los Angeles' lack of discipline allowed a team with inferior personnel to hang in the game after the Kings had done a good job asserting themselves during the opening 20 minutes. If a team such as the Flames is allowed multiple opportunities to make an impact in a narrow game, they'll take advantage.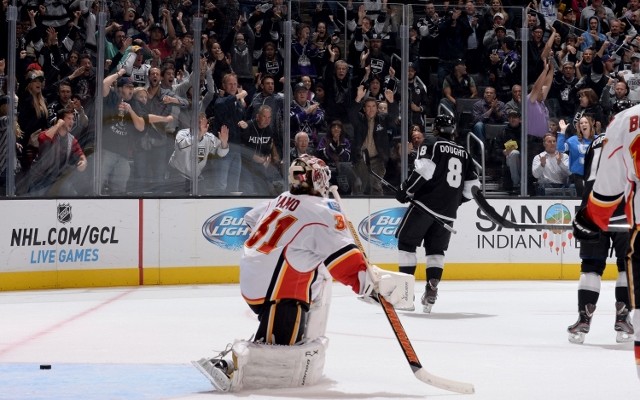 -It's natural to sympathize with a player who gets whistled for a key third period penalty that leads to a game-winning goal with under a minute to play in regulation; when that player is alternate captain Anze Kopitar, who has never produced more than 32 penalty minutes in a season and is among the most responsible players in the league with his stick, it's tough to hear him answer questions after the game and shoulder heavy responsibility for an important moment in a tight loss. I generally don't review plays that aren't available for repeat viewing – the only extra look I received of his penalty was the one replay shown shortly after it was assessed – but it seemed like Kopitar went for a stick check on Dennis Wideman and caught him around the hands or mid-section. Though it defies the lack of enforcement generally associated with borderline calls during the final five minutes of a hockey game, if a player uses his stick on the midsection of another player from behind, it will always run the risk of having a penalty called. Again, I don't have the benefit of an additional replay, but my initial reaction to the play was that Wideman did a good job of selling the stick contact. The PK had a key chance to redeem itself with a late kill – as has been repeated, it's not always about how many penalties are killed, but rather the timing of the kills – but was unable to do so, courtesy of a hard, low shot by emerging young defenseman TJ Brodie that would have generated a rebound had it not kissed the inside of the post before beating Jonathan Quick for the game-winner.
-Sean Monahan – he's not really going to be sent back to junior hockey, is he? No, he's not. The young forward was at his best in tight quarters and showed remarkable strength and poise for a 19-year-old. A teammate of Tyler Toffoli's with the Ottawa 67's, Monahan's time on ice of 21:11 (!) surpassed his previous high by four minutes and 40 seconds. He received an even six minutes of power play time.