Los Angeles Kings (5-3-0) vs Dallas Stars (3-3-0)
Saturday, October 19, 2013, 7:30 p.m. PT
STAPLES Center
Referees: #25 Marc Joannette, #20 Tim Peel
Linesmen: #56 Mark Wheler, #82 Ryan Galloway
FOX Sports West, KTLK 1150 AM
Los Angeles Projected Starting Goaltender – Jonathan Quick
2013-14 Season: 7 GP (7 GS) / 4-3-0 record / 2.57 GAA / .910 Sv% / 0 SHO
Career vs Dallas: 22 (21) / 14-6-2 / 2.40 / .914 / 2
Last Game vs Dallas: 4/21/13 / 64 MP / 24-27 shots / 4-3 OTW
2013-14, Home: 2 (2) / 1-1-0 / 3.01 / .887 / 0
Dallas Projected Starting Goaltender – Dan Ellis
2013-14 Season: 4 GP (3 GS) / 1-2-0 record / 3.45 GAA / .900 Sv% / 0 SHO
Career vs Los Angeles: 10 (9) / 7-2-0 / 2.44 / .925 / 0
Last Game vs Los Angeles: 11/17/11 / 58 MP / 31-35 shots / 3-5 L
2013-14, Away: 3 (2) / 0-2-0 / 3.76 / .894 / 0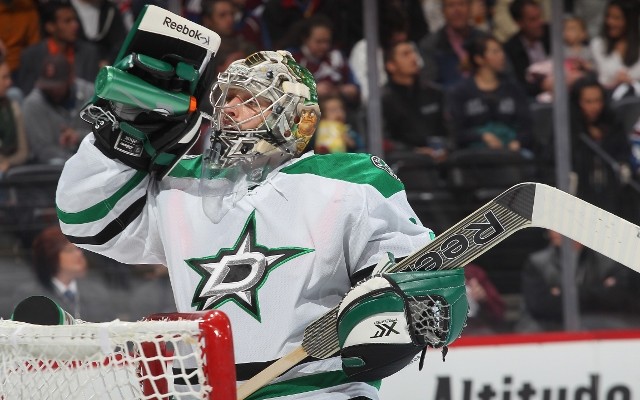 2013-14 Los Angeles Leaders
Total Points: Jeff Carter (4-2=6)
Goals: Jeff Carter (4-2=6)
Assists: Anze Kopitar (0-5=5), Mike Richards (0-5=5)
Plus/Minus: Alec Martinez (+2; 0-0=0)
Penalty Minutes: Kyle Clifford (14; 0-0=0), Drew Doughty (14; 1-0=1)
2013-14 Dallas Leaders
Total Points: Tyler Seguin (3-5=8)
Goals: Tyler Seguin (3-5=8), Alex Chiasson (3-3=6)
Assists: Tyler Seguin (3-5=8), Jamie Benn (1-5=6)
Plus/Minus: Stephane Robidas (+4; 0-1=1)
Penalty Minutes: Antoine Roussel (22; 0-1=1)
Rankings and Statistics
Goals/Game: LAK – t-25 / 2.00; DAL – t-19 / 2.33
Goals Against/Game: LAK – 13 / 2.50; DAL – t-20 / 2.83
Power Play: LAK – 18 / 17.2%; DAL – t-13 / 20.0%
Penalty Kill: LAK – t-2 / 87.5%; DAL – t-13 / 83.3%
Shots/Game: LAK – 19 / 30.2; DAL – 23 / 28.3
Shots Against/Game: LAK – t-7 / 27.9; DAL – t-25 / 34.3
Faceoffs: LAK – 6 / 54.2%; DAL – 19 / 48.8%
Save Percentage: LAK – t-19 / .910; DAL – t-12 / .917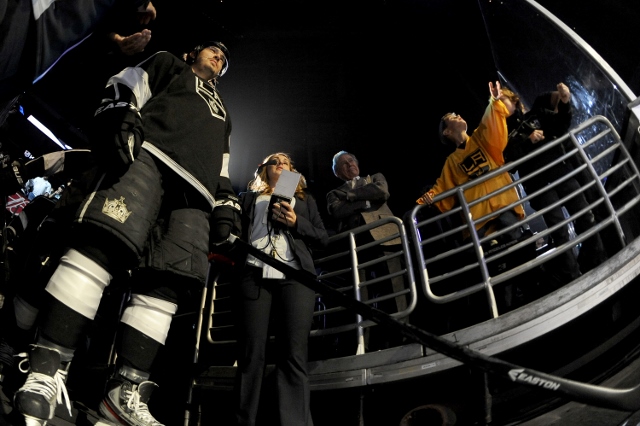 Los Angeles Projected Lines
Dustin Brown – Anze Kopitar – Justin Williams
Daniel Carcillo – Mike Richards – Jeff Carter
Dwight King – Jarret Stoll – Trevor Lewis
Kyle Clifford – Colin Fraser – Jordan Nolan
Robyn Regehr – Drew Doughty
Willie Mitchell – Slava Voynov
Jake Muzzin – Matt Greene
Jonathan Quick
Ben Scrivens
Level of confidence in projected lines: B. The above projection depicts line rushes from this morning's skate. Keaton Ellerby, Alec Martinez and Matt Frattin stayed on for extra work with Ben Scrivens, which means the three skaters are not expected to be a part of tonight's lineup. Changes are always possible, and it should be expected to see an extra forward and/or an extra defenseman in warm-ups this evening.
Notes and milestones: Los Angeles is 82-97-40 all-time against the Dallas franchise, which includes a record of 49-38-22 at home. The Kings are 1-3-1 against the Stars in the last five meetings at Staples Center, dating back to December 10, 2011. The Stars were one of only three opponents to win in regulation at Staples Center last season, and the only opponent to win multiple regular season games on the Kings' home ice. The teams will also meet on December 23 at Staples Center and December 31 at American Airlines Center … Slava Voynov has goals in two consecutive games. … Mike Richards has five assists in the last six games. … Jarret Stoll is averaging 14:39 of ice time through eight games, which represents his lowest usage since averaging 13:54 in 2003-04, his first full NHL season. … Willie Mitchell has averaged 22:16 of ice time through the first eight games. He averaged 22:14 in 2011-12 and 21:49 in 2010-11. He currently leads the team with 22 blocked shots. … Jonathan Quick has stopped all eight shootout attempts this season. He has stopped 33-of-51 shootout attempts through his career. … Over the last four games, Kings goaltenders have stopped 101-of-108 shots (.935 Sv%). … Los Angeles has registered at least 30 shots on goal in six of eight games this season. … The Kings have killed nine straight penalties and killed off 13-of-14 power plays on their four-game road trip. … The Kings have not scored a power play goal since potting two in the 4-3 overtime win over Ottawa on October 9. They went 0-for-13 on the road trip. … Jonathan Quick is 18 wins behind Rogie Vachon for the most wins in franchise history. … The Kings have sold out 52 consecutive regular season games, dating back to December 3, 2011.
Dallas Projected Lines
Jamie Benn – Tyler Seguin – Rich Peverley
Ray Whitney – Cody Eakin – Alex Chiasson
Valeri Nichushkin – Shawn Horcoff – Erik Cole
Antoine Roussel – Vernon Fiddler – Ryan Garbutt
Brenden Dillon – Stephane Robidas
Trevor Daley – Jordie Benn
Alex Goligoski – Sergei Gonchar
Dan Ellis (starter)
Jack Campbell
Notes and milestones: Lines via Mark Stepneski of Dallas Stars Inside Edge. … The Stars have earned a point in 19 of the last 23 games played at Staples Center, going 12-4-7 since the start of the 2006-07 season. Dallas was 2-0-1 in Los Angeles last season. … Kari Lehtonen is on injured reserve with a lower body injury, though he has resumed skating and is "doubtful" for tomorrow's game in Anaheim. … The Stars are coming off a 4-3 shootout win over the Sharks on Thursday. Cody Eakin (1-1=2) and Ray Whitney (0-2=2) tallied multi-point efforts, while Dan Ellis stopped 32-of-35 shots through overtime and denied all three shooters in the shootout. … On the road, Dallas' power play is 4-for-12. … Alternate captain Ray Whitney (born 5/8/72) is nearly 23 years older than forward Valeri Nichushkin (born 3/4/95).