-I've spoken previously about the right "recipe" to win a road game, and in all honesty, there is no real recipe – like any other game, you have to score more goals than the opposition – but if there was a blueprint to beat the Nashville Predators in their home arena, last night's Kings 2-1 shootout win could have served as a case study. Los Angeles was excellent on the penalty kill, denying Nashville late in regulation and during a four-on-three situation in overtime, and continued to sharpen their well-established reputation as one of the league's stingiest teams while shorthanded. In 14 shorthanded situations on the road trip, the only goal conceded by the Kings was Jeff Skinner's game-tying goal in Carolina, which came off a fluky bounce during tight coverage as part of an otherwise airtight penalty killing performance. In net, Jonathan Quick etched out his signature 2013-14 performance to date and denied several Grade-A Predators opportunities before keeping his perfect shootout streak intact. Penalty killing, goaltending, scoring a goal in the final minute of a period and weathering the continuous Nashville pressure and lack of open space helped the Kings to two points for the third time on the four-game trip.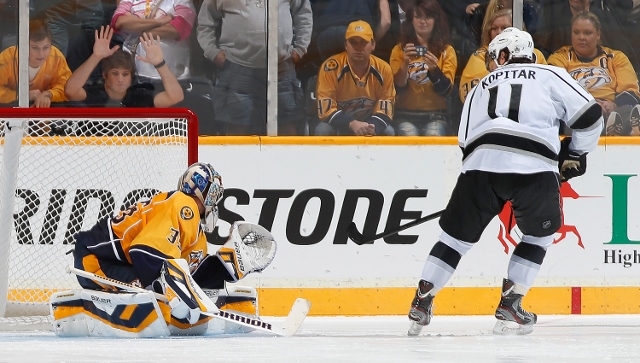 -Slava Voynov, who "probably could've done more work this summer," according to Darryl Sutter earlier on the road trip, contributed perhaps his most useful performance of the season to date and was effective for the Kings in all three zones. He scored a goal by benefiting from the largess and patience of Mike Richards and by positioning himself well in an open spot of ice late to tie the game late in the first period. Defensively, he effectively used his stick to break up several Nashville scoring opportunities and had an important stick check late in overtime during a final Predators rush into the Kings' zone that preserved the tie and allowed the team to escape with a shootout win. It wasn't as much of a "standout" performance as it was a "fine, regular performance" that has come to be expected from the talented 23 year old.
-Hello Staples Center, hello Western Conference. The Kings opened up the season by playing six of eight games on the road, and five of eight games against unfamiliar Eastern Conference foes – as well as Winnipeg, which moved west in 2013. The team is a respectable 5-3-0 after the early road-heavy schedule, and apart from a quick one-off in Phoenix later this month won't see the inside of an airplane for nearly four weeks. As the team is looking to increase its even strength scoring and keep pace with the quick starts of several divisional opponents, they'll look to make the most of the upcoming schedule, which keeps them at home for eight of the next nine games and places them against Pacific Division competition for six of the next nine. There is an added emphasis in winning divisional games under the realigned playoff format, and following Saturday's game against Dallas, Los Angeles will battle for important early season points against Calgary, Phoenix and Edmonton next week.