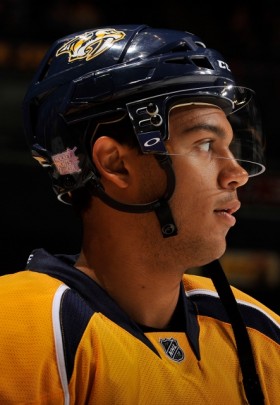 19-year-old Seth Jones, son of Tennessee native, former NBA power forward and current Indiana Pacers assistant coach Popeye Jones, has been among the most heralded American hockey prospects in the history of the sport. The 6-foot-4, 205 pound defenseman won a gold medal with USA Hockey at the 2013 World Junior Championships – after confidently tabbing the U.S. as the "best team" prior to the tournament – and delighted hockey fans in Nashville by falling in the 2013 NHL Draft to the Predators, who owned the fourth overall pick.
Through six games Jones has three points (1-2=3) and an even plus-minus rating while averaging a whopping 23:02 of ice time, much of it spent alongside defensive partner Shea Weber.
On Thursday morning, Darryl Sutter discussed what he has seen from Jones, while Drew Doughty was consulted to share what he recalled about making the leap from junior hockey to the National Hockey League as a 19-year-old.
Darryl Sutter, on Seth Jones:
He's a fine young player, and he's going to be a great player. Obviously playing with Shea is always nice. He's playing the left side as a right shot, and you don't see that a lot. You see a lot of left shots playing the right side. It's like those guys who can play any position in the outfield, or those guys that can move from second to short and third. You can see that he's got the whole presence of game, being able to see it from different angles. [Reporter: Pretty impressive at such a young age.] Well, he's a high pick. I mean, if you're a player in the top-10, you should be impressive on every team.
Sutter, on the raised talent level of younger players:
If you pick [high in the draft], a player should, sometime in his first two years, either as a teenager or as a 20-year-old…play if if you pick that high. We're picking players from all over the world now. We're not picking from Canada and a handful from the U.S. You're picking from all over the world, so you get the absolutely the best 18, 19-year-olds. Used to wait for Europeans to come over if they could get out as 28, 29, 30-[year-olds].
Drew Doughty, on his own transition to the NHL as a 19-year-old:
It was a fun transition. I kind of felt like I didn't have that pressure on me to make the team. I knew it was a spot that I had to try and win, and when I'm determined to get something like that, I make sure I get it. It was just a lot of fun. A lot of things went right for me. The first couple games, I played pretty decent, and I think the second game of the year, our top defenseman got hurt, and all of a sudden I was starting to play 20 minutes, 20-plus minutes a game. The coaching staff was putting a lot of confidence in me. My teammates were getting more confidence in me, and once someone gave me that confidence I just kind of ran with it. They were some of the best days of my life. Now I'm in my sixth season, and time has just flown by. Just enjoy it, because after your first year a lot more pressure is put on you, and you've got to help your team win games. You can't get away with those mistakes like you could when you were young.