-A pair of pivotal moments in the Kings 5-1 loss to the Tampa Bay Lightning Tuesday night had the potential to affect the direction and the outcome of the game. The first came late in the first period during sustained pressure in the offensive end when Dustin Brown hit the crossbar during an attack fueled by Justin Williams' play with the puck near the goal line. Scoring with under two minutes to play in the first period would have certainly had significant consequences in the way the teams re-entered the ice to begin the second.
The second pivotal moment was obviously the disallowed goal. We all know this because we've been dissecting the play on social media for the last 15 hours. While trying to cut across the low slot, roughly two feet above the top of the goal crease, Mike Richards was shoved by Sami Salo out of his intended path and towards goaltender Ben Bishop. Richards attempted to avoid Bishop, but the contact was inevitable. It was debatable whether the contact had an impact on the goaltender's ability to stop Jeff Carter's shot. It's a judgment call, one that very well could have been overturned had that play been reviewable.
Here's Rule 69.1:
Interference on the Goalkeeper – This rule is based on the premise that an attacking player's position, whether inside or outside the crease, should not, by itself, determine whether a goal should be allowed or disallowed. In other words, goals scored while attacking players are standing in the crease may, in appropriate circumstances be allowed. Goals should be disallowed only if: (1) an attacking player, either by his positioning or by contact, impairs the goalkeeper's ability to move freely within his crease or defend his goal; or (2) an attacking player initiates intentional or deliberate contact with a goalkeeper, inside or outside of his goal crease. Incidental contact with a goalkeeper will be permitted, and resulting goals allowed, when such contact is initiated outside of the goal crease, provided the attacking player has made a reasonable effort to avoid such contact. The rule will be enforced exclusively in accordance with the on-ice judgment of the Referee(s), and not by means of video replay or review.

For purposes of this rule, "contact," whether incidental or otherwise, shall mean any contact that is made between or among a goalkeeper and attacking player(s), whether by means of a stick or any part of the body.

The overriding rationale of this rule is that a goalkeeper should have the ability to move freely within his goal crease without being hindered by the actions of an attacking player. If an attacking player enters the goal crease and, by his actions, impairs the goalkeeper's ability to defend his goal, and a goal is scored, the goal will be disallowed.

If an attacking player has been pushed, shoved, or fouled by a defending player so as to cause him to come into contact with the goalkeeper, such contact will not be deemed contact initiated by the attacking player for purposes of this rule, provided the attacking player has made a reasonable effort to avoid such contact.

If a defending player has been pushed, shoved, or fouled by an attacking player so as to cause the defending player to come into contact with his own goalkeeper, such contact shall be deemed contact initiated by the attacking player for purposes of this rule, and if necessary a penalty assessed to the attacking player and if a goal is scored it would be disallowed.
A judgment call was incorrect. Rule 69.1 should be amended to make such plays reviewable by video.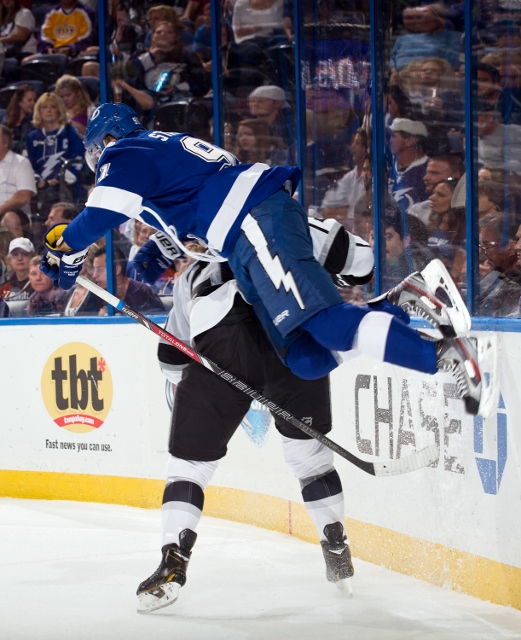 -An argument on behalf of Richards and the Kings obviously has merit. There were also breakdowns made earlier in the game that put Los Angeles in a position where the judgment against them carried extra weight. Drew Doughty turned the puck over and the Kings subsequently chased the puck during the first shift of the game, which lasted only 19 seconds before Ryan Malone deflected Sami Salo's shot past Jonathan Quick. Credit Teddy Purcell for driving wide to the outside to score on a beautiful shot midway through the first period, though Slava Voynov didn't really slow Purcell down or provide much in the way of resistance to the winger's attempt on goal.
good analysis on teevee about Voynov's faults on that goal, not neutralizing Purcell's stick

— Helene Elliott (@helenenothelen) October 15, 2013
i should have said good analysis on teevee by Jim Fox. of course.

— Helene Elliott (@helenenothelen) October 15, 2013
-Anze Kopitar took one shot on goal in 23:16 of ice time last night. It was his only shot registered in the last 41 minutes and six seconds he has spent on the ice. There are so many things that Kopitar does to help a team win hockey games. He logs the toughest minutes out of any forward on the team, almost always against the opposition's best players. He's excellent on faceoffs. He's among the best stick checkers in the NHL and his 200-foot game will place him in the Selke Trophy conversation for as long as he's playing. He'll rack up assists that surpass the expectations of a first line center. He's also riding a 23-game regular season goal scoring drought and has taken only four more shots on goal than stay-at-home defenseman Robyn Regehr through seven games. This type of Kopitar is preferable to a Kopitar who cheats towards the attacking zone to prop up his offensive numbers (which isn't really a Kopitar at all), but the Kings' most skilled and most complete player would be well-served by increasing his shots on goal output.
-The Tampa Bay Lightning have well-established offensive credentials and a talented nucleus of young players, many of whom won the Calder Cup together with the Norfolk Admirals as one of the greatest American Hockey League teams of all time in 2011-12. They've been set back by their defense and goaltending over the last two years, and it appears as though there could be sharp improvement in those aspects in 2013-14. Tampa Bay ranked last in the league in save percentage in 2011-12 and tied for 24th in 2012-13; if Ben Bishop is able to significantly improve the team's fortunes in net, this will be a very dangerous hockey club. Bishop's 1.71 goals against average and .939 save percentage aren't sustainable, though if he simply provides goaltending that places his team amongst the top 15 teams in the league in save percentage, Tampa Bay is a playoff team that could win a round or two. The Bolts are trending upward.