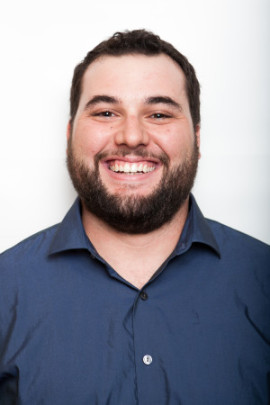 Say hello to James Nicholson, LAKI's new assistant.
James will assist in enhancing the capacity of this blog in multiple aspects. Since joining LAKI, he has transcribed audio files from away games and has posted quotes on the blog before I've even left the building. This is an enormous help and basically cuts in half the amount of time between the final horn and when the postgame quotes are posted.
Through James' expertise, this blog will have a fuller capacity to explore and identify several advanced statistics, an endeavor we're excited to test out over the coming weeks.
A 2010 graduate of the Franciscan University of Steubenville, Nicholson is earning his Masters in Sports Management from the University of San Francisco. He has previously served as an intern for the Pittsburgh Penguins' radio broadcasts, worked on inside sales with the Los Angeles Clippers, and gained experience working in the press box of the Lancaster Jethawks, rival of the 1991, 1993 and 1997 California League Champion High Desert Mavericks.
To learn more about James, he answered a barrage of hard-hitting questions from this blog's editor.
JAMES NICHOLSON
Age: 25
Favorite Baseball Team: Dodgers
Favorite Football Team: Raiders
Favorite Basketball Team: Clippers
Favorite Beatles Song: Help! and Oh! Darling. I realize I am the only person who will pick these. I am okay with that.
Favorite Flavor of Starburst: Cherry
Year In Which You Attended Your First Kings Game: 2006-07. Brent Sopel scored a goal.
Other than winning the Stanley Cup, what was your favorite Kings moment? The comeback last year in Game 2 of the series against San Jose. I was at the game with my mom and it was such an unexpected finish. Staples Center was rocking.
Who are your favorite players on opposing teams? Marc-Andre Fleury is a really nice guy and always chatted with me when I was in the Penguins locker room. He is really funny and classy. Always took time to sign things for kids. I made Sidney Crosby laugh one time as he was trying to get to the shower.
What is your favorite Kings blog, other than LAKI? I really liked reading Tom Preissing's blog when he was on the Kings. It was surprisingly candid.
Follow James on Twitter
Follow James on Instagram