-The Los Angeles Kings engineered an entirely solid road effort in defeating the Carolina Hurricanes 2-1 in a shootout as a pair of former Conn Smythe Trophy winners combined to stop 63-of-65 shots through 65 minutes in a crisp, entertaining early season battle. Los Angeles etched out its finest performance through five games, while Carolina deserves credit for putting together a patient, defensive effort on the second night of a back-to-back. Prior to the game, Kirk Muller described how he would like to see a "mature" performance against the Kings, and the Hurricanes engineered exactly that.
-Los Angeles acquitted itself well statistically. Apart from the shots on goal differential – L.A. outshot Carolina 37-28, though the scoring chance discrepancy appeared to be slightly narrower – the Kings' well-established possession game was well put to use, and through a steady forecheck that peaked when the Canes had trouble advancing the puck past center ice early in the second period, they were able to significantly win the territorial battle and operate in the attacking zone through heavy stretches of the game. Considering the puck was in the possession of the Kings much more than it was in the possession of the Canes, that L.A. out-hit Carolina 36-to-18 is another indication that the Kings were operating within their systems well. The Kings also blocked 23 shots to Carolina's 12, and won 48-of-70 faceoffs. If we're going "on paper," the Kings could have built up a one or two-goal lead through two periods had an extra bounce or two gone their way. Cam Ward had a fine performance.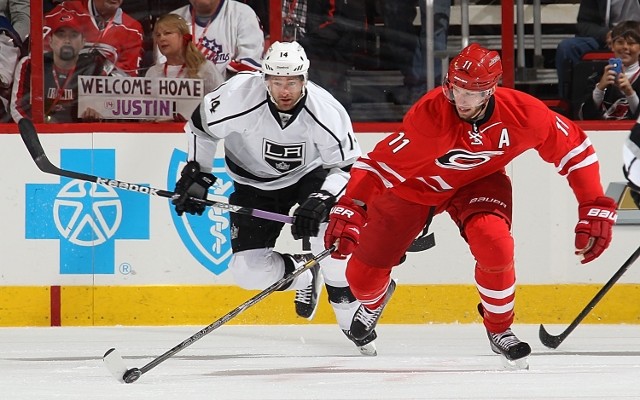 -Dwight King was very good in many areas of the ice, and his shorthanded goal was the well-earned result of smart pressure as he jumped on a pair of Carolina miscues. After receiving a feed from Cam Ward, Eric Staal sent a pass across his own blue line that wasn't quite in the reach of emerging young defenseman Justin Faulk. Faulk mishandled the carom off the side boards, at which point King took advantage by scooping up the loose puck and creating a partial shorthanded breakaway before slipping the puck between Ward's legs. King put together a very good training camp and preseason for the Kings, and has been rewarded with some time alongside Kopitar and Williams as well as an increased penalty killing role. When operating at his best, his assets aren't always sharply recognizable upon a casual glance; as a strong possession forward with size, he fits within the Kings systems very well and is at his best when winning battles in the corners and maintaining possession along the boards in the offensive zone, which he did very well on Friday. The King-Stoll-Nolan line was also effective at even strength Friday night.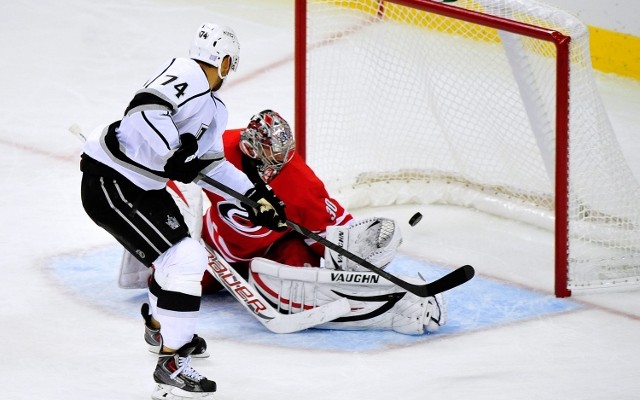 -Jeff Carter skating at a high speed on a breakaway, and using his extended reach to go forehand-backhand – that's an awfully difficult shot to stop in a shootout. Meanwhile, Jonathan Quick has stopped all five shootout attempts he has faced this season. Through five games, the Kings have as many shootout wins as they had in 2012-13.